Lohia OmaStar Li Electric Scooter Review: The Practical Choice For Sorties
The Lohia OmaStar Li electric scooter for its low price and almost zero running costs makes it an ideal ride for neighbourhood sorties. Here is our review.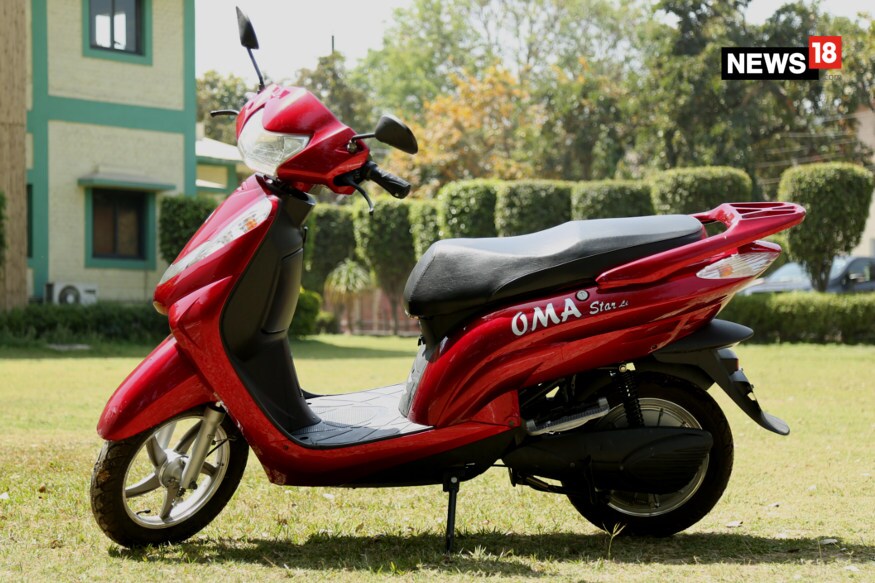 The Lohia OmaStar Li electric scooter for its low price of Rs 35,540 and almost zero running costs makes it an ideal ride for neighbourhood sorties. Here is our review. (Image: Siddharth Safaya/News18.com)
The first-generation of electric scooters left a lot to be desired in looks, reliability and durability. More than the known speed restrictions, it was the typical VRLA battery woes which spelled doom for the e-bikes industry in India. Now, Lithium-Ion batteries are giving a new lease of life to electric scooters. But Lithium-ion powered scooters are expensive. Some electric scooters might cost at par with popular petrol alternatives. This is where Lohia Auto Industries, in partnership with UM Motors, is trying to make an attractive deal with its Lohia OmaStar Li for just Rs 35,540 Rs 49,690.
UPDATE: The company has updated the price of Lohia OmaStar Li electric scooter to Rs 49,690 (on-road) as of May 24, 2017.
The electric scooter, which costs less than any popular Android flagship smartphone, has got the looks and is purpose-built for alleys in tier II and III cities. With a running cost of 10 Paisa per kilometre, the 250W BLDC motor-powered OmaStar Li is aimed at students, elderly or anyone who needs an almost free ride for their day-to-day commute within a range of 50 kilometres. And of course, your vehicle will not add to the existing bad air. After riding this bike for a little over a week here is our review.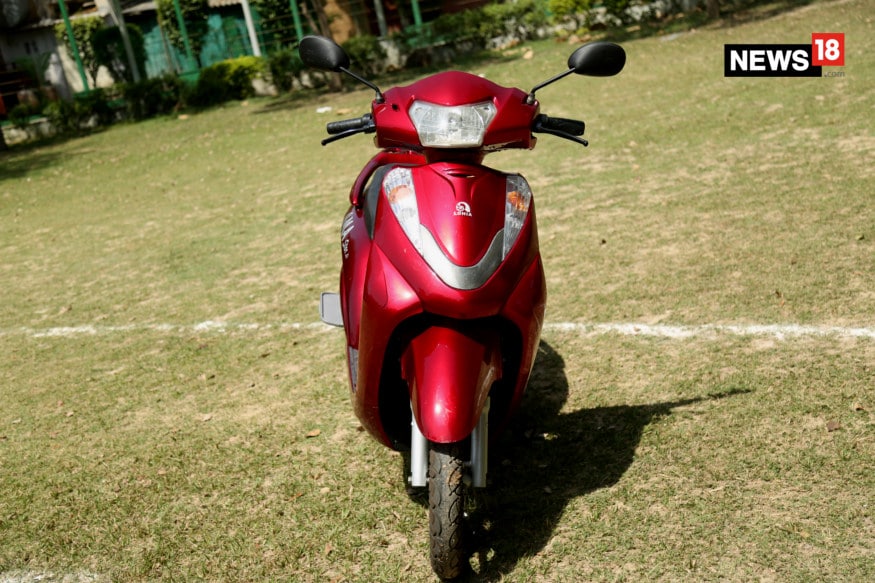 (Image: Siddharth Safaya/ News18.com)
What's cool?
At a glance, the Lohia OmaStar Li surprisingly looks like any other petrol alternative. However, the extremely thin tyres and the "I Don't Pollute" number plate will make you realise that it's electric. The ergonomic seat offers enough space for two. However, riding the OmaStar Li with a pillion load could be a bit tricky in terms of stability. Note the maximum load it can carry is 130 kilogrammes.
WATCH VIDEO: Lohia OmaStar Li First Look
The footboard offers decent space to fit grocery bags in between the legs while riding it. Also, a hook is provided on the top of the glove box to secure bags. Talking of which, there is a standard mobile charging port inside the glove box. In terms of storage, there is decent cargo space under the seat as well.
The quality of the hand grip is poor. You will have to stretch your thumbs to reach for the horn button. (Image: Siddharth Safaya/ News18.com)
There is a blue colour backlit digital instrument console showcasing speed, distance, battery life and temperature along with acceleration animation. Under direct sunlight, the visibility of the instrument console display is poor.
The top speed of 35 km/h serves well for riding the OmaStar Li in crowded alleys, however, the moment you take any main road, there will be a constant need to hit a bit over 40km/h. Overall, it offers a smooth ride and is as easy as riding a bicycle.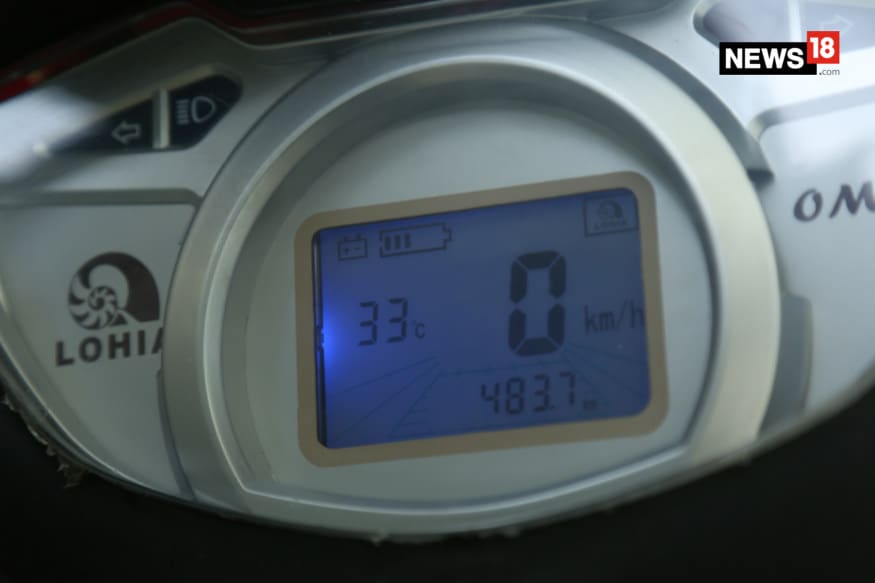 The backlit digital instrument console. (Image: Siddharth Safaya/ News18.com)
The 80mm front and 110 mm rear drum brakes does a good job in the braking department. Also, the hydraulic telescopic front along with coil-type rear shock absorbers manages to offer decent comfort while riding.
The battery gets fully charged in just three hours. However, note that you will have to invest in a good quality extension board with 15A socket as the charging cable is short.
What's not so cool?
The overall plastic-like build quality of the Lohia OmaStar Li is average at best. While there is really nothing much you can complain about the body given its price, Lohia could have a focused a little bit more on the overall finishing.
The company should have added a mechanism to prevent accidental acceleration at the start. As there is no "start button" as such, the moment the key is turned to ignition, the scooter is fully-geared for riding. This could be dangerous when someone is simply moving the scooter around and has forgotten to note whether it is powered off or not.
Low speeds bikes will obviously come with thinner tyres, thus making it less stable. However, the low vehicle weight of just 66 kilogrammes, makes the Lohia OmaStar Li tricky to ride at parking speeds.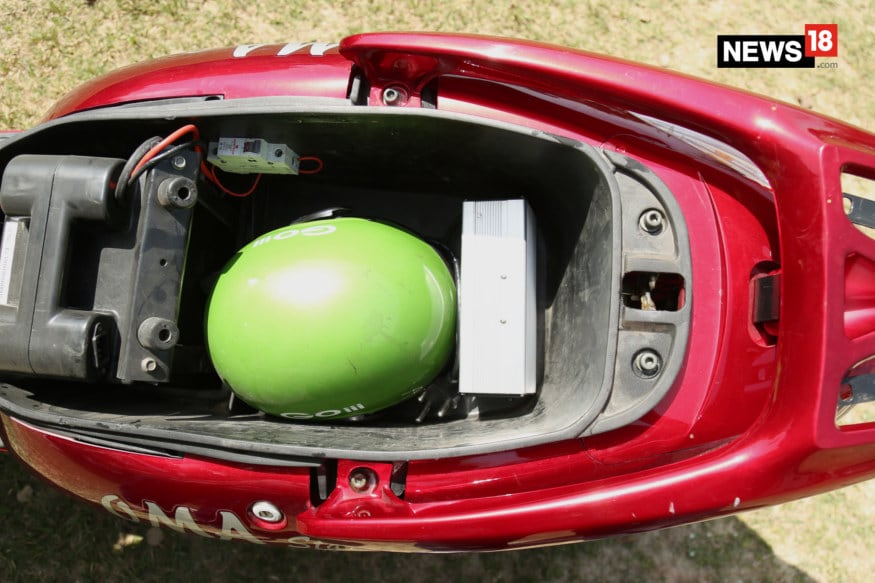 There is decent cargo space under the seat. (Image: Siddharth Safaya/ News18.com)
Also, the lack of battery charging indicator makes it difficult to understand whether the scooter is charging or not.
What else do you need to know?
The company claims that the Lithium-ion battery offers at least 1000 charge cycles and should ideally last five years. The replacement battery costs somewhere in between Rs 10,000 and Rs 12,000. The battery charger costs around Rs 1,200.
The electric scooter comes with standard free servicing and no need regular maintenance is required. While the OmaStar Li is capable of travelling in water-logged streets, the company has suggested riders to avoid heavy waterlogging.
The charger takes 3 hours to fully charge the battery. (Image: Siddharth Safaya/ News18.com)
Verdict
With a top speed of 35 km/h and a maximum range of 60 kilometres on a fully-charged battery, the Lohia OmaStar Li cannot attract petrol-powered scooty buyers. But if you are already looking for an electric scooter, the OmaStar Li offers great value for money and is definitely recommended. This electric scooter is a practical choice for people without a driving licence and is looking for an economical hassle-free ride experience for daily short distance commute.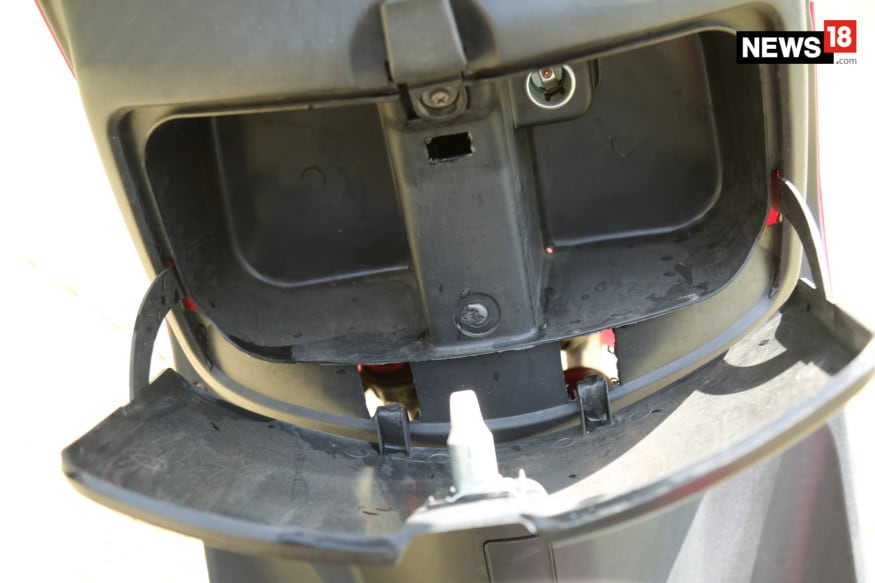 The glove box with mobile charging port. (Image: Siddharth Safaya/ News18.com)
Also, it makes great sense for shops offering free local delivery services. With a little bit of care, the OmaStar Li will offer great ROI for local delivery services like Swiggy, FoodPanda, McDonald's and others. And not to forget, will also help businesses to cut their carbon footprints.
Also Watch

| Edited by: Debashis Sarkar
Read full article