Lord Ganesha Joins Yamraj to Spread Road Safety and Traffic Awareness in Bengaluru
After Lord Yamraj, Bengaluru City Police has invoked Lord Ganesha to raise road and traffic safety awareness.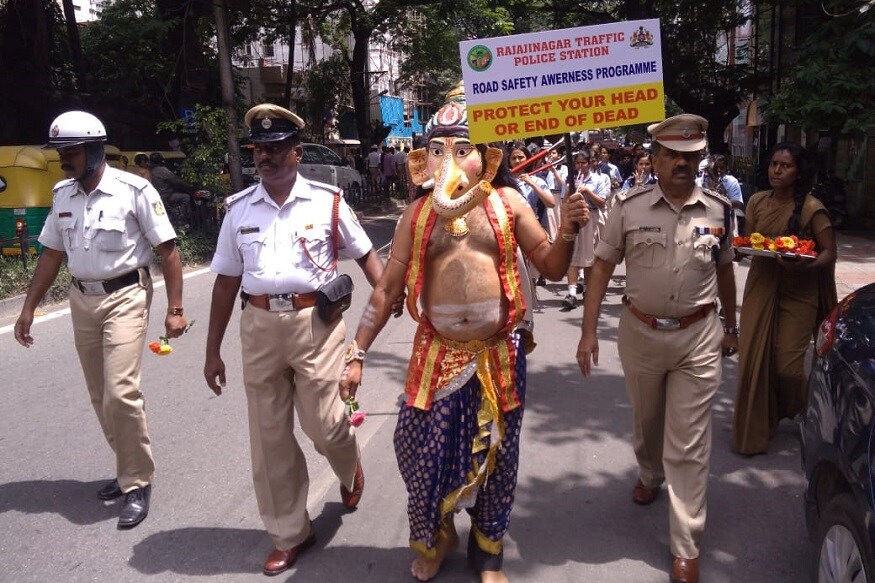 Similar on the lines of Lord Yamraj, who was seen spreading road awareness along with Bengaluru Traffic Cops earlier this month, Lord Ganesha has also jumped the wagon to create road safety and traffic awareness in the electronic City of India – Bengaluru. Before you jump to any conclusions - a man dressed as Lord Ganesha was seen along with city traffic cops to raise awareness about road and traffic safety in the city.
Bengaluru city police is known as one of the most social media friendly law enforcement agencies in India and has wooed the city's Millennials from time to time by putting out the important safety messages in a creative format like memes.
ರಾಜಾಜಿನಗರ ಸಂಚಾರ ಠಾಣಾ ವತಿಯಿಂದಸಂಚಾರ ಜಾಗೃತಿ ಮೂಡಿಸಲು ವಿನಾಯಕನಮೂಲಕ ಅರಿವು ಮೂಡಿಸುವ ನಮ್ಮ ಪುಟ್ಟ ಪ್ರಯತ್ನದ ಏಕೈಕ ಸದುದ್ದೇಶ -"ಸಂಚಾರ ನಿಯಮ ಉಲ್ಲಂಘನೆ ತಡೆ" ಆಗಿದೆ.ಗಣೇಶನ ವೇಷಧಾರಿ ನಮ್ಮ ಠಾಣೆಯ ಪಿಸಿ, ಶ್ರೀ ಬಸವ ರಾಜ ಕಲಗಟ್ಟಿ ಆಗಿರುವುದೇ ವಿಶೇಷವಾಗಿದೆ.@AddlCPTraffic @DcptrNorth "OUR AIM - NO ACCIDENTS" pic.twitter.com/t6nVpSexRR

— ACP Traffic North (G.A.JAGADEESH,KSPS.) (@Acpnorthtrdvn) July 25, 2018
However, the cops went a step ahead – or backwards in time – to invoke some of the popular Hindu gods like Lord Yamraj and Lord Ganesha to spread road safety awareness in the city. In both the instances, a man dressed in the traditional attire of both the lords was seen on the city roads along with the cops.
While the Lord Yamraj was seen holding a placard with message – "if you do not follow traffic rules, Yama is right behind you to take away your life. Therefore, follow rules, save your life and others", in the case of Ganesha, the placard reads – "Protect your head, or end of dead".
Get the best of News18 delivered to your inbox - subscribe to News18 Daybreak. Follow News18.com on Twitter, Instagram, Facebook, Telegram, TikTok and on YouTube, and stay in the know with what's happening in the world around you – in real time.
| Edited by: Arjit Garg
Read full article