After being teased in Geneva this spring; the Lotus Evora Sport 410 is officially ready to race.
In developing the new flagship Evora coupé – a job that took thousands of hours going over the existing model in microscopic detail looking for any way to boost road and track performance without adding weight – the goal was simple. Lotus wanted to build a "pure" supercar that could be considered the successor to its last genuinely iconic model – the Esprit Sport 300.
In terms of vital statistics, it does this with aplomb. With a 410hp, 3.5-liter supercharged V6 under its carbon fibre hood it goes from 0-60mph in 3.9 seconds and onto a top speed of 190mph. The Esprit Sport 300 needed an extra 0.8 seconds to hit 60mph and reached its limits at 168mph.
However, what both cars have in common is that they are as light as technological advancements will allow and have been engineered to stick to a track or a back road as if the tarmac is made of steel and the car is magnetised.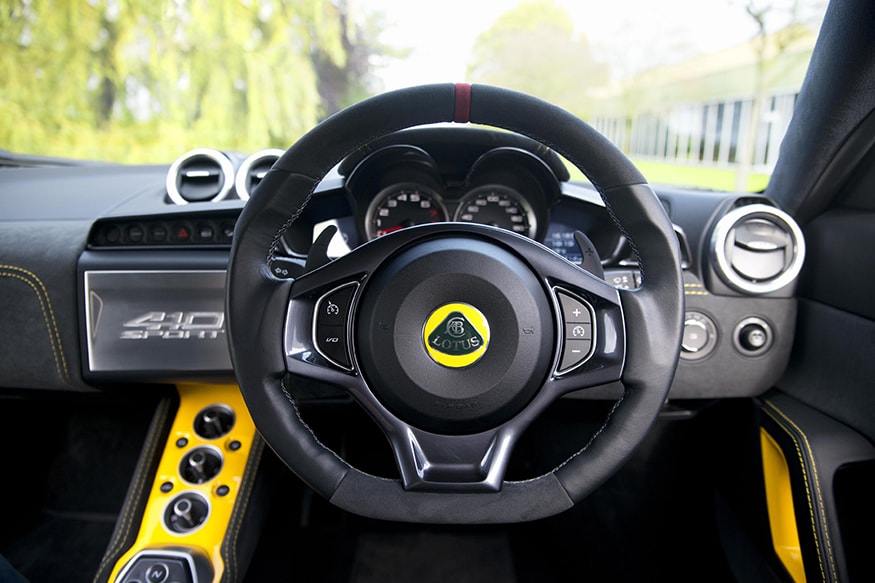 Lotus Evora Sport 410 interiors. (Photo: AFP Relaxnews)
"[The car] defines a period in which we are producing our best ever cars," said Jean-Marc Gales, CEO of Group Lotus plc. "It's ballistic pace means that, in the right hands, it's unbeatable. We have achieved so much in the development of the Evora platform, and the Sport 410 is possibly the most accomplished car we have ever built." At £82,000 (€108,500) it is also one of the most expensive series production models in Lotus history. That price point puts it head-to-head with the likes of the Porsche 911, Jaguar F-Type Coupe and a host of M-powered BMWs and AMG Mercedes.
But the Lotus should still stand out in this crowd because it is built so that a keen driver can use all the car's capabilities all of the time. Lotus promises that even when the car is at its 190mph limit, there is still traction on tap.
"[It] delivers the power and precision that Lotus cars are renowned for. We've taken the war on weight to a new level, demonstrating perfectly our principle of intelligent engineering," said Gales. Yet, the car should still be comfortable. There's an Alcantara-trimmed cabin, a touch-screen infotainment system plus the option of complete bespoke detailing via Lotus's recently launched Exclusive program.
The Evora Sport 410 will be limited to just 150 examples a year.