Mahindra Group Reaffirms Commitment To Finland
Over the last three years, the Mahindra Group has built a considerable presence in Finland employing over 1400 people across its three businesses.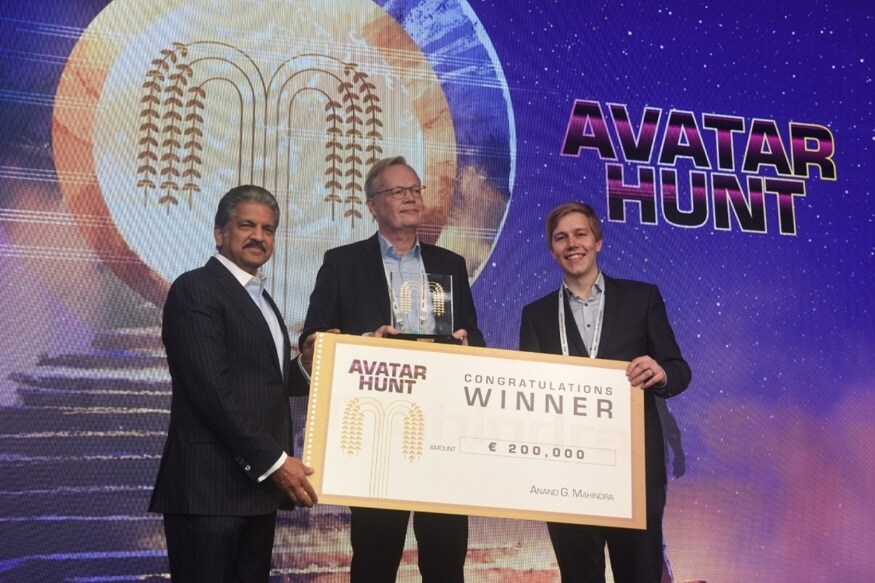 Mr. Anand Mahindra, Chairman, Mahindra Group with the winners of the Avatar Hunt- Medixine CEO Tapio Jokinen (who is also a medical doctor) and their CTO Otto Teinonen.(Image: Mahindra)
The US$ 19 billion Mahindra Group has reaffirmed its commitment to Finland where it already has a substantial footprint. The Mahindra Group hosted its annual Senior Leaders Conference in Helsinki this year and was honoured by the presence of Prime Minister Juha Sipilä. He was joined by Minister of Economic Affairs, Mika Lintila. The annual conference is an occasion for Mahindra's senior leadership team to deliberate on the year gone by as well as to ideate and set the context for the future.
Welcoming Mr. Mahindra and Mahindra's senior leadership team to Helsinki, Prime Minister Juha Sipilä said, "I'm happy to note Mahindra's already strong presence in Finland. This reflects the deepening business engagement between our countries. The cooperation between Mahindra and several Finnish companies has been valuable for all. I'm convinced that this relationship will be further strengthened in the future."
Over the last three years, the Mahindra Group has built a considerable presence in Finland employing over 1400 people across its three businesses. These include the combine harvester manufacturer, Sampo Rosenlew, Holiday Club Resorts Oy, the Finnish arm of its timeshare business and the IT services company, Tech Mahindra which works with several top Finnish companies on their digital transformation initiatives.
Mahindra is driving innovation across its businesses to ensure it is future-ready, and FUTURise is the creative expression of this strategy. The term is a combination of the words 'Future' and 'Rise'And literally means 'to bring into the future'. The M101 conference was an opportunity for Mahindra to tap into the dynamic Finnish innovation and start-up eco-system with Avatar Hunt, a unique search for the next big idea, a new and radical 'avatar' of business with potential for future growth.
Seven shortlisted entrepreneurs from a variety of industries including education, healthcare, analytics, finance, IoT and mobility presented their unique business ideas to a jury comprising of young leaders from within the Mahindra Group. Mahindra will invest Euro 200,000 in the winning start-up, Medixine, which will enable it to achieve its business vision. Medixine has a suite of cloud software programs that provide e-services to their patients and help them become active players in their own care instead of being passive targets.
"We were honoured to host Prime Minister Sipilä and Minister of Economic Affairs, Mika Lintila at our annual conference. Finland is a strategic part of our global footprint and our significant presence in the country is testimony to the important position it holds in our business plans.
A combination of public R&D funding and focus on skill development has resulted in Finland's consistently high rankings in global innovation surveys. Our intent is to leverage the strengths of this unique eco-system to help us discover the next big ideas and business models which will help us leverage the forces of disruption to create new opportunities for the Group in the future," said Anand Mahindra, Chairman, Mahindra Group.
Finpro, Finland's trade promotion agency helped Mahindra identify and shortlist innovative start-ups from across the country for the competition. "Finland is a major tech hub and fast-rising start-up nation ideal for open innovation, offering great business opportunities for forward-looking corporations such as the Mahindra Group. Avatar Hunt provided us with the ideal platform to introduce Finnish companies to Mahindra Group executives and give them a sense of what the country has to offer," said Markus Suomi, CEO, Finpro.
Finpro helps Finnish SMEs go international, encourages foreign direct investment in Finland and promotes travel to Finland. It is a public organization consisting of Export Finland, Visit Finland and Invest in Finland. Its 240 professionals work in 37 trade centers in 6 offices in Finland and 31 countries overseas. Finpro is part of the Team Finland network.
Also Watch: Hyundai Weekender (Part 1) | Bhakra-Nangal Dam in Creta & Verna | Road Trip India
| Edited by: Ayushmann Chawla
Read full article
Countdown To
Elections Results
To Assembly Elections 2018 Results