Mahindra Mojo Tourer Edition Launched at Rs 1.8 Lakhs
he Tourer edition will come equipped an accessory kit that consists of a magnetic tank, saddle bag and fog lamps.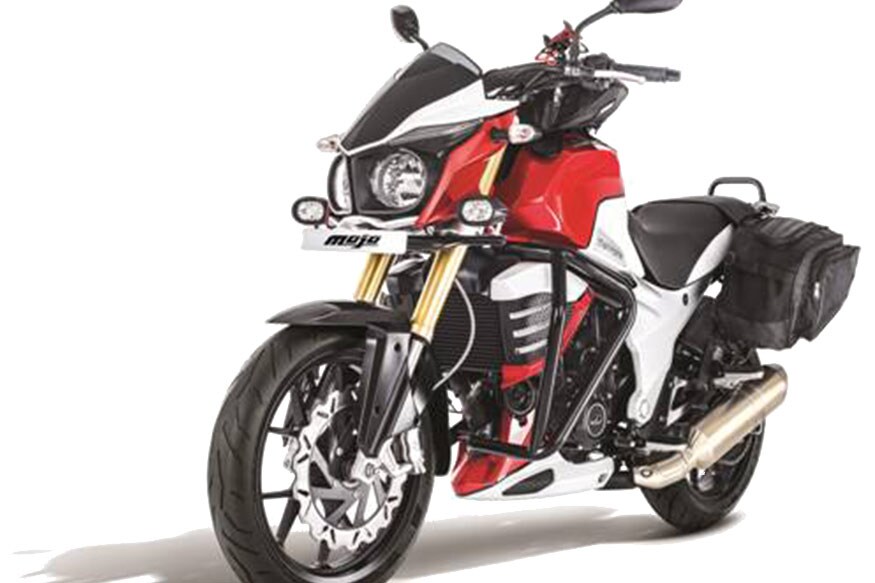 Mahindra Mojo Tourer Edition. (Photo: Mahindra 2 Wheelers)
Mahindra Two Wheelers has announced the Mahindra MOJO Tourer Edition, which comes with a wide range of accessories designed to offer functionality benefits and enhanced tourer styling. The company has priced the variant at Rs 1,88,850 (ex-showroom, Delhi).
The Tourer edition will come equipped an accessory kit that consists of a magnetic tank bag with a 13-litre storage capacity, saddle bag and carrier which have a combined storage space of 38 litres and are made of ultra-tough denier fabric with triple stitching on stress points for added durability.
The bike also comes with a fully adjustable mobile holder, a front guard, pannier mount, 20W fog lamps and mount.
According to the company, these accessories have been selected keeping in mind the functional needs of a tourer – the saddle carrier and pannier mount help carry excess luggage over long rides. The mobile holder will aid navigation and provide easy accessibility. The front guard will safeguard the bike from damage while the fog lamp will help enhance visibility during harsh weather conditions.
To further enhance the experience of the customer, a Tourer Jacket, designed to enhance rider safety and up the style quotient, is being offered as an Introductory Benefit.
Naveen Malhotra, Sr. General Manager – Sales, Marketing & Product Planning, Mahindra Two Wheelers Ltd. said, "The emerging trend among the youth is to accessorise their bikes, keeping this in mind, we are excited to introduce the MOJO Tourer Edition. It is aimed at those who have a passion for touring and for whom exploring new terrain is a way of life. The MOJO Tourer Edition is the perfect companion for every biker who is passionate about touring."
The Mojo is powered by a 295cc liquid-cooled engine that comes with fuel injection and delivers an impressive 27 horsepower and 30 Nm of torque and comes connected to a 6-speed transmission which allows for clean, slick gearshifts.
You can read the complete review of the Mahindra Mojo here.
Also Watch
Read full article