Mars Ready Tesla Roadster Images Teased by Elon Musk
Elon Musk has teased images of the cheery red Tesla Roadster that will be put in the Martian orbit loaded inside the SpaceX's Falcon heavy rocket.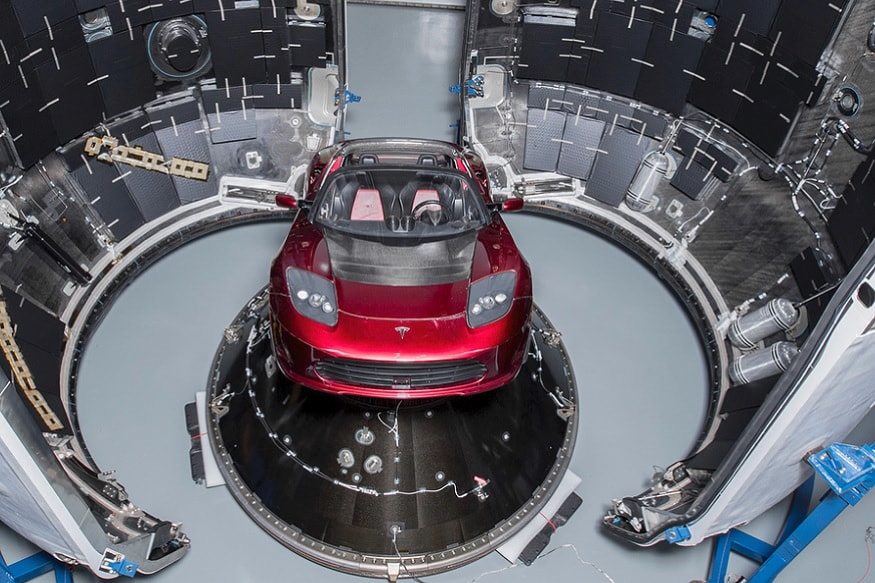 Tesla Roadster inside Falcon heavy rocket ready for Mars orbit takeoff. Representative Image. (Image: Instagram/Elon Musk)
When Elon Musk, the dynamic and the non-human (because of the kind of plans he has for Earth) CEO of Tesla Inc. revealed his plans to launch the SpaceX's Falcon heavy rocket into the Mars orbit earlier this month, everybody thought he was crazy. And no, it wasn't due to the Falcon heavy rocket that people thought he is crazy. It's the announcement that the Falcon will be loaded with a newly launched Tesla Roadster that has left everybody flabbergasted.
Now Elon Musk has started to tease the same audience with all the images of the Tesla Roadster on his Instagram account, proving that he is not that crazy after all. The images showcase a cherry red Tesla Roadster, which, according to Musk, will last a billion years in the elliptical orbit around the sun.
The caption of his Instagram photoset reads – "Test flights of new rockets usually contain mass simulators in the form of concrete or steel blocks. That seemed extremely boring. Of course, anything boring is terrible, especially companies, so we decided to send something unusual, something that made us feel. The payload will be an original Tesla Roadster, playing Space Oddity, on a billion year elliptic Mars orbit."
The launch will take place next month at the Kennedy Space Center in Cape Canaveral, Florida. He earlier tweeted "Payload will be my midnight cherry Tesla Roadster playing 'Space Oddity'. The destination is Mars orbit. Will be in deep space for a billion years or so if it doesn't blow up on the ascent".
"Falcon Heavy" is the follow-up to SpaceX's "Falcon 9" rocket. It is a more powerful rocket that SpaceX hopes to use for missions to the Moon and Mars. The rocket was originally supposed to take a flight back in 2013 or 2014, but its maiden flight is now pegged for January 2018.
Tesla Roadster is an all-electric battery-powered, four-seater sports car prototype from Tesla. Musk has stated that the Roadster would be the quickest vehicle in the Tesla lineup, with a new acceleration mode called "Maximum Plaid".
Also Watch:
Get the best of News18 delivered to your inbox - subscribe to News18 Daybreak. Follow News18.com on Twitter, Instagram, Facebook, Telegram, TikTok and on YouTube, and stay in the know with what's happening in the world around you – in real time.
| Edited by: Arjit Garg
Read full article