The first leg of the 15th edition of Maruti Suzuki Desert Storm culminated at Bikaner on Monday. The participants covered a total distance of around 250km traversing through the sandy dunes in the scorching sun from Hanumangarh to Bikaner crossing Hardaswali and Arjansar.
In the extreme category, Suresh Rana from Team Maruti was seen leading the rally by completing the leg first along with his navigator Ashwin Naik in his Grand Vitara. He was closely followed by Gaurav Chiripal and his navigator Srikanth Gowda and Sanjay Agarwal with navigator, Shivaprakash who finished third.
In the Moto category, C S Santosh raced past his opponents to complete the leg first followed by Tanveer Abdul Wahid and R Nataraj who came a close third.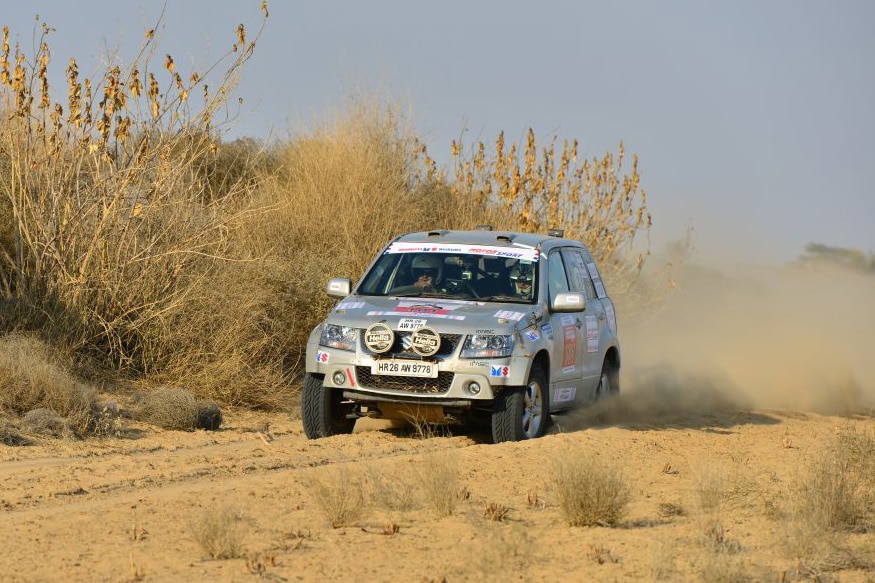 Maruti Suzuki Desert Storm Rally 2017 (Image: Maruti Suzuki)
In the Ndure category, Debajyoti Nath and Arindam Ghosh topped the charts in the first leg followed by Nikunj Toshniwal and Suvrajit Dutta. Arpit Gupta and T Nagarajan came a close third.
In the Explore category, we had Nipun Agarwal along with his co-driver Kabir Mansharamani finishing first, followed by Jogendra Kumar Jaiswal and his co-driver Prasenjit Roy. Jagmeet Gill and Chandan Sen from Team Maruti came in third.
On January 31, the rally is expected to travel towards Jaisalmer covering a total distance of around 500km with the participants overcoming the challenging terrain towards the finish line.
Also read:
Maruti Suzuki Baleno RS: All You Need to Know Before the Launch
Below is the total time of the top three participants at the end of Day 1:
Extreme category:
Suresh Rana and Ashwin Naik (from Team Maruti) – 1:11:42
Gaurav Chiripal and Srikanth Gowda – 1:11:45
Sanjay Agarwal and Shivaprakash – 1:15:38
Moto category:
C. S. Santosh – 00:41:29
Tanveer Abdul Wahid – 00:41:48
R Nataraj – 00:44:35
Also read:
Price of All Maruti Suzuki Cars Including Baleno, Vitara Brezza, Alto 800 Hiked
Below are the total penalties of the top three participants at the end of Day 1 :
NDure category:
Debajyoti Nath and Arindam Ghosh- 00:01:33
Nikunj Toshniwal and Suvrajit Dutta-00:02:01
Arpit Gupta and T Nagarajan- 00:02:08
Xplore category:
Nipun Agarwal and Kabir Mansharamani- 00:00:52
Jogendra Kumar Jaiswal and Prasenjit Roy-00:01:00
Jagmeet Gill and Chandan Sen (from Team Maruti)- 00:01:03