Mercedes have officially unveiled their new car at Silverstone - and in an ominous warning to the rest of the grid, Lewis Hamilton has declared it 'better than last year's car in every aspect'. According to the reigning world champion, the elaborately named Mercedes-AMG F1 W09 EQ Power+ is an evolution of the car that won 12 races and took 15 pole positions in 2017, taking him to his fourth drivers' crown as the Silver Arrows simultaneously secured a fourth straight constructors' title.
"Last year the car was fantastic, but there were so many things we could still improve on," said Hamilton. "What we've done is taken a lot of the DNA from last year's car - this is the sister car, an evolution of that.
"This is better than last year's car in every aspect. It looks quite similar but inside, underneath the shell, and even the bodywork, it's all refined to perform even better than it did last year.
The W09 was presented to the world's media following an earlier shakedown run on Silverstone's International Circuit, with Valtteri Bottas giving the car its maiden outing ahead of a similar familiarisation stint for Hamilton in the afternoon.
The 2017 Silver Arrow was affectionately dubbed a 'diva' within the team for its occasional lack of predictability, but according to Technical Director James Allison, this year's machine should be easier to handle.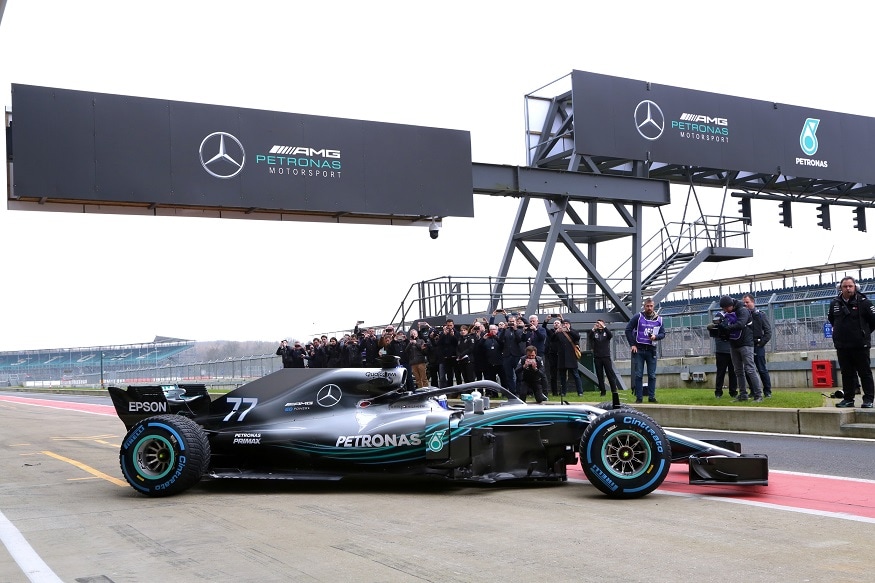 Mercedes-AMG F1 W09 EQ Power+. (Image: Mercedes-AMG)
In addition to chassis changes, Mercedes say they have made major upgrades to their power unit in response to the reduction in the number of power unit components that can be used by each driver this season.
"The amount of change on the power unit for this year is quite considerable and driven by a number of requirements," explained Andy Cowell, Managing Director of Mercedes-AMG High Performance Powertrains.
Mercedes will get a first chance to assess the true pace of the W09 when pre-season testing gets underway in Barcelona, Spain, next week.
Also Watch: