Mercedes-Benz to Launch New Maybach S 650 Sedan at Auto Expo, Will Unveil New E-Class All Terrain
The Mercedes-Benz Pavilion will be situated in Hall 15 of the Auto Expo.
Mercedes-Benz E-Class All-Terrain. (Image: Mercedes-Benz)
Mercedes-Benz is all set to excite at the 14th Edition of the much awaited 'Auto Expo 2018'. The key highlight of Mercedes-Benz's product offense will be based on three distinct product attributes: Luxury, Versatility and Future Mobility. Making its much-awaited India debut will be Mercedes-Maybach S 650 sedan. The Mercedes- Maybach S 650 will further accentuate the Maybach's overwhelming demand in the Indian market. The forerunner of Mercedes-Benz's new product brand for electric mobility globally- EQ, the 'Concept EQ' will be showcased to clearly manifest Mercedes-Benz's direction towards creating a sustainable ecosystem of services, technologies and innovations and also delineate its long-term strategy of introducing the 'EQ' brand of battery electric vehicles in India.
The all New E Class All Terrain will also be unveiled at the Auto Expo 2018. The New E-Class All Terrain is like an SUV with large wheels and 4MATIC all-wheel drive as a standard feature, making it a versatile vehicle. In addition, the All-Terrain compares favourably with other SUVs in terms of its aerodynamics, which is why it is in its element on the motorway, too. The All-Terrain also cuts a fine figure thanks to its SUV look with powerful flared wheel arches and SUV radiator grille. The most eye-catching feature of the striking front is the SUV-style two-fin grille with a star integrated in the centre. The front bumper and the paneling in underride guard-look, electroplated in silver-chrome, also contribute to the SUV appearance of the E-Class All-Terrain.
In the side view, the 19-inch light-alloy wheels gives the vehicle a confident look of a SUV, with more ground clearance and enhanced comfort on rough roads. The E-Class All-Terrain made its global debut at the Paris Motor Show in 2016 and will have its India debut, later in 2018, creating a niche segment for itself.
Roland Folger, Managing Director & CEO, Mercedes-Benz India commented; "Auto Expo remains the much-awaited event in the Indian Automotive Industry and we are glad to be associated with it. Mercedes-Benz's participation in the 14th Auto Expo is a reiteration of our commitment to our customers, to the market, and also a manifestation of our support to the government's vision of 'Make in India'. Auto Expo gives us a distinct opportunity to showcase our exciting range of new products and technologies to our discerning customers and brand enthusiasts, whom we are committed to fascinate. In addition to an array of fascinating global products, we also will showcase some of the best products we make in this country, in Pune. The Mercedes-Benz pavilion will be a perfect embodiment of modern luxury, future technology and mobility, driving performance, innovative design and progressiveness, all of which are synonymous with our brand promise 'Best or Nothing'. We are confident of leading the market as the No.1 luxury car maker in India and our Auto Expo 2018 display will firmly underline this fact."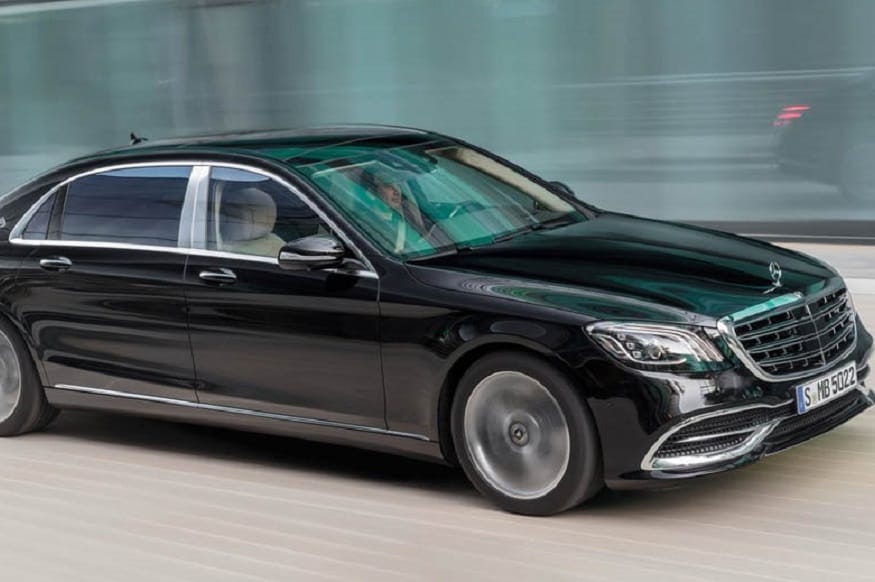 2018 Mercedes-Benz S-Class Maybach. (Image: Mercedes-Benz)
"Apart from the stunning display of our AMG and Dream Cars, our luxury sedans and SUVs; there will be specific products that underline the attributes of Luxury, Versatility and Future Mobility, like no other product. The Mercedes-Maybach S 650, the E-Class All-Terrain and the Concept EQ represents these attributes effortlessly, and will present the most overwhelming product offensive from Mercedes-Benz for the Indian market. The Mercedes-Benz S 650 will debut at the motor show and will kick-off our product offensive towards sustained leadership in the Indian market for 2018. Other than fascinating products, we are also glad to introduce a host of intriguing digital assets during the Auto Expo. An industry first, we will launch an AI based Chatbot, which uses artificial intelligence to answer customer questions on MercedesBenz products. It will also have an Artificial Reality based function which will further enhance customer interactivity with the Bot." Mr. Folger elaborated.
Mercedes-Benz family at Auto Expo 2018 comprises: AMG: F1 Car, AMG GT R, AMG GLC 43 Coupe and AMG SLC 43. Show Car: Concept EQ. Specialty Cars: E-Class All-Terrain and C-Class Cabriolet. Sedans: Mercedes-Maybach S 650, New E 350 d, C 250 d Edition C. SUVs: GLA 220 d 4MATIC, GLC 220 d, GLS 350 d Unique digital activations for Auto Expo 2018 Mercedes-Benz intend to engage more with our customers, prospects and fans in the online space, for which the brand will launch a new e-commerce marketplace for sale of Mercedes-Benz official merchandise.
Also Watch: Hyundai Weekender (Part 2) | Hyundai Verna Goes to Chandigarh | Road Trip India
Get the best of News18 delivered to your inbox - subscribe to News18 Daybreak. Follow News18.com on Twitter, Instagram, Facebook, TikTok and on YouTube, and stay in the know with what's happening in the world around you – in real time.
| Edited by: Ayushmann Chawla
Read full article