Mini Electric Concept to Be Showcased at Frankfurt Motor Show
The MINI Electric Concept encapsulates MINI's near-term vision of an all-electric car designed for urban mobility in a changing world.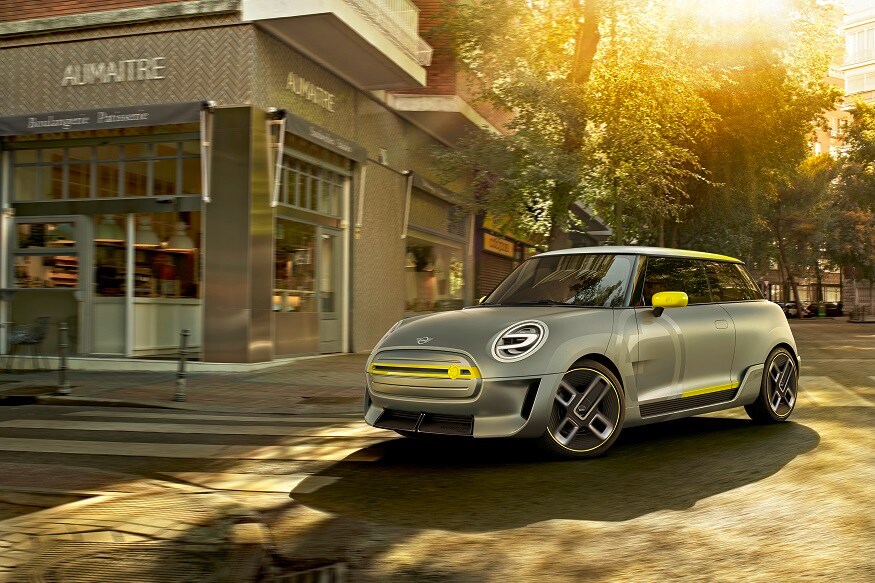 Mini Electric Concept. (Image: BMW Group)
MINI is using the IAA Cars 2017 show in Frankfurt am Main to showcase its take on future personal mobility in the city – in the form of the MINI Electric Concept. It has been nearly ten years since MINI took a significant, pioneering step with the MINI E – and laid the foundations at the BMW Group for the development of electric mobility solutions to production readiness. The MINI E unveiled in 2008 was the first all-electric car from the BMW Group to be driven by private users in everyday traffic conditions. The new model variant enables electric and therefore locally emission-free mobility for the first time. The all-electric MINI Electric Concept represents a seamless continuation of this bloodline. In the future, all electrified products from the MINI brand will be grouped together under the "MINI Electric" banner.
At the front, the car gets a hexagonal radiator grille and circular headlights which make the MINI Electric Concept instantly recognisable when viewed from the front. Identifying features include the vividly contrasting silver and yellow colour scheme reminiscent of the earlier MINI E, as well as the distinctive E badge. Besides this, the radiator grille and headlights have been reinterpreted to reflect the emission-free drive technology under the bonnet. The LED headlights and fibreglass structures contrast with the expanse of clear surfaces and lend the front as a whole a very sophisticated look.
(Image: BMW Group)
Further "MINI E" badges are integrated into the radiator grille and exterior mirror caps. Colour gradients in the accent shade Striking Yellow, incorporated into both the roof and side skirts, add further flourishes. The colour of the roof flows from matt white to high-gloss yellow, while the yellow of the side skirts gains in transparency as it rises, appearing to merge into the body colour.
The rear light assemblies constitute yet another standout visual feature and provide a clear pointer to the car's British roots. Framed within the classic MINI outline, they each form one-half of the Union Jack as an LED dot matrix. The rear apron features aerodynamic elements similar to those at the front, including air deflectors and a fibreglass diffuser. This is further underlined by the absence of exhaust pipes and the dark louvred surfaces in the simulated air outlets.
Cutting-edge, pure and dynamic (in an efficient way), the MINI Electric Concept encapsulates MINI's near-term vision of an all-electric car designed for urban mobility in a changing world.
Also Watch: Tech And Auto Show | EP11 | Nokia 8 Review, BMW M3 & More
Also Watch

Beatles Drummer Ringo Starr Knighted For Services To Music
Read full article