Move Over Ferrari and Lamborghini, Dubai Police Now Has a Flying Motorcycle
Yes, you read that right. The Dubai Police's fleet now includes a hoverbike that can go up to 70 km/h and fly at a height of 16 feet.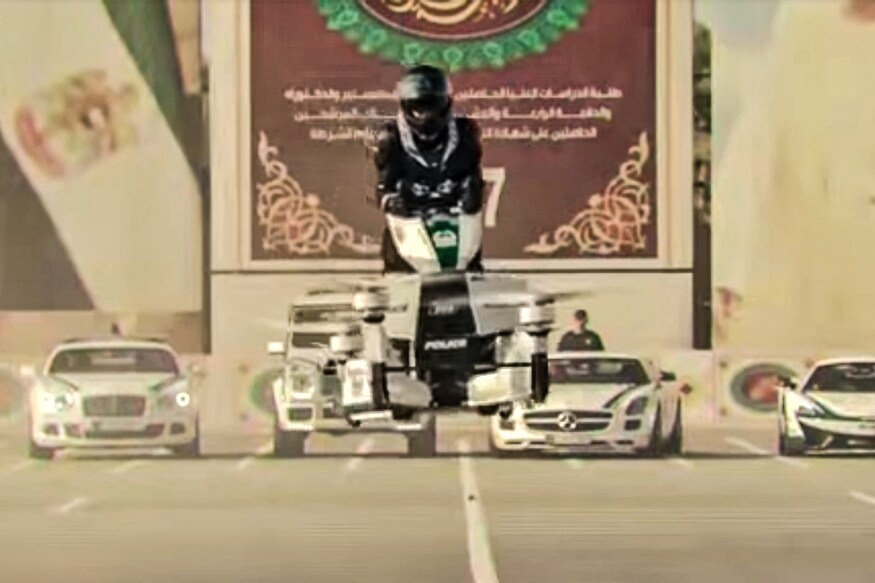 Dubai Police now have a Hoverbike!. (Photo Courtesy: YouTube Screenshot/Hoversurf official)
It's no secret that the Dubai police has arguably the most exotic fleet of cop cars which include the likes of fancy supercars like the Bugatti Veyron and the Aston Martin One-77. Now, they have added something to their fleet which they can be really proud of – a flying motorcycle!
Yes, you heard that right. It is essentially a big enough drone that can lift a weight up to 300 kilos, the Scorpion-3-based hoverbike is the dream of flying a drone taking shape. The hoverbike was showcased revealed during last week's Gulf Information Technology Exposition (GITEX).
Here's the official video of the Hoverbike Scorpion-3.
The hoverbike can achieve a height of a maximum of 16 feet and can attain speeds of up to 70 km/h. This can be done for 25 minutes before its battery needs a recharge.
Just to give you an idea, here's a list of the cars that are owned by Dubai Police. They are not all, but they are some of the fastest ones in their fleet.
-Bugatti Veyron
-Aston Martin One-77
-Lamborghini Aventador
-Ferrari FF
-McLaren MP4/12C
-Bentley Continental GT
-Nissan GTR
-Mercedes-Benz SL63 AMG
-Lexus RC-F
-Audi R8
-BMW i8
-Chevrolet Camaro SS
Also Read: Maruti Suzuki Dzire vs Tata Tigor Comparison Review
| Edited by: Manav Sinha
Read full article