NIO ES8 All-Electric SUV Launched in China for Half the Price of Tesla Model X SUV
The NIO ES8 is a 7-seater high-performance electric SUV with both front and rear motors, the SUV delivers 480 kilowatts of power and 840 Newton meters of torque to all four wheels.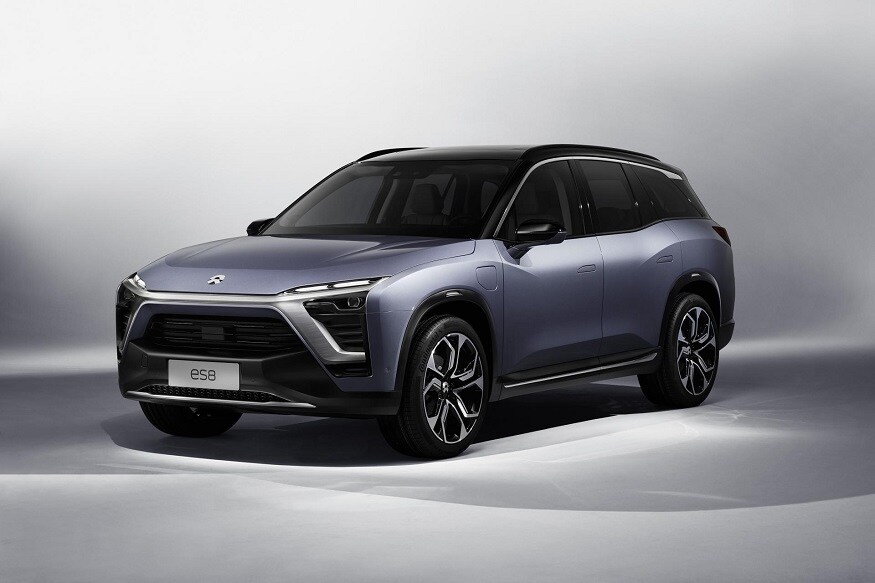 NIO ES8 All -Electric SUV. (Image: NIO)
Chinese electric car manufacturer NIO has launched its new SUV, the ES8 in China at a base price of RMB 448,000 before subsidies, with 10,000 Founder's Editions available for RMB 548,000. A battery rental plan is available to NIO users, which provides a RMB 100,000 discount on the purchase price of the ES8. The NIO ES8 is a 7-seater high-performance electric SUV with both front and rear motors, the SUV delivers 480 kilowatts of power and 840 Newton meters of torque to all four wheels. This E-powertrain enables the ES8 to accelerate from 0-100 km/h in just 4.4 seconds. The latest active air suspension on all ES8's models creates connected riding experience.
The ES8 is equipped with a 70-kilowatt-hour liquid-cooled battery pack comprised VDA square cell batteries. These cells feature the highest energy density of their kind and provide a 2,000-charge lifecycle. The ES8's drag coefficient is as low as 0.29. The ES8 achieves over 500 kilometers of range when constantly run at 60 kph, and the car achieves an NEDC range of 355 kilometers.
Also Read: Watch India's First Tesla Model X All-Electric SUV Spotted Being Driven in Mumbai [Video]
The ES8's goes beyond five-star safety. The ES8 is the first car to have an all-aluminum body and chassis featuring aerospace grade 7003 series aluminum alloy, enabling a torsional stiffness of 44,140 Nm/Deg. The ES8 features the highest amount of aluminum for any mass production car. With the excellent passive safety design and 21 active safety features, the ES8 stands out among vehicles in its class. As per the company, the ES8 will finish a 3,000,000km road test before NIO begins delivering the vehicle to users.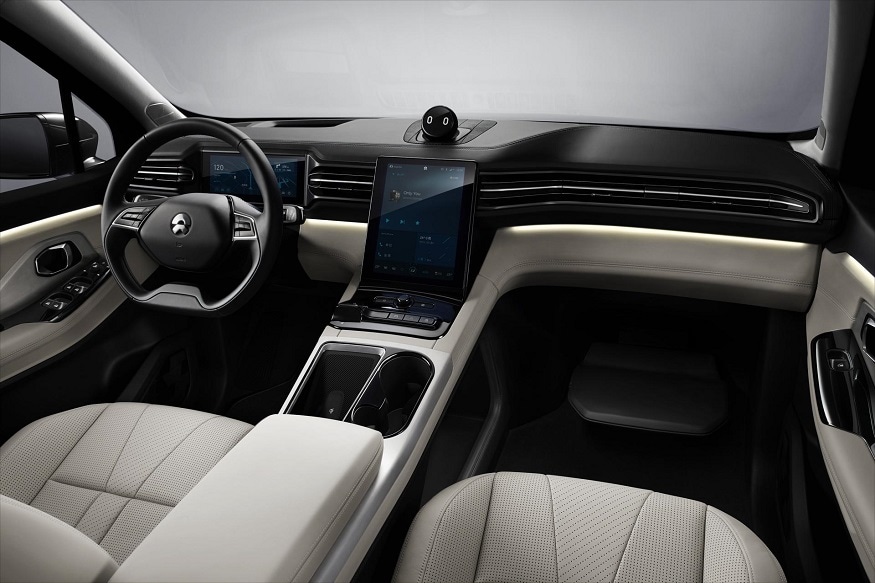 NIO ES8 All -Electric SUV Interiors. (Image: NIO)
Inside the car, the NIO ES8 gets a three-row, seven-seat layout that uses full of the interior space. The "lounge seat" and "child-care mode", together with the Nappa leather wrap helps to create a cozy atmosphere. The smart air quality system includes an activated carbon and HEPA filter and negative ion generator.
Along with the ES8 SUV, NIO also launched NIO Pilot, its comprehensive advanced driver assistance system which is enabled by 23 sensors, including a trifocal front-facing camera, four surround exterior cameras, five millimeter-wave radars, 12 ultrasonic sensors and a driver monitor camera. The ES8 is the world's first vehicle to come equipped with the Mobileye EyeQ4, which has a computation capacity eight-times more powerful than its predecessors.
NIO ES8 SUV also gets NOMI, the world's first in-car AI system. Powered by both in-car and cloud computation, NOMI interacts with people sitting in the vehicle and its emotion engine gives users a friend on the road.
The ES8 is powered by NIO Power, a new charging experience that allows the ES8's battery to be swapped in three minutes. NIO Power also includes NIO Power Home, supercharger network, and Power Mobile. Power Mobile is a brand-new power service product developed by NIO, which enables an ES8 to run 100 kilometers after charging for ten minutes. By 2020, NIO plans to build over 1,100 Power Swap Stations and deploy over 1,200 Power Mobile vehicles.
NIO has opened NIO Houses in Beijing and announces their plan to open more NIO Houses in nine more cities in 2018, including Shanghai, Shenzhen, Nanjing, Guangzhou, Hangzhou, Chengdu, Hefei, Suzhou, and Wuhan.
Also Watch: All-New Volvo XC60 | First Drive Review | Cars18
Get the best of News18 delivered to your inbox - subscribe to News18 Daybreak. Follow News18.com on Twitter, Instagram, Facebook, Telegram, TikTok and on YouTube, and stay in the know with what's happening in the world around you – in real time.
| Edited by: Ayushmann Chawla
Read full article