Nissan Terrano AMT: Top 5 Features
Nissan India has recently launched the all new Terrano with a 6-speed AMT transmission. We take a look at the top 5 features that this new compact SUV packs in.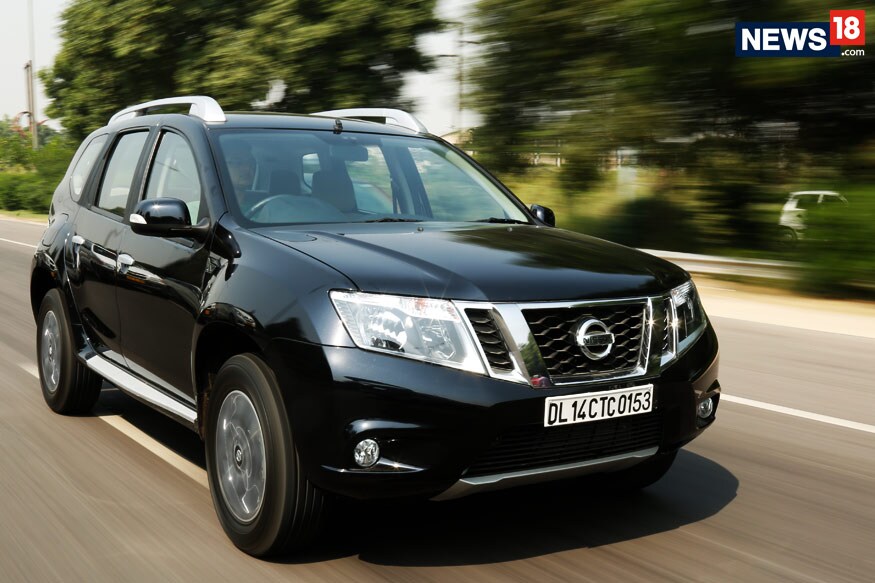 Nissan Terrano AMT. (Image: News18.com)
The Terrano is Nissan's flagship model in India and this bold SUV now comes in a new avatar with 14 new features. And here's our list of the top 5 features that make the Nissan Terrano a delight.
1. 6-Speed Advanced Auto Drive
The biggest addition to the Terrano is the 6-Speed Advanced Auto Drive which, with the help of sensors, does the gear shifts for you resulting in a stress-free drive in city traffic and on open highways. Moreover, it makes you stay in control all the time as both your hands are free to be on the steering wheel. And when you want greater control you can just switch to the clutch free manual transmission on the Terrano. It offers the fun of an automatic while giving the mileage of a manual, at 19 km/l.
2. ESP
Electronic Stability Program or ESP in short, is a computerised technology that improves a vehicle's stability by detecting and reducing the loss of traction. Which, in turn, makes it safer. And the Nissan Terrano really knows how to hold its ground even when you plan to go a little fast.
3. Hill Assist

This feature keeps the Terrano steady when you are stationary on a hill or while climbing a flyover. When you need to move forward all you have to do is press the accelerator pedal. In simple words, it does the braking for you while on an incline.
4. Retractable ORVMs
Now you can retract the outside rear-view mirrors while being seated inside the car with just a touch of a button. This is helpful if you need to park in a tight spot or navigate through small lanes.
5. New Interiors
The Terrano now comes with a new driver side armrest, soft-touch plastics on dashboard and doors along with illuminated switches on doors. The luxurious cabin makes you feel at safe and keeps you comfortable.
This is what makes the all new Nissan Terrano stand apart from the crowd.
Also Watch
Read full article