Pagani Raises the Roof and Raises the Bar With the Huayra Roadster
This 764hp, 1000Nm luxury-packed roadster weighs just 1280 kilos, that's 80kg lighter than the Huayra Coupe.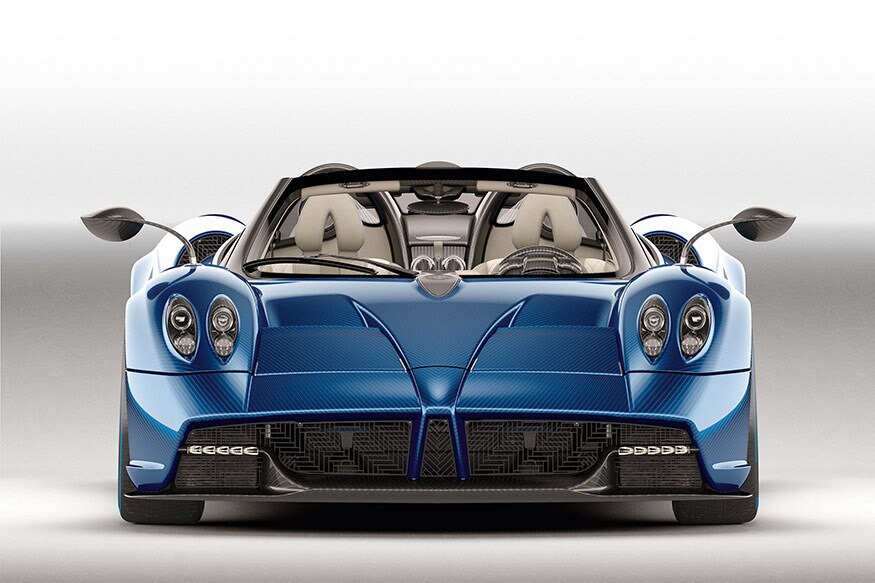 Pagani Huayra Roadster. (Photo: AFP Relaxnews)
Every hypercar from this boutique company would be equally at home on display at MoMA as it would lapping Monza, but for his latest creation company founder and chief designer, Horacio Pagani may well have set a new benchmark for a car that's equal parts art and racing science.
"This is the most complicated project we have ever undertaken," said Pagani. "Engaging in such a challenge, to make just 100 cars has meant an impressive effort for a company like ours, from a technical, human, and economic point of view."
The challenge in question was to build an open-top hypercar that is lighter and more rigid than its hardtop counterpart – something that has never been achieved without completely stripping the vehicle of soundproofing, premium interior materials and even essential creature comforts.
Yet after six years of development, this 764hp, 1000Nm luxury-packed roadster weighs just 1280kg. That's 80kg lighter than the Huayra Coupe which, as Pagani points out, "was already the lightest hypercar on sale at the time."
The company has achieved this by using materials that redefine the term exotic. In particular, it has made prodigious use of carbo-titanium, a material it essentially invented and one made up of titanium and carbon fibre woven together, plus another composite creation -- Carbo Triax HP52. These materials have made the car 52% stronger than the coupe -- to make up for the loss of rigidity that comes from removing the roof -- but without adding a single gram of extra weight.
There's also a new seven-speed gearbox that's lighter than the unit in the coupe. And because, roof or no, there's a 6-liter twin turbo V12 calling the shots, there is some clever active aerodynamic trickery too. Vents front and rear plus self-adjusting suspension work in concert to change the flow of air over and under the car to ensure the car is always flat and parallel to the road.
These improvements, plus bespoke Pirelli tires, mean that this is the first-ever road car capable of achieving 1.8g of lateral acceleration while rolling on road-legal rubber.
But none of these features in any way detracts from the car's looks.
"Everything had to come together as if it was a car carved out of a block of Carrara marble," said Pagani, who even laboured over the design of individual screws as they were going to be on show. "We hope that this six-year effort will touch you, rationally and emotionally."
Get the best of News18 delivered to your inbox - subscribe to News18 Daybreak. Follow News18.com on Twitter, Instagram, Facebook, Telegram, TikTok and on YouTube, and stay in the know with what's happening in the world around you – in real time.
| Edited by: Manav Sinha
Read full article