Pininfarina Planning to Become Full-Blown Auto Brand
An initial investment of $100 million from Pininfarina's Indian parent company Mahindra will get things underway for the new auto brand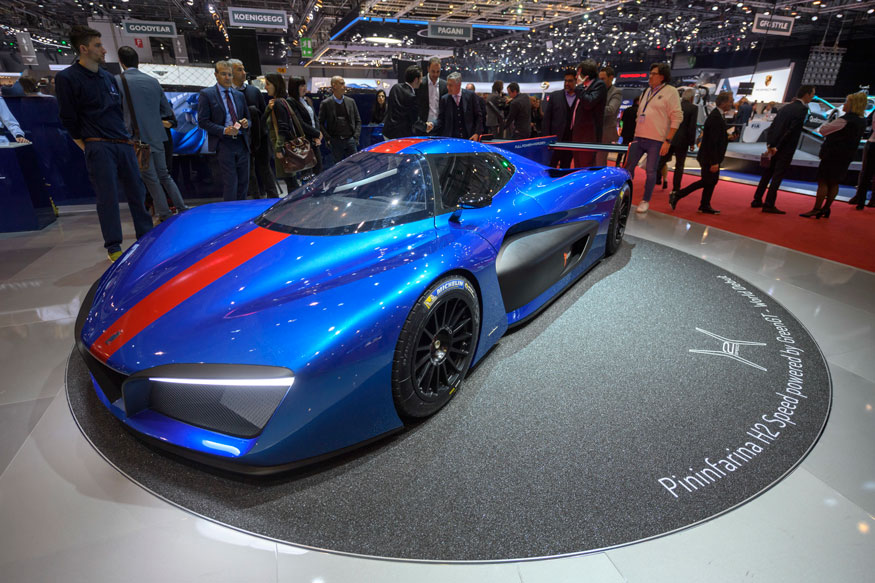 The new Pininfarina H2 Speed car is presented during the press day at the 88th Geneva International Motor Show in Geneva, Switzerland. (Image: AP)
Only quite recently it was being reported that the automotive design house ItalDesign was launching a new supercar under its own branding. Now it turns out that the legendary Pininfarina design house is doing something similar, but on what looks to be a bigger scale.
While ItalDesign's plans so far revolve solely around its impressive Zeouno supercar, Pininfarina seems to have a well thought-out plan that goes beyond the first model under its own name. The first Pininfarina-branded model is set to be an all-electric hypercar that looks to be the perfect platform to gain attention and generate publicity, but following on from there will be SUVs as well as the flagship vehicle that will then bring in the much-needed profitability.
An initial investment of $100 million from Pininfarina's Indian parent company Mahindra will get things underway for the new auto brand that will be headed by former Audi India boss Michael Perschke, and already plans to produce four vehicles over the first five years.
Despite the fact Pininfarina has worked with a number of very mainstream brands over the years to produce some very reasonably priced, but still beautiful cars, don't expect the first car it will produce in its own right to be in any way affordable.
The electric hypercar, which is currently codenamed PF-Zero, will be built using a modular platform that has been developed together with Croatian manufacturer Rimac and Mahindra's Formula E outfit. The finished car will be aimed at competing directly with the Bugatti Chiron, so that tells us the price will be stratospheric, although it is expected the Pininfarina will boast even more power than the Chiron's 1,479 horsepower. To get an idea of what the Pininfarina might look like we only have to think back a few weeks to the H2 Speed hyrogen fuel cell concept the company had on display at the Geneva Motor Show.
The SUVs that are to follow should be considerably more affordable though. The biggest is said to be a high-performance rival to the Lamborghini Urus that's currently codenamed PF-One, but the other two SUVs that are planned will be designed to compete against the likes of the Porsche Cayenne and Porsche Macan.
Pininfarina is expected to formally announce its plans in public at the first Formula E race to be held in Rome on April 14.
Also Watch: 2018 Mercedes-Benz S-Class First Drive Review | Cars18
| Edited by: Ayushmann Chawla
Read full article
Countdown To
Elections Results
To Assembly Elections 2018 Results