Prime Minister Narendra Modi, who inaugurated the 1st Global Mobility Summit 'MOVE' organized by NITI Aayog at Vigyan Bhavan in Delhi has pushed for investments in electric vehicles - "Clean mobility powered by clean energy is our most powerful weapon in our fight against climate change." Along with PM Modi, Union Minister for Road, Transportation and Highways has said that by 2019, safety features will be mandatory in vehicles in India.
The government is targeting electric vehicles to account for 15 per cent of all vehicle sales in five years in a bid to curb greenhouse gas emissions and dependency on fossil fuels. An estimated 2,000 EVs were sold last year. "My vision for the future of mobility in India is based on 7 Cs -- Common, Connected, Convenient, Congestion-free, Charged, Clean and Cutting edge," PM Modi said.
Many electric vehicles were showcased at the MOVE event, including the Electric Kona from Hyundai Motors India, that may be launched in India in near future. Also, the Nissan Leaf, one of the largest selling electric hatchback was present at the event. Mahindra, on the other hand, showcased lithium ion battery powered electric three wheelers, Treo and Treo Yaari.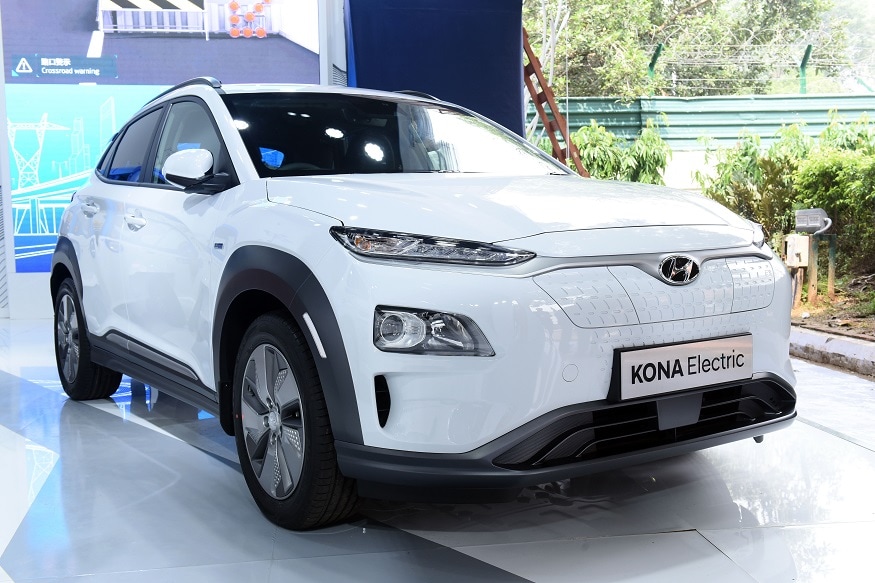 Hyundai Kona Electric at Global Mobility Summit 2018. (Image: Hyundai)
Commenting on PM Modi's speech, Director General of SMEV, Mr Sohinder Gill said, "We totally support our PM's view that we must also focus on scooters and rickshaws, rather than focusing only on four-wheelers. These segments have huge potential to bring mass electric mobility across the country. PM also came up with very interesting concept of clean kms and clean energy complimenting clean mobility. We hope the country would soon get a stable and long term policy on the lines of the encouraging speech given by the Prime Minister."
Speaking on the occasion, Dr. Pawan Goenka, Managing Director, Mahindra & Mahindra Ltd. said, "As India aspires to go all-electric, the time is right for us to develop sustainable solutions for urban mass mobility. As the pioneers of electric mobility in India, Mahindra has been working toward making the EV segment adoptable for masses and to facilitate mass transportation. Today, we are delighted to accelerate this large-scale adoption of EVs with the unveiling of the Treo, a vehicle we expect to become the default choice for the last mile commute in urban India".
"We are glad to participate in 'Move: The Global Mobility Summit' and be a part of exchange of ideas to make the dream of future mobility transform into reality," said Mr. Euisun Chung, Vice Chairman of Hyundai Motor Company. "Hyundai is already leading the future mobility solutions and is committed to realize India's vision of 'Shared', 'Connected' and 'Zero Emission Mobility'. Hyundai has a long-term commitment towards Make-in-India for the past 20 years and today we are proud to showcase the KONA Electric at the Global Mobility Summit."
With Inputs from PTI