Range Rover Evoque and England Rugby Star Owen Farrell Take Bleep-Test Challenge
Owen Farrell, the popular rugby star, took on a Range Rover Evoque in an all-terrain bleep-test challenge.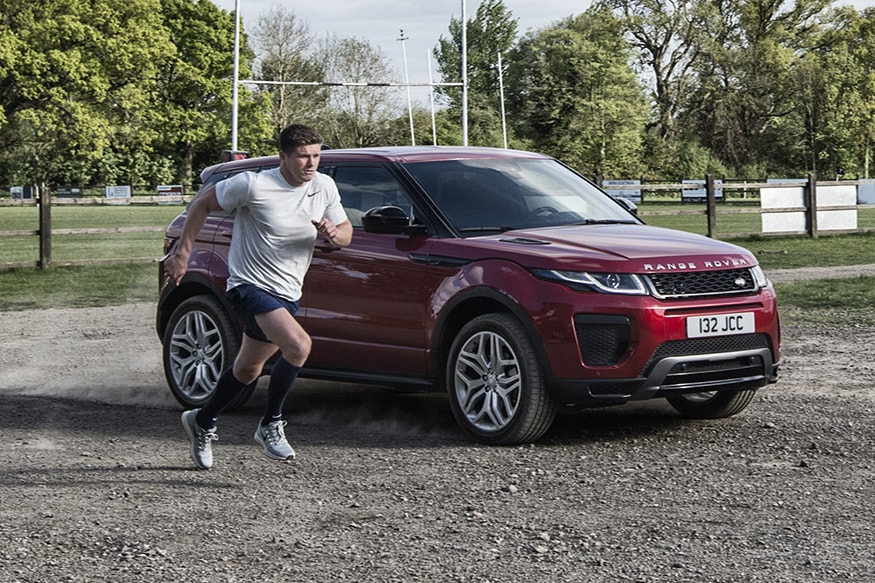 (Photo: AFP Relaxnews)
There are all sorts of publicity stunts and viral videos around these days, but we all love those that pit man against beast or man against machine. But while one that did the rounds a while back was a cobbled together video of what it would be like if Usain Bolt was to race a Cheetah, at least Land Rover has actually got the two protagonists together in the same place for its latest effort. In this case, we see England, British and Irish Lions and Saracens Rugby Union star, Owen Farrell, taking on a Range Rover Evoque in an all-terrain bleep-test challenge.
If you're not familiar with a bleep test, it's a challenge that's generally regarded as one of the ultimate tests of fitness and stamina for any athlete. It's actually very simple, but it's also incredibly punishing. A bleep test is where a competitor runs repeatedly between two points, but each run has to be completed before the next bleep sounds. As time goes by, the gap between the beeps reduces at each new level and the winner is the one still going when the other has failed to reach the designated point in time.
Of course, Farrell was never going to beat the Evoque in this test of endurance unless he could keep going until the Range Rover ran out of fuel. But taking the second round onto the grass from the gravel surface used in the first instance was a good way of showcasing the off-road credentials of the Evoque.
Farrell, who was the inaugural winner of the Anthony Foley Memorial Trophy for the European player of the year, said of the test: "Every sportsman knows bleep tests are one of the toughest tests on the road to peak fitness because there is no hiding place. The bleep test was a great way to challenge myself because the Evoque was relentless."
Although the Evoque has proved to be a huge success for Jaguar Land Rover in markets all around the world, it's probably not unfair to say many of them will never be tested to anywhere near their potential off-road. The Range Rover Evoque may well be a compact luxury SUV, but it's still very much a Land Rover product and that means it can be just about as capable off-road as almost any other consumer vehicle in the world. But as this was the first Land Rover product to ever be offered with two-wheel drive, it's understandable that the manufacturer wants to keep reminding us of its capability in ways like this.
Get the best of News18 delivered to your inbox - subscribe to News18 Daybreak. Follow News18.com on Twitter, Instagram, Facebook, Telegram, TikTok and on YouTube, and stay in the know with what's happening in the world around you – in real time.
| Edited by: Manav Sinha
Read full article