Review: Good Things Come in a Small Package with the Honda Navi
At a price tag of Rs 39,500 (ex-showroom, Delhi), the Navi promises to be one of the most interesting two-wheeler in India.
At a price tag of Rs 39,500 (ex-showroom, Delhi), the Navi promises to be one of the most interesting two-wheeler in India.
First, let's just clear out whether the Navi is a scooter or a motorcycle, as that seems the biggest question whenever someone sees it. The answer is that it's a scooter, as that is what a sticker, put on by Honda on the Navi, calls it as.
It is one of the many questions that one would have about the Navi, and we had them too. Given how it looks, and what it promises at the price tag that it comes with, we just had to test out. And once we did, it blew our mind.
What's Cool
The coolest thing about the Navi has to be the size. Although when you look at the dimensions, it is pretty similar to the other scooters available in the market but when you hop onto it and start riding it, the Navi feels a lot smaller and compact. It weighs in at a mere 101 kilos (kerb), making the scooter very nimble and maneuverable. You don't have to worry about gear shifts either as the Navi has a CVT transmission, something that you will appreciate in day to day traffic.
The 110 cc engine's power output of 8 horsepower at 7000 rpm and 9 Nm of torque at 5500 rpm may sound like any other entry level scooter's power figures but it translates to a much more peppy response on road.
Another good thing about the Navi is the customisation options that you get, allowing you to make your Navi stand out of the crowd even more than what it already does. Speaking of which, the scooter catches a lot of eyeballs on road, which may or may not be a good thing, depending on whether you like being the center of attention or not.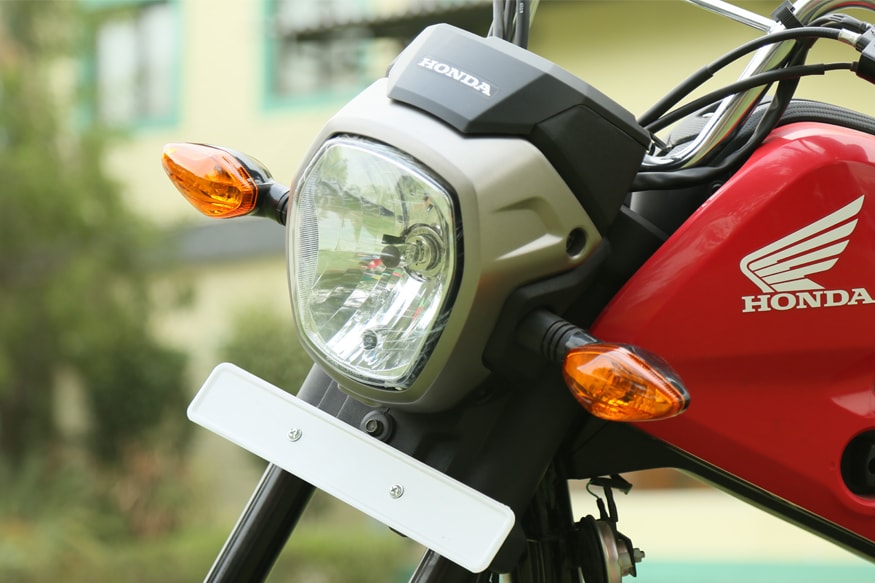 Honda Navi has a bold headlamp design. (Photo: Siddharth safaya/News18.com)
What's Not So Cool
The Navi is a fun scooter, but it is not perfect as there are some negatives too. The panels on the scooter are all plastic. It misses out on a headlight flash switch and we weren't really fond of how the switches felt. The oil tank's lid in particular felt cheap and was very flimsy.
The instrument cluster is very basic, so basic that it just has an odometer and speedometer on board. It even misses out on a fuel gauge, something that can be a problem given that the fuel tank on the Navi has a capacity of only 3.8 litres. It gave us a mileage of around 50 kilometres to the litre in city traffic, which means that you are looking at a range of less than 200 kilometres on a full tank.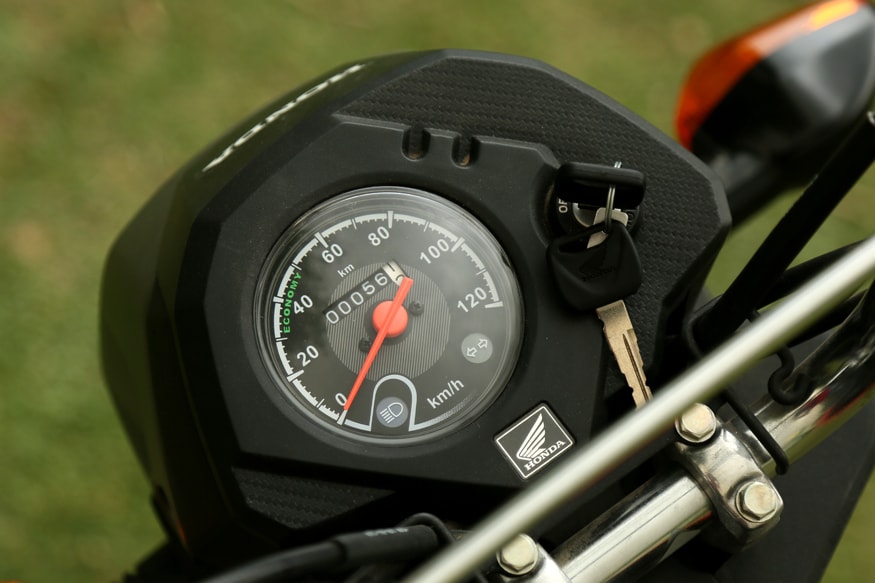 Honda Navi's Instrument Cluster is basic. (Photo: Siddharth Sayafa/News18.com)
Honda's cost cutting can be seen when you realize that the handle lock is mounted on the steering column, something that was used on two-wheelers in the 80s and 90s.
Competitors
The Navi does not have any competition as such in the Indian market, as it is a monkey bike and there is no other such offering out there. If you really go on and compare it with other scooters or bikes based on the price, keep in mind that the design and styling of the Navi is a lot different, which means a very different riding experience on road.
Verdict
The Navi is priced at almost Rs 39,500 (ex-showroom, Delhi), a price tag that makes Honda's latest offering a very interesting deal.
After traveling for several hundred kilometers on the Navi, we feel that it isn't really about the negatives and the positives of the scooter, but rather it is more of an experience. Specifications tell only so much about the product, what it feels like when you are riding the Navi, is something that you need to check out.
As for us, we had a huge smile on our face during all those sweet little rides.
Get the best of News18 delivered to your inbox - subscribe to News18 Daybreak. Follow News18.com on Twitter, Instagram, Facebook, Telegram, TikTok and on YouTube, and stay in the know with what's happening in the world around you – in real time.
Read full article