Rezvani Beast Alpha X 'Blackbird' Inspired by Lockheed Martin SR-71 Unveiled
Rezvani Motors' newest Beast Alpha X dubbed as the 'Blackbird,' has a name inspired by the Lockheed SR-71 'Blackbird' military jet.
Rezvani Beast Alpha X Blackbird. (Image: Rezvani)
Rezvani Motors has unveiled a new Beast for the streets. In this case, a hardcore, 700-horsepower Beast Alpha X dubbed the 'Blackbird,' its name inspired by the Lockheed SR-71 'Blackbird' military jet. Paired to a quick-shifting sequential automatic gearbox, it's the quickest, most powerful vehicle Rezvani Motors has ever built.
Thanks to its best-in-class performance, and curb weight of approximately 2,100 pounds, the Beast Alpha X is able to sprint to 60 miles per hour in just 2.9 seconds. Power is delivered via a turbocharged 2.5-litre engine with a Cosworth tune. The Beast Alpha X is the first car equipped with Rezvani's six-speed sequential gearbox, but is also available with a six-speed manual.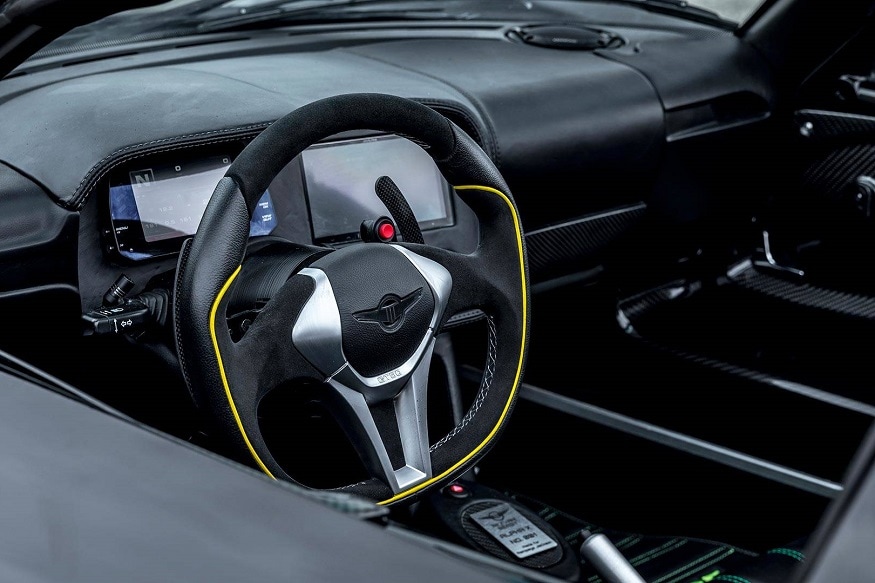 Rezvani Beast Alpha X Blackbird cabin. (Image: Rezvani)
The body is constructed of a hand-crafted, high-grade carbon composite. The Beast Alpha's look was penned by award-winning designer Samir Sadikhov under the direction of CEO Ferris Rezvani. With the performance-oriented X package equipped, the Beast Alpha comes with a few defining design elements to note, including distinctive lime green detailing on the front fenders and side profile, and a leather and Alcantara finished sport steering wheel.
Other design features include custom, deep dish 18-inch forged alloy wheels which hide a set of sturdy AP Racing brakes behind them. Carbon ceramic brakes are optional. The cabin comes fitted with carbon fiber door panels and carbon fiber detailing throughout. This particular vehicle comes equipped with the optional Alpine Apple CarPlay unit.
Read More: Jaguar to Officially Reveal I-Pace Electric SUV on March 1!
"The Beast Alpha X 'Blackbird' truly lives up to its name," said CEO Ferris Rezvani. "Our design team worked closely with Rampage Jackson to come up with the perfect vehicle to match his signature style and Beast-like personality."
The Beast Alpha X is limited to just 5 examples and each unit will cost a staggering $225,000.
A Beast Alpha X 'Blackbird' has just been delivered to MMA champion and actor Rampage Jackson.
Also Watch:
Get the best of News18 delivered to your inbox - subscribe to News18 Daybreak. Follow News18.com on Twitter, Instagram, Facebook, Telegram, TikTok and on YouTube, and stay in the know with what's happening in the world around you – in real time.
| Edited by: Arjit Garg
Read full article