Rollr Mini Review: More Than Just a GPS-Tracker for Your Car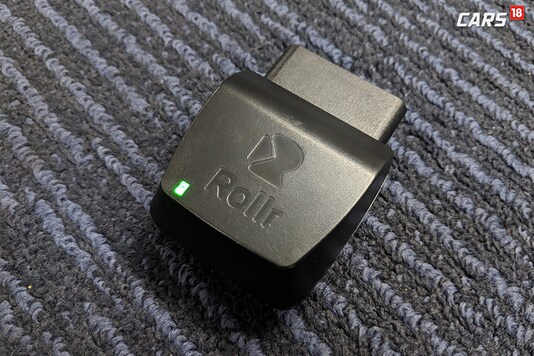 The Rollr Mini is a device that provides information about your car – like its health, live GPS tracking, location history and analytics – all on an application on your smartphone.
Last Updated: May 3, 2018, 11:37 IST
Edited by: Manav Sinha
FOLLOW US ON:
In this day and age, everything is better when it is a bit 'smart'er. With refrigerators and air conditioners communicating with you through your phone, the story is a bit different when it comes to cars. The technology is there, yes, but in order to have the cutting-edge technology on offer in your car, you do have to spend a lot of money. But what if there was, perhaps, a 'smarter' way of having all of those features in the car that you already own? The Rollr Mini device promises to be the answer. As intriguing as that is, we decided to spend some time with the device to see what all it has to offer.
EASY TO SET-UP AND USE
The Rollr Mini is easy to set up and use. (Image created by News18.com)
First thing first, how do you even use this? Well, all you have to do is plug in the device in your car's OBD-II (Onboard Diagnostics) port to activate it. Almost all cars these days have it, and the same can be said for most of the cars manufactured after 2009. And by car, we literally mean any car – it does not need to be a Rs 50 lakh luxury vehicle. We tested the device in a 2016-manufactured Maruti Suzuki Alto 800. Next step is to install the Rollr application on your smartphone – and yes, it is available on both Apple App Store and Google Play Store, and the app is free to download. Once you have done that, you are required to enter your email address and mobile number. Once verified, you need to name your device and add the serial number of your device. And that's it. The process literally takes a couple of minutes (Provided you know the location of your OBD port).
The app itself is fairly simple to use and has a clean and tidy layout. Everything worked alright and we never encountered an app crash or laggy behaviour. The best part? You can chat directly with the Rollr team from the app itself to have your doubts cleared.
The home screen of the application tells pretty much all you would need to know. It shows your last trip details of the vehicle along with an overall rating on how you drive your car (more on this below).
PROVIDES LIVE GPS-TRACKING WITH LOCATION AND ROUTE HISTORY
The Rollr Mini provides GPS location history of your car as well. (Image created by News18.com)
At its core, the biggest advantage of having this device plugged into your car is that it transmits the live location of your vehicle with a data refresh rate of 3 seconds and an error margin in terms of accuracy to a maximum of 5 metres. It has an in-built prepaid and preconfigured telematics-grade SIM inside it and all the data that is transferred to the Rollr's servers, as per the company, is encrypted.
It also maintains a history of where all your car has been along with what was the start and end location of your car. It also showcases the route that was taken by the car and the duration it took to complete that distance. What's really helpful, and to an extent reassuring, is that device sends a notification to your device everytime your car is started. So, in case it wasn't you who was operation your car, you'll know exactly at what time your car was started, where it went and what route it took. The maps it uses are Google Maps which means, there's nothing really to complain about and it works great. With time, as and when Google updates its maps, the app gets even more precise.s
And in case the device is unplugged, you are notified on the application itself, sent an SMS stating the same in case you don't have internet access and also an e-mail informing you of the same.
IT CAN TELL IF YOUR CAR IS IN A 'HEALTHY' STATE
The Rollr Mini app gives details about the health of your car. (Image created by News18.com)
Since it is working pretty much all the time till your car is running, what it does is that it also scans whether your car is in a healthy state or not. The details that you can get for your car include the coolant temperature that your car is running as well as the health of your battery. Then, in case your Malfunction Indicator is on, it notifies you as well. You can dig deeper to find out more about the engine of the car. The details range from Ignition/misfire, speed/idle controls, air-fuel control to the transmission/transaxle health. In case you don't know exactly what kind of an effect these issues can have and what are they all about, the app also informs you of that and that, in our books, is an excellent attention to detail.
STATISTICS, STATISTICS AND MORE STATISTICS
The Rollr Mini also gives extensive statistics about your car and your driving behavior. (Image created by News18.com)
&mnsp;
Once you have driven for a substantial amount of time and distance, and there's sufficient amount of data available for the Rollr Mini to analyse – it gives you a sort of a report card of your driving behaviour. And it backs it up with a lot of statistics which can be a good place to understand what you're doing right and what you're doing wrong and as a result, you will end up improving your driving style accordingly.
The statistics include your average RPM, maximum RPM, average speed and the maximum speed of the car maintained during a trip (along with all the route, time, location details etc as mentioned above). This is for EVERY TRIP made by your car. The data is then compiled in a clean format which allows you to see your statistics of individual trips, trips of the last 15 days as well as monthly details.
All of the data combined, and analysed, makes for one large display at the home screen of the application wherein your driving style is divided into four divisions – how hard you accelerate, how hard you brake, how fast you go and how much time you spend idling the car.
Our daily commute comprises of about a 30-kilometre distance covering some of the worst traffic jam conditions in Delhi NCR and that accurately translated into the statistics showed on the app. For example, there was a lot of idling because of the traffic jams and the average speed of the commute usually is between 10-20 km/h.
WHO IS IT MEANT FOR?
So now you know exactly what you get with the Rollr Mini. It's a lot, yes, but what's the use of it? And is it worth the Rs 6,499 price tag? Well, the answer depends on the kind of answer you seek from this device. Here are a few scenarios where we believe the device can come in handy.
First, has to be the case in which you want to have the peace of mind that you will know for sure in case someone tries to fiddle around with your car or in case it is stolen. Next, is if you want to know more about your driving style and want to improve your driving habits and increase the longevity of your car as well.
The next scenario has to be in case your car is chauffeur-driven. You would know exactly when and where your car was started, turned off, the route that was taken by your chauffeur and the places they took your car when you weren't around and more importantly – knowing how your car is being driven. Is it being driven harshly, is it left turned on letting the car idle and wasting fuel or if the chauffeur is overspeeding at any time. All of this information will be right inside an app of your smartphone, real time.
Don't Forget to Subscribe to the 'Tech And Auto Show' YouTube Channel
Or perhaps, you are looking to buy a used car and want to have an idea about the health of the car's mechanical parts. You can plug this device in the car's OBD-II port, take a rather long spin, and you'll know the health of the car.
Last but not the least, the Rollr Mini can be useful in case you have multiple cars at home or in case you look over a fleet of cars. In that scenario, you can attach this device to all the cars and monitor all the details, individually, of your cars.
Also Watch:
IS IT WORTH THE MONEY?
As for whether it's worth your money, if you think of it, a price tag of Rs 6,499 is not that high given the use of this device. Yes, there are much more accessible GPS trackers available in the market, but they don't even come close to offering the amount of information, statistics and analytics the Rollr Mini offers – making it much more than just a GPS tracking device. And oh yes, lest we forget, they also have purpose-built devices for two-wheelers as well as commercial vehicles.
Next Story