Rolls-Royce Cullinan SUV Officially Unveiled, Named After Largest Diamond Ever [Video]
The Cullinan is named after the largest diamond ever discovered which now resides in the British Crown Jewels.
Roll-Royce Cullinan SUV. (Image: Roll-Royce)
When Rolls-Royce announced three years ago that it would launch Cullinan, it did so in the knowledge that its customers around the world had asked it to build "The Rolls-Royce of SUVs", with luxury, performance and usability. Rolls-Royce has finally unveiled the most anticipated car of 2018 and, quite possibly, the most anticipated Rolls-Royce of all time – The Cullinan.
"The super-luxury lifestyle is evolving and Rolls-Royce is in the lead. Luxury is no longer an urban concept. It is incomparable and dramatically evolves the parameters of super-luxury travel, translating Rolls-Royce's ethos of 'Effortlessness' into physical capability, anywhere in the world. Cullinan will simply take the world in its stride." Torsten Müller-Ötvös, Chief Executive Officer, Rolls-Royce Motor Cars.
The Cullinan is named after the largest diamond ever discovered which now resides in the British Crown Jewels. It is an all-terrain high-bodied car that makes the idea of authentic, luxury off-road travel a reality.
The Cullinan is tested extensively all over the planet, and is produced as a capable off-roader that sees the development of the 'Magic Carpet Ride' for off-road enjoyment, without sacrificing any Rolls-Royce on-road behaviour.
Roll-Royce Cullinan SUV cabin. (Image: Roll-Royce)
The cabin has two individual rear seats are separated by a Fixed Rear Centre Console incorporating a drinks cabinet with Rolls-Royce whisky glasses and decanter, champagne flutes and refrigerator. The seats also move in a number of planes to offer ultimate comfort whilst travelling in the rear.
It is powered by a 6.75-litre twin-turbo V12 Rolls-Royce engine that delivers 563bhp/420kW and 850Nm/627lb ft of torque to the all-new all-wheel drive and all-wheel steer system.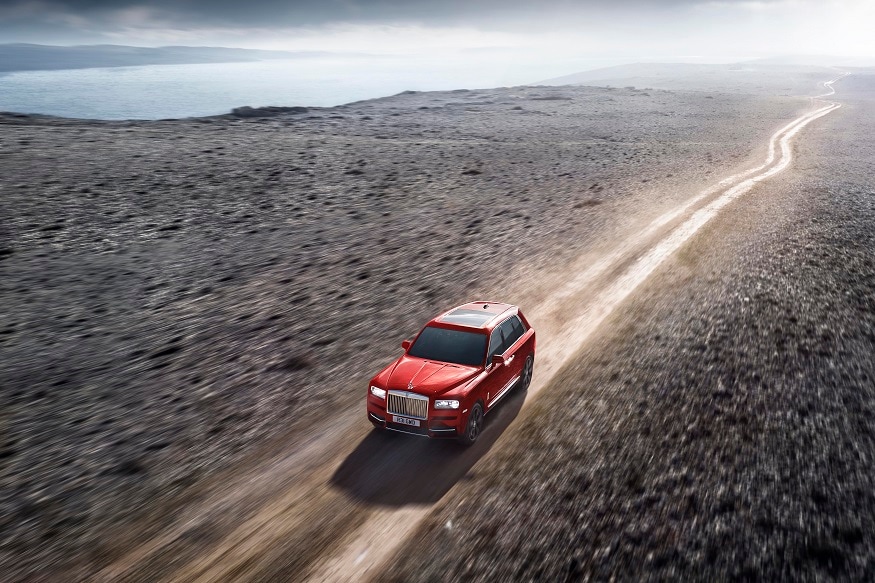 Roll-Royce Cullinan is the company's 1st SUV. (Image: Roll-Royce)
A host of features makes Rolls-Royce Cullinan one of the most technologically advanced car in the world, like the Night Vision and Vision Assist including daytime and night-time Wildlife & Pedestrian warning; Alertness Assistant; a 4-Camera system with Panoramic View, all-round visibility and helicopter view; Active Cruise Control; Collision Warning; Cross-Traffic Warning, Lane Departure and Lane Change Warning; an industry leading 7x3 High-Resolution Head-Up Display, WiFi hotspot, and of course the latest Navigation and Entertainment Systems.
Also Read: Rolls-Royce Cullinan Luxury SUV Leaked Ahead of Launch - Image Gallery!
For the first time a Rolls-Royce has an opening tailgate, called 'The Clasp'. The rear profile of Cullinan is a two-part, 'D-Back' format, with the bustle denoting the place of the luggage. 'The Clasp' opens and closes in its two sections automatically at the touch of the key fob button.
| Edited by: Arjit Garg
Read full article
Countdown To
Elections Results
To Assembly Elections 2018 Results