Royal Enfield Classic 350 Redditch Series: Five Interesting Things You Need to Know
The Motorcycle series is named after a small town 15 miles south of Birmingham where it was born.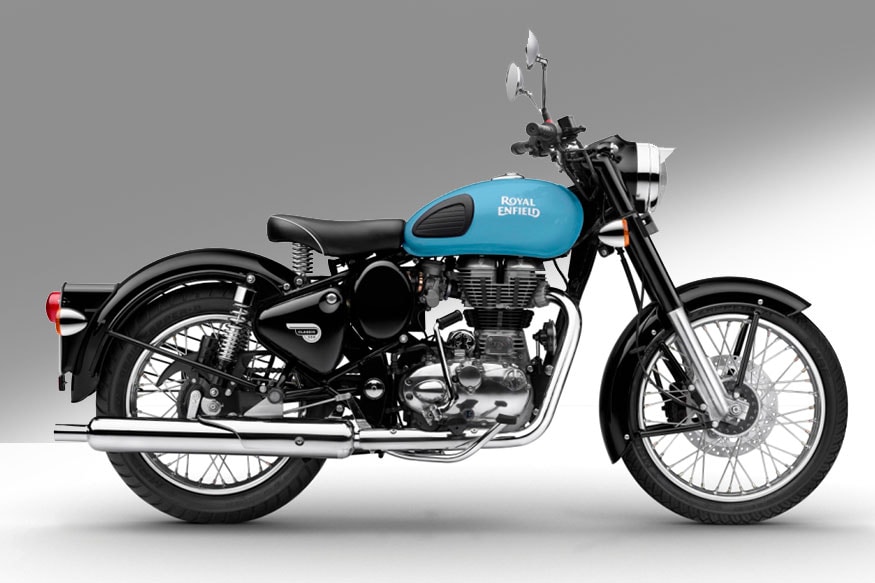 Royal Enfield Classic 350. Image used for representative purpose. (Image: Royal Enfield)
Recently Royal Enfield launched its popular classic 350 motorcycle in three Redditch series variants – Redditch Red, Redditch Green and Redditch Blue. As we all know that Royal Enfield have an 116-year-old legacy behind its name and each of its models carry a different story, so here are five things you need to know about the new Royal Enfield Redditch Series:-
1. The Motorcycle series is named after a small town 15 miles south of Birmingham
Redditch came to prominence during the Industrial Revolution, earning a worldwide reputation for its needles and fishing tackle. The earliest Royal Enfields, sturdily engineered bicycles produced there in the 1890s, were equipped with an engine in 1901 making them the first motorcycles to be rolled out of Redditch. Thereafter the town earned a permanent place in British motorcycling history. Production at Royal Enfield's Hewell Road factory may have ceased in 1967 but the company's Redditch years still have a palpable effect on the look and feel of a Royal Enfield today.
2. Royal Enfield monogram the mark of the heritage
The iconic Royal Enfield monogram on the new Redditch edition first appeared in 1939 on the tank of the prototype 125cc 2-stroke motorcycle, called 'Royal Baby'. The outbreak of WWII saw the model transform into the now legendary 'Flying Flea' paratroopers motorcycle, which still proudly wore its RE tank badge. Subsequently, the Redditch mark was flanked by a wing design, and was proudly adopted by the Royal Enfield Classic in 2008. Carrying the legacy forward, the original Redditch RE insignia has now been revived expressly for use on Royal Enfield Classic 350s with Redditch colourways.
3. Redditch colourways
In the 1950s, the Royal Enfield factory experimented with many colours on their motorcycles, some subtle, others bold. In the later part of the decade, three distinctive tones of green, red and blue appeared on the Crusader, Clipper, Bullet and Meteor Minor models. These strong, striking shades emphasised the elegant contours and modern design of the machines. In 2017, the new range of Classic 350s brings back that era with colourways that take their cue from these original tones. Complete with the monogram that is synonymous with many of the fine motorcycles of the period, this new collection is reminiscent of a decade that was a great time for Royal Enfield.
The three colours:-
• Chinese Red
The red was a favourite for sports models and was mostly used on machines made for the USA with 'Indian' badges. It also featured on the famed 1959 - 1961 Royal Enfield Fury. Other red variants were also introduced at this time. Cherry red was seen on the 500cc Meteor Minor, Prince 2-stroke and 350 Clipper in 1959, Flame was used extensively throughout the range in the early 1960s and Candy Apple red was bestowed upon mid-1960s 736cc Interceptors.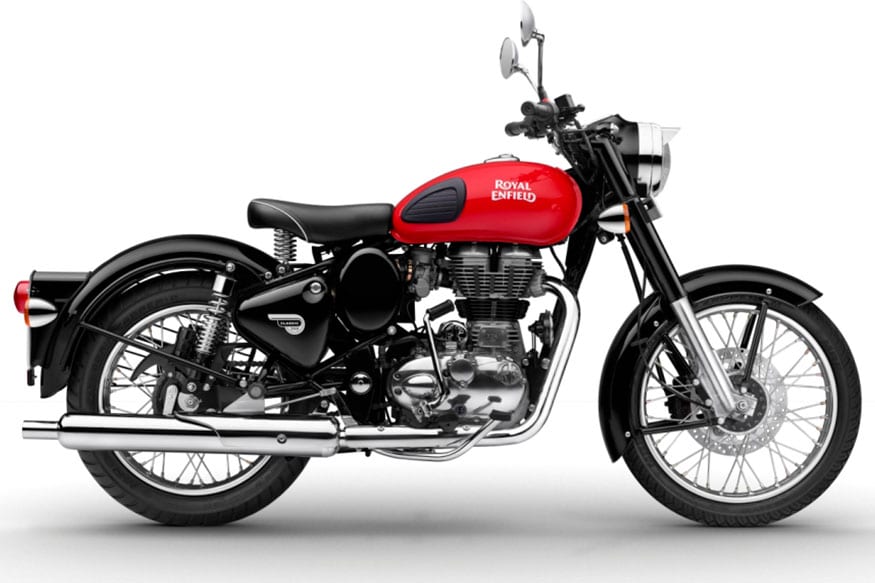 • Wedgewood Blue
Wedgewood blue was a distinctive soft tone available as an optional colour scheme for the Crusader, Bullet and Big Twins in 1958. It was replaced by Peacock blue, a much more vibrant, darker colour with a polychromatic finish. Peacock blue extended right through the range of singles and twins. Another variant, Cambridge blue, was used on 350cc unit construction new Bullet models in 1964.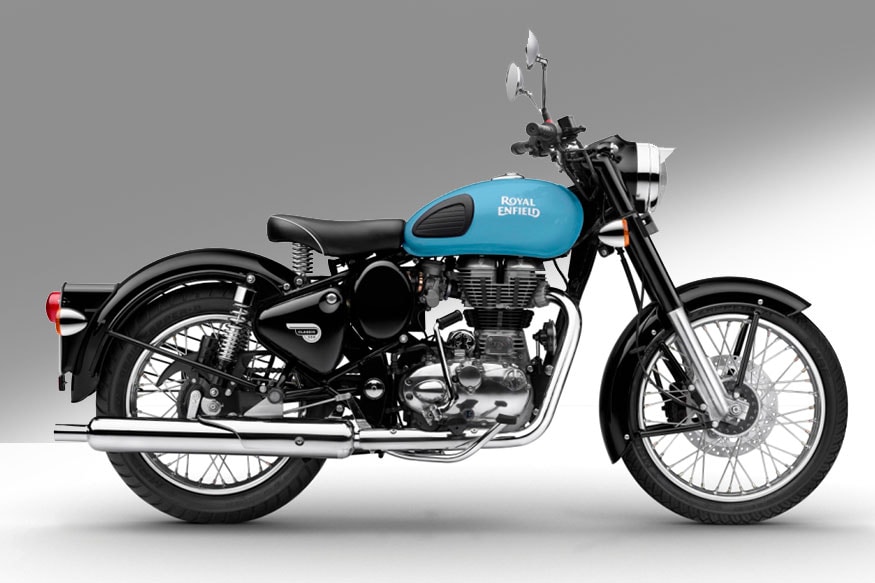 • Surf Green
Surf green was a light, milky shade of green first used on 2-stroke 150cc Ensign II and III models then later on the all-new 250cc Crusader when launched in 1957. A darker olive green was seen on the 250cc Clipper when introduced in late 1953, as a budget version of the Bullet. It used the latter's swinging arm frame with a scaled-down, cheaper-to-make cast iron engine, used for many years on the 350cc Model G. A mistake was made ordering paint and the bikes were due to go through production before anyone realised the shortfall. At the eleventh hour, the staff had to rummage through the stores to see what was lying around. They found leftover green paint from the initial order of Bullets shipped to the Indian army in 1952 and used that. It gave a singular look when combined with chrome and polished aluminium but nonetheless proved a success.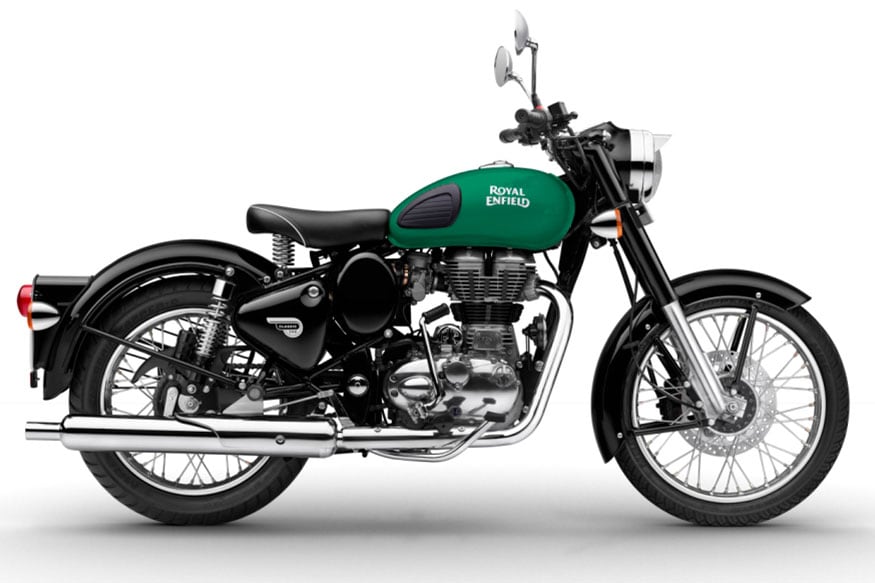 4. Tiger Lamp
One of the most iconic features of a Royal Enfield motorcycle is its 'tiger lamp'. Since 1954, a pair of these small pilot lights have been an integral part of the Royal Enfield casquette, a combined headlight and instrument panel cast from aluminium. First fitted to 350 and 500cc Bullets, the Meteor and the 500 Twin, the casquette and tiger lamps design have remained a key styling point throughout the Bullet's production life in India and continues to this day on Classic models, making them a legendary mark of Royal Enfield.
5. The Royal Enfield float at Redditch Carnival
The Redditch Carnival was an annual event that saw the whole town turn out to celebrate its people, businesses and their achievements. Royal Enfield participated each year, with the centre of attention on its floats being the latest motorcycles. The proud Redditch company won awards for its displays too, with a hat-trick of first places in the manufacturer's class between 1948 and 1950.
Also Read: Royal Enfield Himalayan Review: A Bike That Can Do It All, in a Budget
Don't Miss:
Also Watch
Read full article