Royal Enfield Interceptor, Continental GT 650 First Ride Review: A Different League
The Royal Enfield Interceptor 650 and the Continental GT 650 are the most talked about motorcycles of the year and we have got our hands on it all the way in California. And we have to say, we are mighty impressed.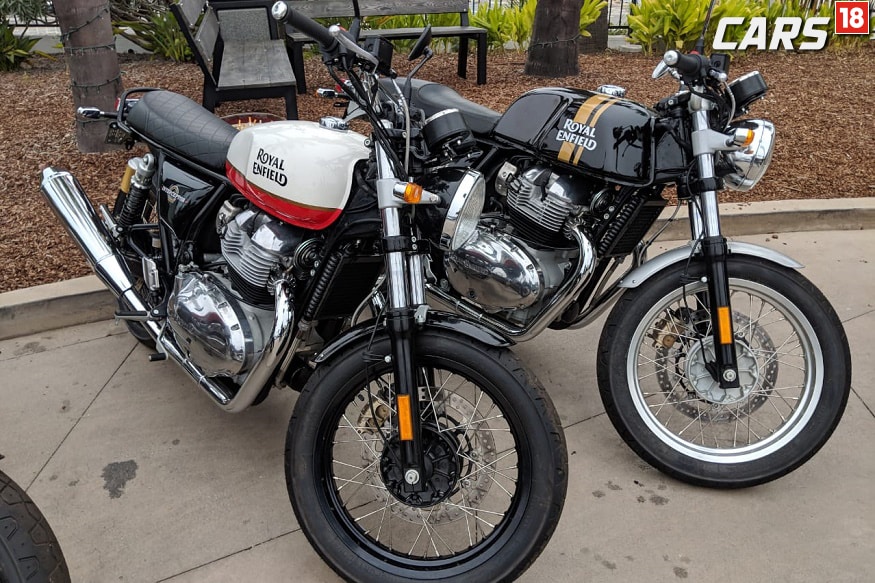 Royal Enfield 650 Twins. (Image: Manav Sinha/ News18.com)
The Royal Enfield Interceptor 650 and the Continental GT 650 are undoubtedly two of the most talked about motorcycles in the Indian market right now and perhaps of the year. And rightly so, as they are claimed to embark the "next phase" for the company. And, on top of that, both the Royal Enfield Interceptor 650 and the Continental GT 650 will be the largest production motorcycles on sale by the company and when you have so many expectations attached to a couple of motorcycles, well, they better be good. And to have a taste of these motorcycles we went all the way to California to be one of the first ones in the world to have a go on these motorcycles.
Now there's a lot to talk about these motorcycles so let's get to it right away. Starting with what lies at the heart of the new Royal Enfield Twins – and that is an all-new 648cc, single overhead cam, parallel-twin engine. Now at this point whatever you have known about Royal Enfield engines until now, well, take all of that and throw it out of the window because this engine, is leagues ahead of what you have experienced or heard about so far.
It gets fuel injection, it is oil and air-cooled, has 4 valves per cylinder, makes 47 bhp and 52 Nm of torque and it comes with Royal Enfield's first-ever 6-speed gearbox which is slick and never gave us a false shift. And the way all of that powertrain comes together is, well, of global standards really. Yes, it doesn't have that thump anymore and that's because it is no longer a single cylinder unit. What you have instead is more of a rumble, and that's largely due to the 270-degree firing order of the counter-balanced crankshaft. There are only mild vibrations on the footpegs and the handlebar that's only noticeable higher up in the RPM band and it isn't something that you would mind at all.
The engine makes ample torque with 80 percent of it coming in as low as 2500 RPM. You can lug this engine and you can also rev the guts out of it, at no point does it feel out of breath. However, since the meat of the power is in the low and mid-range of the RPM band, you don't necessarily need to rev it to the moon. And if you want those quick overtakes, chances are rare that you would feel the need to downshift. To give you an idea, the motorcycle sits at 4000 RPM at 100 Kmph and can do highway speeds all day. The top speed we clocked in California though, was about 170 km/h and even then, the bike felt calm and composed.
Royal Enfield Interceptor 650. (Image: Manav Sinha/ News18.com)
Our route had long straights and twisty corners and the bike was up to all the challenges that came its way. If there was something we wished was better, was the front-end feel of the motorcycle which tends to feel a bit light at high speeds and fast corners, this trait is less evident in the Continental GT.
However, this doesn't mean that the bike ever feels nervous or twitchy, it is just a characteristic that you need to keep in mind.
The motorcycle feels confident, light and agile and still manages to feel friendly and doesn't take any time to adapt to and that's largely due to the chassis on board which cannot be praised enough. Also, even when we pushed the motorcycle hard, we never ran out of cornering clearance and that's fantastic. Due credits to the tyres on board which were purpose-built for the Royal Enfield Twins by Pirelli and despite seeming a bit narrow at first, they have ample grip on offer.
Then, comes the brakes which are Bybre callipers front and back and come with dual-channel ABS – and that's all of the electronic rider aids on offer really – and it is not intrusive at all, no matter how hard you brake. The feedback and the bite from the brakes are good as well. When it comes to the ride quality, the suspension feels a bit on the stiffer side, especially on the GT. But the good part is, that the suspension preload can be adjusted to 5 stages and while the overall feeling was positive, we will have to preserve our verdict on that until we try it out on our Indian roads. Same goes for the heat management too, as the Indian weather is really different, and hotter than California.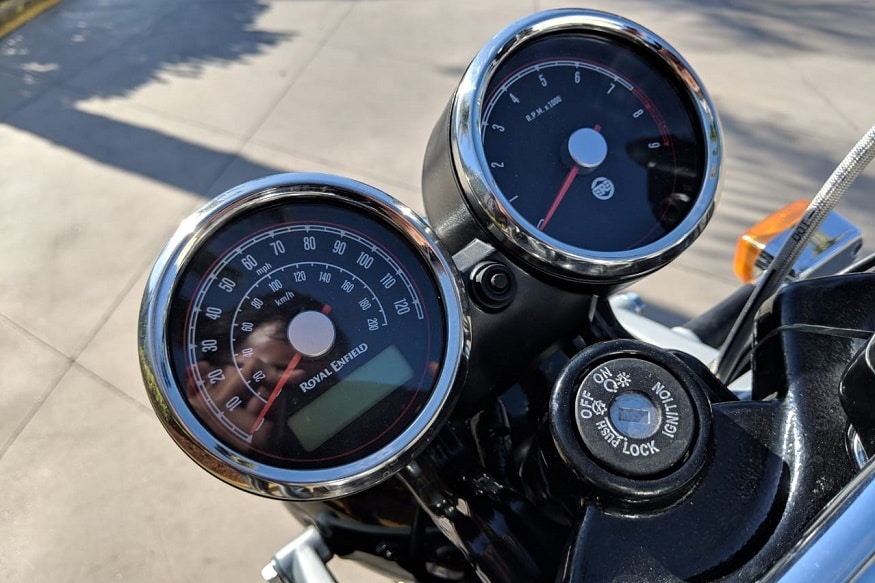 Royal Enfield Continental GT 650 Instrument Cluster. (Image: Manav Sinha/ News18.com)
So these were the things that are similar to both the motorcycles but despite having so many similarities, they are actually quite different in some ways which change their character altogether.
Let's start with the styling. The Continental GT 650 is wallpaper material and while it looks pretty similar to the Continental 535, there are several tweaks that have been made. The clip-on handlebar now sits a bit higher and the fuel tank is a bit shorter in length as well. Couple that with the rear-set footpegs and the different seat, and you have a commanding riding position and a sportier feeling motorcycle. The Interceptor 650, on the other hand, has relatively centre-set footpegs, different seat, different fuel tank and the higher, braced handlebar which makes for a relaxing riding position. There are some wind bursts on both the motorcycles but it is not unbearable. And in case you want to know if you can ride long distances of the Interceptor, well yes, you can sit on it all day long. On the other hand, if you are someone that likes to go corner hunting, then the Continental has to be your pick.
Now we did have to scratch our heads a bit to find the negatives in these motorcycles and, there aren't many. Yes, a gear position indicator would have been nice, so would have been a clock and while looks are subjective, perhaps it could have used things like an LED indicator or a projector headlamp but then, that's about it. That's all you can wish for from these motorcycles and that speaks volumes about how far Royal Enfield has come with these twins. And when you take into account that they are set to price these motorcycles around the Rs 3-3.5 lakh mark, these could be the game changers not only for the company, but also for the Indian market as a whole by being the motorcycle which brings riders to the middleweight motorcycle segment in India, unlike ever before.
To wrap up the whole experience, we have to say that we are left mighty impressed. The only question that remains is the kind of pricing that these motorcycles come at because if Royal Enfield manages to get that right, well, you might have a motorcycle that can be blindly recommended to almost anyone looking for an upgrade to a bigger motorcycle.
Get the best of News18 delivered to your inbox - subscribe to News18 Daybreak. Follow News18.com on Twitter, Instagram, Facebook, Telegram, TikTok and on YouTube, and stay in the know with what's happening in the world around you – in real time.
Read full article