Harley-Davidson has been a favorite among customizers in the west and we have seen some brilliant modifications and custom motorcycles based on Harley. However, none could match the sheer gaudiness of the Harley-Davidson Blue Edition, a collaboration between American cruiser manufacturer and Swiss watch and jewellery company Bucherer, who studded the bike with diamonds worth nearly $2,000,000. Based on the Softail Slim S, the cruiser took 2500 hours to build and is dedicated to the new Blue Series of Watches from Bucherer. According to the Bucherer, "Every metal element found on this one-of-a-kind motorcycle has been produced, welded, beaten, ground, and polished by hand". Here's a detailed image gallery and video of this Rs 13 Crore Blue Edition by Harley-Davidson and Bucherer-
The obvious reason why this Softail is called the "Blue Edition" is because of its over-the-top paint job. Six coats of different colors are layered atop each other, using "a secret coating method". The tank gets a custom "Harley-Davidson" script above the "BLU/EDITION" logo shared by Bucherer's other 17 high-end watches in the Blue Edition collection.
"It was a long road," Samir Merdanovic, Head of Manufacture Movements at Carl F. Bucherer said of the development process. "The holder, for example, also serves as a watch winder. The watch is therefore wound regularly and continues to run, even if the motorcycle is not ridden for an extended period."
The Softail has a new retro-style bodywork giving the Harley a vintage bobber/chopper hardtail theme. There's a lot of gold plate usage as seen on throttle valves, all of which are illuminated via heat-resistant LED lighting. Other gold plated parts include the hand levers, reservoir caps, and foot controls. The bike gets a cowhide saddle that was sewn by hand in Switzerland.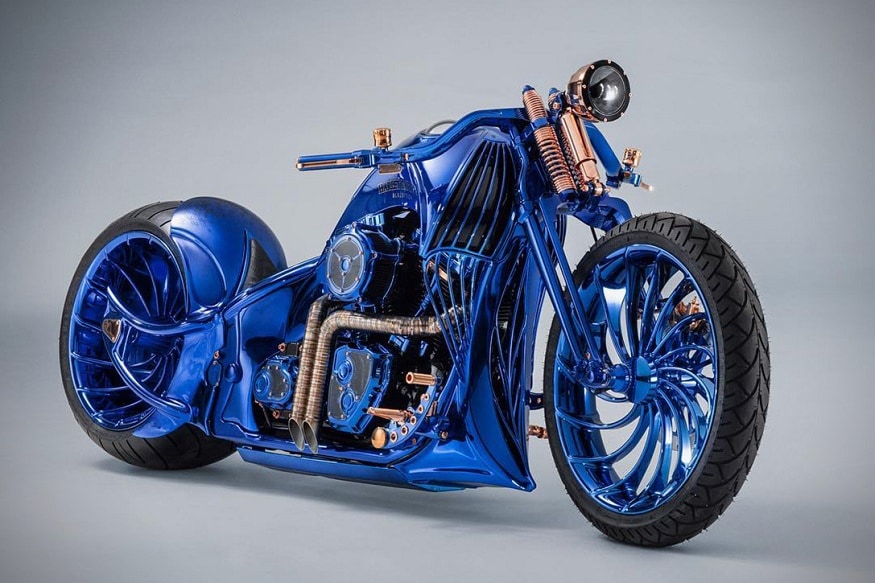 The right side of the top of the tank is a backlit second armored glass dome, housing a special custom-made watch, based on Bucherer's Patravi TravelTec II model. The bespoke watch has a dial which is "adorned by elements of a motorcycle engine", and incorporates suspension/damper system using silicon rings to ensure no damage happens to the watch.
The Blue Edition Softail was unveiled in Zurich for this reportedly world's most expensive motorcycle. Only a single example has been produced, and that makes complete sense considering it's priced at a whopping $1.887 million (Rs 13 Crore at today's exchange rate).
Also Watch: