SAIC Motors, the largest Automobile conglomerate in China has announced to bring an all-electric SUV in India by 2020. The electric vehicle launch will take place after MG Motors will start their operations in India with C Segment SUV that is scheduled for Q2 2018 launch. SAIC had announced that the MG Motors Electric SUV will be manufactured in India at their Halol, Gujarat plant and will offer the best of mileage and comfort.
"MG will launch a globally-competitive pure-electric SUV in India, to make our contribution to India's energy and environmental strategies. The pure electric SUV will be a breakthrough chapter in the EV space in India, being one of its kind in the market. This is in addition to the first SUV which we plan to launch in the second quarter of next year," Michael Yang, Executive Director of International Business, SAIC Motor & President of SAIC Motor International Company.
The ongoing transformation in the automotive industry globally would be the key the differentiator for the MG brand. "With cars getting transformed with internet, artificial intelligence, big data and cloud computing etc. – MG can take advantage of this transformation and will use it as its key differentiator, enabling it to stand out from the crowd," Yang added.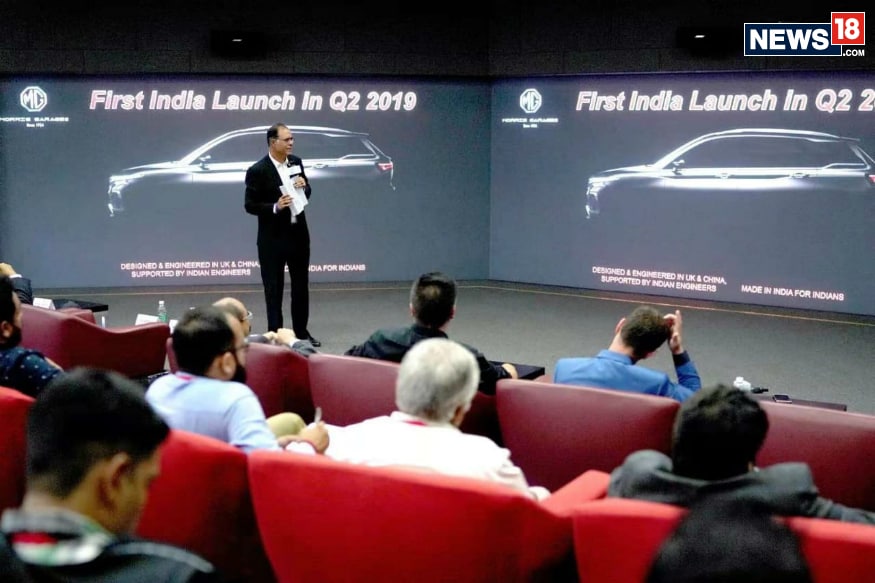 Teaser of MG Motors' first product in India. (Image: News18.com)
MG Motor India is in the process of finalizing around 45 dealer partners to begin its sales next year, with around 100 touchpoints across India in the first phase. The carmaker will hire close to 1,500 employees by the end of 2019, compared with a strength of 300 employees at present.
"As part of our commitment to this market, we are fast ramping up all our pre-launch activities, beginning with product roadshows for consumers in India next month. This will be followed by various brand-awareness initiatives to get closer to our prospective customers. All our products will be designed and engineered in UK and China with the support of Indian engineers. These vehicles will be heavily localized, built at our plant in Halol by our engineers conforming to global quality standards and validated and customized for India to suit the Indian road and driving conditions," said Rajeev Chaba, President & Managing Director, MG Motor India.
The current capacity at its Halol manufacturing facility stands at 80,000 units per annum; which will be expanded to 200,000 units going forward depending upon the requirement. As for the internal combustion SUV, MG Motors will offer both petrol and diesel engines and other segment 1st features. MG has divulged any other details about the product.