Seat Leon Cupra R Hot Hatch to Debut at Frankfurt Motor Show
Seat Leon Cupra R, will be capable of outputting a minimum of 306hp that will be channeled directly to the car's front wheels via a six-speed manual gearbox.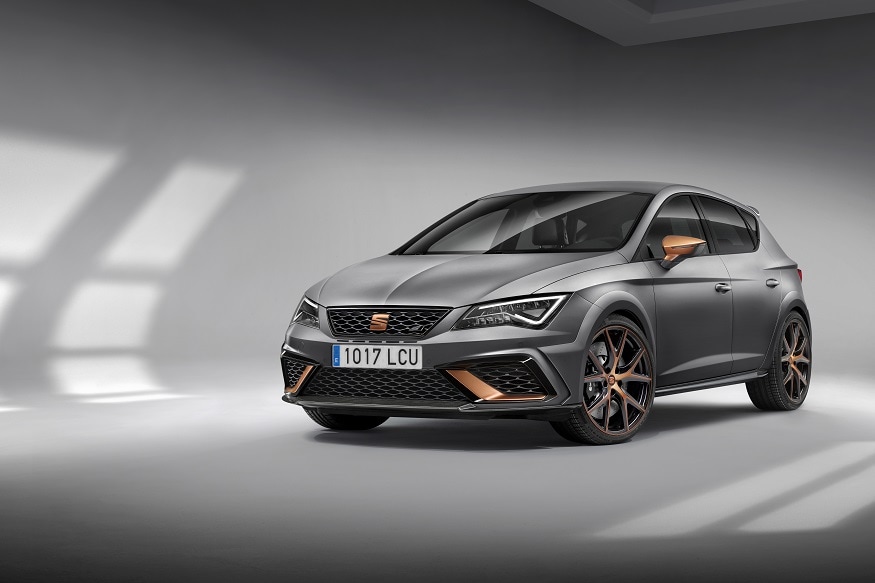 The Seat Leon Cupra R. (Image: Seat)
With its latest hot hatch, the Leon Cupra R, Seat appears to have hit upon the perfect formula -- unlimited performance coupled with very limited availability
Due to make its official debut at the Frankfurt motor show on September 12, the Cupra R is the latest in a growing line of cars that have earned their stripes through relentless Nurburgring testing.
When it goes on sale its production will be capped at exactly 799 examples. And each one of those cars will be capable of outputting a minimum of 306hp that will be channeled directly to the car's front wheels via a six-speed manual gearbox. Making it the most powerful Seat in the company's history.
To put that figure into context, the Ferrari 328 GTB, a V8-engined dreamcar that adorned the bedroom wall of many a little boy in the mid -980s and early 1990s could only boast 270hp.
Now, 30 years on, a sportscar based on a sensible family hatchback with a little four-cylinder turbocharged engine offers 13% more grunt.
However, pushing all of that power solely to the front wheels can have a detrimental effect on everything other than straight-line speed. Demanding that the front wheels deliver power, undertake the majority of the braking, and take full responsibility for the steering too can cause a huge headache for engineers and designers.
This problem is why the late lamented Saab, the Swedish car company that popularized the concept of turbocharging, used to cap its engines' output at 250h, no matter how much power they could conceivably generate. They believed that going past that figure would start to destroy a front-wheel-drive car's handling.
So, to eradicate torque steer and to ensure that the car doesn't understeer through the corners, Seat has altered the camber on the front axle to change the way the front tires grip the road. It also has an adaptive suspension control system that should help to keep the car from lifting at the rear, and these two changes, when coupled with the heavy carbon fiber exterior aerodynamic upgrades should ensure that all of that power can actually be used properly.
Seat won't be revealing the car's vital performance statistics -- i.e., 0-100km/h time and flat-out top speed -- until its official unveiling on September 12 during its show press conference, but expect to be impressed.
As for aesthetics and creature comforts, the new car is available in a choice of three special color schemes -- midnight black; Pyrenees grey; and matte grey. The cabin is finished in carbon fiber and copper trim and the steering wheel and gear knob are wrapped in Alcantara to improve both comfort and grip.
Also Watch: Tech And Auto Show | EP12 | ISUZU MUX Review, Galaxy On Max & More
Also Watch
Read full article