SUVs Earned the Main Stage at 2017 LA Auto Show
Form Land Rover to Subaru, one of the standout trends at this year's LA Auto Show, which officially rolls to a stop this weekend, is the number of carmakers clambering to offer customers a crossover with three rows of seats.
Range Rover SVAutobiography Dynamic. (Image: Land Rover)
Form Land Rover to Subaru, one of the standout trends at this year's LA Auto Show, which officially rolls to a stop this weekend, is the number of carmakers clambering to offer customers a crossover with three rows of seats.
In the case of the $226,000 Range Rover SVAutobiography, which was making its global debut, the addition of a third row of seats plus an extra 1.2m of overall legroom is to offer clients even more scope for luxury and customization and to ensure that even when Rolls-Royce arrives in the SUV space in early 2018, that it will be able to compete.
A point that its designer, Gerry McGovern touched upon during the reveal. "The Range Rover SVAutobiography is the epitome of luxury, comfort and refinement," he said. "Our standard-bearer for quality and precision exemplifies the attention to detail and sophistication that has been a hallmark of our most luxurious SUV stretching back almost 50 years."
Likewise Lexus launched a seven-seat version of its already popular RX SUV -- the RXL -- and, confusingly, a two-row version of its current three-row SUV, the LX. The three-row RXL is all about offering customers more practicality while in the case of the latter, the new LX 570 is about luxury and pampering as five passengers have seven passengers' worth of legroom and luggage space.
It also comes with only one trim option that essentially ticks every optional equipment box to make specifying and ordering as simple as possible. According to the company's senior communications manager, Nancy Hubbell the new models will not confuse existing Lexus owners. "At the LA Auto Show we introduced two new vehicles in response to customers' requests," she said. "Our goal is to offer our customers the luxury utility vehicle that matches their needs."
If it seems like Lexus is trying to cover every conceivable base with its lineup, it's because the demand for premium, full-size SUVs has never been greater and companies are racing to give consumers what they want. They've become so popular that since 2016 in the US at least they now outsell full-size luxury sedans like the BMW 7 Series or the Lincoln Continental. Even for firms like Mercedes, who built their brand on luxury sedans and cutting-edge sports cars, SUVs now account for 35% of their total global vehicle sales.
This week, Audi revealed that it has already sold 33,508 flagship three-row Q7 SUVs in the US this year (that's a 26% improvement over 2016) and as such is the second most popular car in its current 13-model lineup. The only vehicle that performed better is the Q5, its slightly more compact, but equally premium brother (50,000+ units and counting).
Likewise, Infiniti, Nissan's luxury sub-brand saw demand for its seven-place XQ60 SUV jump 18% in November. It was in LA to show off its new three-row XQ80, which boasts near-Range Rover levels of comfort and attention to interior detail and could help drive the brand to even bigger sales.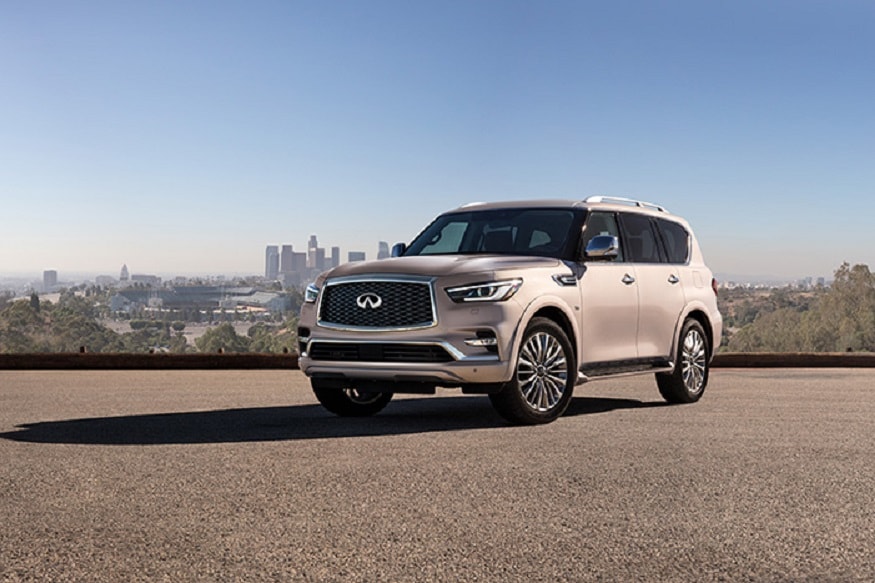 The 2018 Model Year Infiniti QX80. (Image: Infiniti)
Meanwhile Lexus's US performance is down on 2016 chiefly because, according to the firm, while the NX and RX SUVs are still in high demand, there aren't enough SUV models in its current lineup to align with this growing customer demand -- hence launching the RXL and LX 570.
As for why consumers are demanding such large, luxurious SUVs, the answer for US drivers at least, is because they offer all of the same creature comforts and features of a top-end sedan, but thanks to the extra seating and luggage space are more practical and feel safer, particularly when ferrying the children to school or activities or, increasingly taking a road trip. Traveling long distance by car rather than plane or train has never been more popular in the US.
But as well as encroaching on the premium sedan market, the SUV is also beginning to decimate the minivan segment. And it's this demand that companies like Subaru, who sit just above mass market and just below premium within the automotive industry, are now responding to.
Subaru was in LA to unveil the Ascent, the biggest car the company has ever offered in the US and its first proper three-row SUV. But it also keeps all of the elements that have helped Subaru carve out its American market share -- reliability, ruggedness, a great boxer engine and resilient intelligent all-wheel drive.
"The Subaru Ascent has been designed specifically for families with adventurous lifestyles," said Thomas J. Doll, president and COO of Subaru of America. "Our customers wanted a larger, go-anywhere SUV that families can be excited to get in and drive without sacrificing space. The Subaru Ascent delivers in a big way -- it's the biggest and most comfortable vehicle we've ever brought to market."
Also Watch: Tech and Auto Show Awards 2017
| Edited by: Ayushmann Chawla
Read full article
Countdown To
Elections Results
To Assembly Elections 2018 Results