Pollution is on the rise, fossil fuels are limited and with the ever-tighter emission norms, automakers are looking at alternate ways of propelling vehicles. A large number of automobile companies are now working towards an all-electric vehicle portfolio. Those who are not, are thinking about it and while some have targets of delivering on that aim sooner or later, governments across all the world have their eyes gazed hard at the fumes coming out of the exhaust pipes of all these vehicles.
India is no different, as the government has voiced their opinion time and again that they see only electric vehicles on sale by 2030. Taking a cue, Taiwan-based two-wheeler and ATV manufacturer Kymco have announced their entry into the Indian market in the next three years and they recently took us all the way to Taiwan to showcase what their weapon of choice in the highly competitive Indian market could be - Ionex electric scooter solutions.
After speaking to several bright minds at Kymco, there's a parallel that can be drawn between the Taiwanese and Indian market and Ionex comes across as a sensible, and seemingly practical option for India. Here's how.
What is Kymco?
Before we get into the ifs and hows, let's get to know Kymco a bit more. As said before, it is a Taiwan-based company with their headquarters situated in Kaohsiung City. They initially made parts for Honda but decided to part ways in 1963 which gave birth to the brand. And throughout the next half-century and more that followed, Kymco is now the biggest two-wheeler seller in Taiwan. And, they have been at the top for in Taiwan for about 18 years now. As per the company, they hold about 40 percent two-wheeler market share and as Allen Ko, Chairman, Kymco told News18. "(We) have an expertise in scooters. We currently sell in over 100 countries in the world and about half of our revenue is from overseas market."
Watch: Kymco Ionex electric scooter energy solution - First Look
The success of Kymco has made it one of the most popular brands in South-East Asia and Europe and established it as the fifth largest scooter manufacturer in the world.
Drawing the Parallel
So Kymco is huge in Taiwan, yes, and there's a good reason for that. During the stay in Taiwan which spanned three days, I could only spot about a dozen motorcycles on road. That's because almost everyone in Taiwan prefers scooters over motorcycles, and there are lots of them!
Kymco also makes scooters like their AK 550 for Taiwan. (Photo: Kymco)
And upon closer look, the reason for this trend becomes clear. Taiwan is an island nation wherein an average commute for people on two-wheelers span about 15 kilometres. The city is well developed with several stop lights on the way and in this kind of conditions, people would have to keep changing gears on a motorcycle. Scooters, in contrast, save them of this effort and on top of that, they also provide more carriage space making them more practical. When we spoke to some locals, they said the parking space is a problem as there are so many two-wheelers, that parking spots are clogged up and scooters are usually parked near the walkways. And parking an expensive motorcycle in such a scenario is not considered ideal.
This ideology reflects in the numbers too as about 90 percent of the two-wheelers sold in Taiwan are scooters. The other 10 percent people who are purchasing motorcycles are doing so for leisure and joy rides during the weekend and they almost always have a scooter in their garage. And it's rarely the other way around. The trend is such that people even modify their transmission and drivetrain of the scooter for better acceleration off the stop lights!
Now, when we talk about India – one of the largest automobile market in the world – the largest growth lately has been seen in the scooter segment. And people are leaning towards scooters for similar reasons, like, the ease of parking, more practicality, easier in traffic conditions and it is the preferred vehicle for short distance commutes. The most popular scooter in India by far is the Honda Activa and that too comes with the CVT transmission, eliminating the hassle of continuous gear shifts.
How Will Ionex Help in the Shift Towards Electric Scooters?
The Kymco Ionex scooter comes with three batteries on board. Two of them are removable, and they weigh only 5 Kilos - making them portable. Each of the removable battery has a range of about 40 km, the third battery, called the core battery, has a range of about 25 km - taking the total range of about 100 km.
In case you run out of juice in the removable batteries, the core battery will take over to provide extended range. And once you put charged batteries back into the scooter, they will in turn charge the core battery while the scooter runs.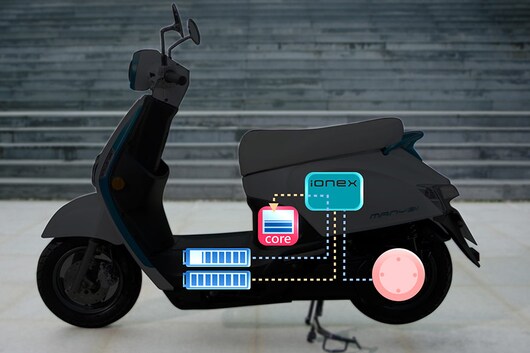 Kymco Ionex battery system. (Photo: Kymco)
And, if you are wondering about charging, then the removable battery takes about one hour to charge through the company-provided quick charger or else you can charge them from a regular power socket too which will then take about 4 hours.
The removable batteries are placed in the footboard which means they are easily accessible and allow for a bigger under seat storage - big enough to keep three more batteries in them which then takes the total range to almost 200 km.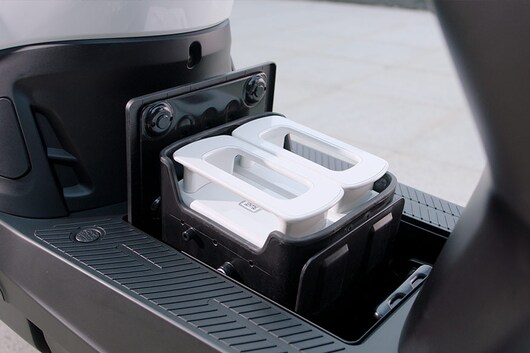 Kymco Ionex has removable batteries placed in the floorboard. (Photo: Kymco)
Kymco also says that their dealerships will have charging systems from where you can hire extra batteries whenever you require.
Kymco charging station. (Photo: Kymco)
To sum it up, what Ionex does is that it makes the electric scooter independent of the 'infrastructure issues' that a lot of electric automakers are concerned over. As you don't require a charging station since the batteries can be charged even at your home, office, or wherever there is a power socket. You park your electric scooter where all two-wheelers would be parked and even if you live on the higher floors of an apartment, you don't have to worry about connecting a cable from your home to the scooter as you can just take the battery along with you.
As the Chairman of Kymco, Allen Ko added, "(The Ionex) scooter can be used like a cellular phone. You can charge it every day and use it with ease and people won't then mind buying an electric scooter. is "
Kymco Ionex battery weighs only 5 kilos. (Photo: Kymco)
He also added. "Consumers want a bigger range and automakers offer that by adding a big battery to the vehicle. This makes it heavy, costly and increases the maintenance cost as well. And these reasons act as barriers for those considering electric vehicles. Ionex helps overcome a lot of those barriers."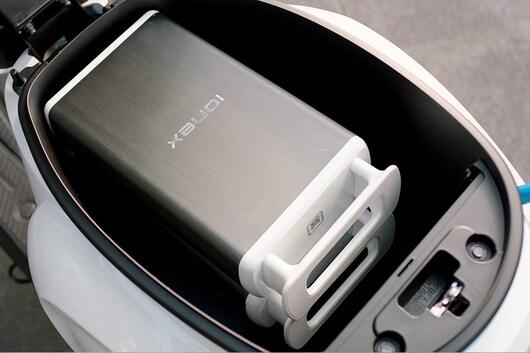 You can store up to three Kymco Ionex batteries in the under seat storage. (Photo: Kymco)
How Much Will it Cost?
The technology is still in the development phase with only prototypes existing as of now. But Allen is quick to add that the "Taiwanese government promotes electric scooters by providing incentives. With that, the retail price Ionex scooter will be likely lower than what the petrol-powered version of this scooter would cost."
The Indian government, on the other hand, has one of the most aggressive timelines, which is 2030, by when they plan on having only electric vehicles on sale and phasing out ICE engine-driven passenger vehicles.
Watch Our Conversation with Allen Ko, Chairman of Kymco
What Does The Future Hold?
In order to meet this timeline set by the Indian government, a lot has to be worked on. The most likely alternative to petrol and diesel powered vehicles in India as of now is electric and whenever electric vehicles are spoken about, the first and perhaps the biggest barrier that pops up is the infrastructure required to charge them.
And, in order to encourage automakers to take up electric vehicles, the government is expected to offer incentives as well. Then, there's the pollution problem. With cities like Delhi choking on pollution and the government being quick to blame automobiles at large, there's a lot that can work in Kymco's favour.
The company plans on launching ten new models in the next three years, with most of them being electric. They will also expand to 20 new countries and India is one of them.
"If we receive similar support from the Indian government, it will be helpful. But our product has been designed to succeed by itself," says Allen.