Tata Motors and Microsoft Partner to Build Connected Cars for India
The first vehicle showcasing the vision for these enhanced driving experiences will be unveiled at the 87th Geneva International Motor Show on 7th March 2017.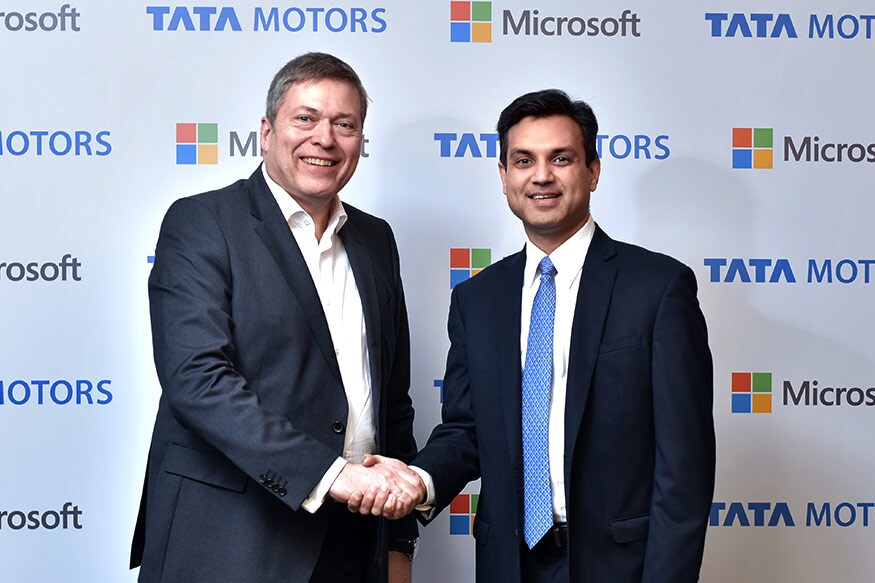 Tata Motors and Microsoft have announced partnership to build connected cars. (Photo: Tata Motors)
Tata Motors and Microsoft India have announced a strategic agreement to redefine connected and personalised driving experiences for Indian customers.
Tata Motors will leverage Microsoft's connected vehicle technologies that brings together artificial intelligence (AI), advanced machine learning, and the Internet of Things (IoT) capabilities on the global hyper-scale Azure cloud, to traverse the digital and physical worlds and create a highly personalized, smart and safer driving experience across the digital life of a vehicle owner.
The first vehicle showcasing the vision for these enhanced driving experiences will be unveiled at the 87th Geneva International Motor Show on 7th March 2017. This will be via Tata Motors' user interface application and services suite utilising Microsoft enabled functionality like advanced navigation, predictive maintenance, telematics and remote monitoring features.
Commenting on the partnership, Guenter Butschek, CEO & MD, Tata Motors, said, "We are using Microsoft's connected vehicle technologies on the Azure intelligent cloud to bring the digital lives of our customers into the cars they drive. Making the most of the fast-paced innovation cycle that Microsoft has to offer, we will create a fully connected and seamless driving experience for our customers."
Commenting on the association, Anant Maheshwari, President, Microsoft India said, "We are excited to partner with Tata Motors as they embark on a new journey of innovation with Microsoft Azure cloud. Using IoT, AI and machine learning technologies, we will provide vehicle owners in India and across the world with a safe, productive and fun driving experience."
Tata Motors will develop and launch new connected services and applications that make it easier for people to stay connected to work, entertainment and social networks, with greater safety & security as well as services to maximise the better use of newly found in-car free time.
In addition, Tata Motors' recently launched vertical – TAMO, will act as an open platform to foster innovation through a startup ecosystem and develop vehicles with on-the-go connectivity. In its first phase, the offerings will incorporate technologies such as cloud computing, analytics, geospatial mapping and increased human-machine interface. TAMO will provide a digital eco-system, which will be leveraged by Tata Motors to support the mainstream business in the future.
Microsoft Azure cloud computing technologies will allow advanced navigation, predictive maintenance and vehicle-centric services, remote monitoring of car features, external mobile experiences and over-the-air updates. These will be powered by Microsoft Azure cloud and services such as advanced analytics, machine learning, IoT and artificial intelligence.
Some examples of the driving scenarios being explored for the future are –
1. Based on their profile and location data, vehicle owners can receive proactive point-of-interest, shopping and route assist recommendations enabling them to achieve more on the go.
2. Pre-emptive service alerts based on vehicle health data will enable owners to avoid costly downtime en-route on planned road trips.
3. Using industry-leading firmware over the air (FOTA) and software over the air (SOTA) updates protocols, key vehicle settings can be updated remotely, over the cloud. These will help cloud based diagnostics and the ability to use insights from vehicle data to prevent warranty and recall issues and offer new services that improve the user experience.
4. By capturing, analysing and acting on live road conditions, vehicle owners will be able to increase safety, optimise vehicle performance by avoiding roadblocks and rough terrain. By unifying navigation, data elements like maps, weather, traffic, and parking the solution can deliver optimised routeing and location based services to vehicle owners.
Also Read: Tata Motors to Unveil 'TaMo Futuro' at 2017 Geneva Motor Show
Get the best of News18 delivered to your inbox - subscribe to News18 Daybreak. Follow News18.com on Twitter, Instagram, Facebook, Telegram, TikTok and on YouTube, and stay in the know with what's happening in the world around you – in real time.
| Edited by: Manav Sinha
Read full article