Tesla CEO Elon Musk's Promises to Investors on Model 3 Sedan and Raising Capital – Timeline
A look at statements by Musk on production goals for the Model 3, a more affordable car on which Tesla's future profitability rests, and on the company's need to raise capital.
Tesla CEO Elon Musk deled the verified pages of Tesla and SpaceX on a Twitter challenge.(Photo: Reuters)
Tesla Inc Chief Executive Officer Elon Musk told investors this week that he does not want the luxury electric car maker to undertake another round of raising equity capital this year and restated a commitment to swing to a profit by the third quarter, after consecutive quarters of steep losses. Musk has set ambitious financial and operational goals before, only to backtrack or delay later on.
Following are statements by Musk on production goals for the Model 3, a more affordable car on which Tesla's future profitability rests, and on the company's need to raise capital.
Also Read: This is How the Tata E-Vision Sedan Concept will Look Like in Flesh - Detailed Image Gallery!
July 2, 2017: "Looks like we can reach 20,000 Model 3 cars per month in Dec. "Handover party for first 30 customer Model 3's on the 28th! Production grows exponentially, so Aug should be 100 cars and Sept above 1500." - Musk tweets.
"I'm very confident that we'll be able to reach a production rate of 10,000 vehicles per week towards the end of next year. And we remain, we believe, on track to achieve a 5,000-unit week by the end of this year." - Musk on quarterly results call.
Tesla reports it missed its Model 3 production goal for the third quarter, producing only 260 vehicles for the period compared with an earlier target of 1,500. "It is important to emphasise that there are no fundamental issues with the Model 3 production or supply chain." - Regulatory filing.
Also Watch: Mercedes-Benz GLA Hidden Feature!
Oct. 6, 2017: Musk says Tesla's Model 3 is "deep in production hell"- Musk tweet
Nov. 1, 2017: "So based on where we - what we know now, as we've gotten really into the details of some of the worst bottlenecks, we expect to achieve approximately 5,000 Model 3 vehicles per week by late Q1 2018, so probably sometime in March." -Musk on quarterly earnings call
May 2, 2018: "Prior to a planned shutdown in mid-April to further increase production, we produced more than 2,000 Model 3 vehicles for three straight weeks, and we hit 2,270 in the last of those weeks." -Tesla quarterly results.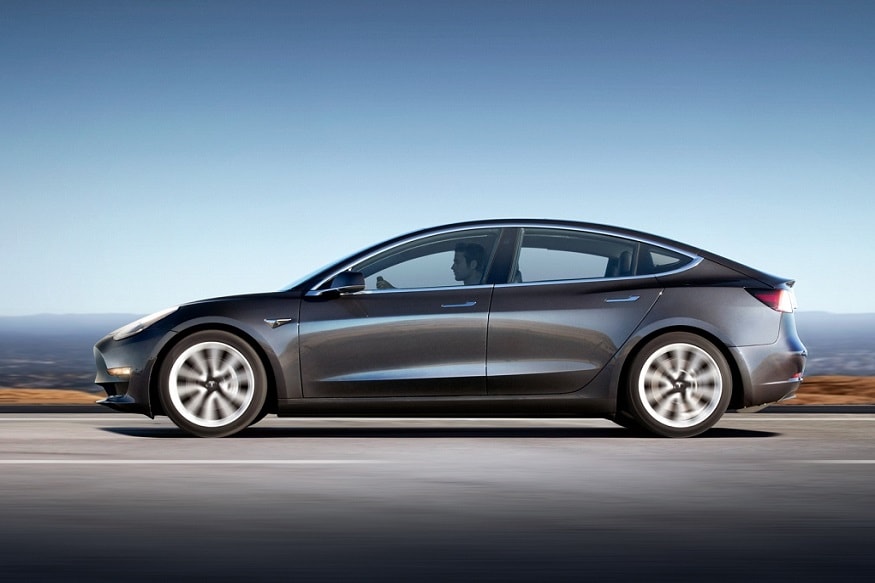 Tesla Model 3 comes with standard black paint.(Image: Tesla)
On raising capital:
Oct. 26, 2016: Musk tells analysts the company's current plan "does not require any capital raise for the Model 3 at all."
Feb. 23, 2017: "We're considering a number of options but I think it probably makes sense to raise capital to reduce risk." -Elon Musk
March 15, 2017: Tesla says it expects to raise about $1.15 billion from a stock and senior notes offering, as it entered pre-production of its upcoming Model 3 electric sedan. -Tesla statement
Aug. 2, 2017: "But we're not, at this point, considering an equity raise. We are thinking about debt, but we're not thinking about an equity raise." -Elon Musk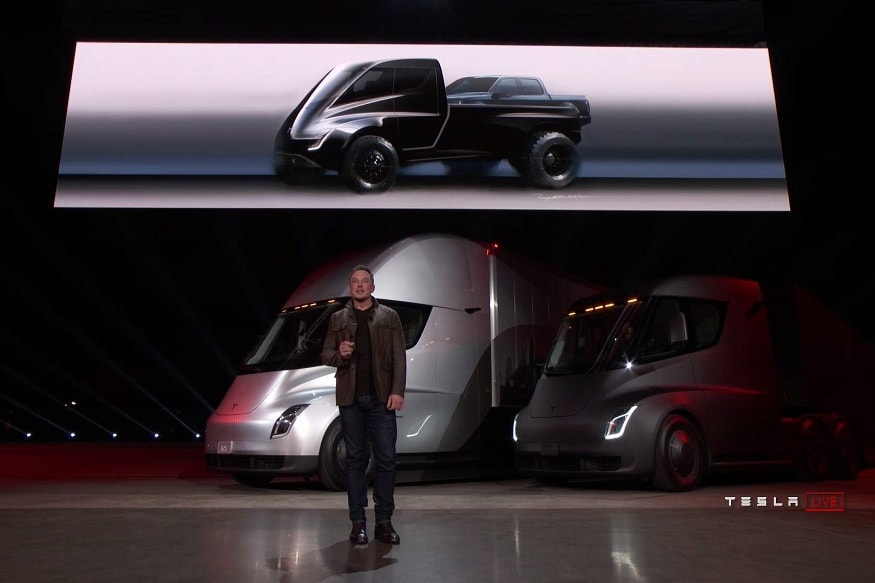 Elon Musk at Tesla Semi launch event. (Image: Tesla)
Aug. 7, 2017: Tesla says it plans to raise $1.5 billion in order to further strengthen its balance sheet during this period of rapid scaling with the launch of the Model 3, and for general corporate purposes. Tesla says it would offer $1.5 billion worth of bonds. -Tesla statement
Aug. 11, 2017: Tesla enlarges the Aug. 7 offering and sells $1.80 billion in aggregate principal amount of senior notes due in 2025. -Tesla statement
May 2, 2018: In a conference call, Musk refuses to answer questions from analysts on Tesla's capital requirements, saying "boring questions are not cool."
| Edited by: Arjit Garg
Read full article
Countdown To
Elections Results
To Assembly Elections 2018 Results