Tesla Model 3 Autopilot Saves Yet Another Life, Animation Shows The Severity of Incident [Video]
While there's a debate on driver assistance systems, there are plenty of times when Autopilot has succeeded in saving a driver from an accident.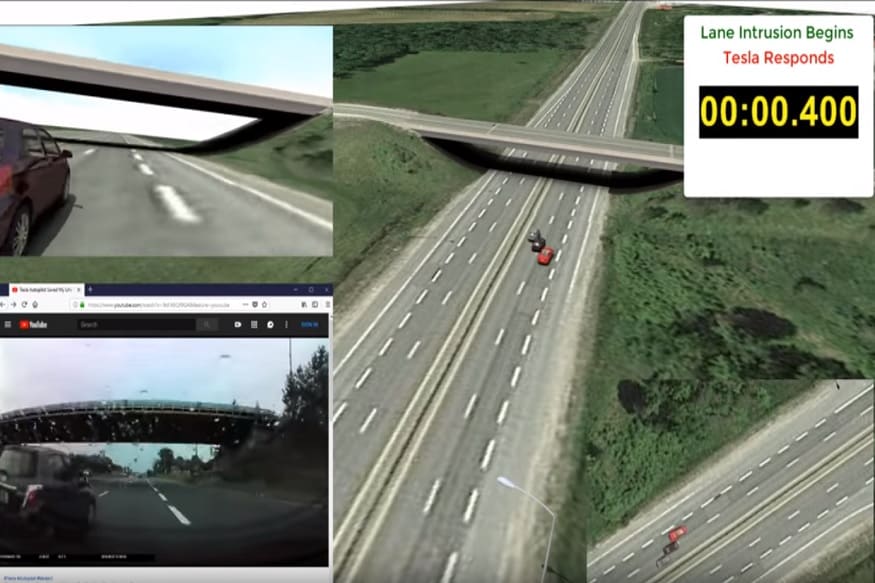 Tesla Autopilot animation. (Image: YouTube Screengrab)
Autonomous Technology is here and you can't ignore it! But contrary to the people's belief that it will take over the controls from human, and interfere with regular driving functions, most of the manufacturers are using autonomous tech to enhance the road safety. Case in point, the Tesla Autopilot, which has saved human lives in the past, and has done it again.
Tesla Autopilot is one technology that has drawn equal flak and love from buyers of Tesla vehicles, be it the Tesla Model S or Tesla Model X. One such Autopilot technology is Autosteer that takes control over the human driver after sensing a possibility of an accident, and has saved the life of famous musician Zedd in the past.
Something of the similar sorts was seen in a video posted by a Tesla Model 3 owner who wrote in the description – "I was driving home today when some dumbass came out of nowhere and tried to run me off the road. See real dashcam footage of Tesla Autopilot taking evasive action and probably saving my life.
Crash Animation Studios was kind enough to create this amazing animation of the crash avoidance with a detailed technical analysis. I highly recommend viewing this analysis from Crash Animation Studios."
These particular set of videos are interesting because a) the whole episode was captured on the dashcam and b) a crash animation studio has reproduced the whole incident giving us an insight about what could have gone wrong in case Autopilot wouldn't have kicked in.
There has been a huge debate of driver assistance systems taking over an actual attentive driver, but there are plenty of times when Autopilot has succeeded in saving a driver from an accident.
Get the best of News18 delivered to your inbox - subscribe to News18 Daybreak. Follow News18.com on Twitter, Instagram, Facebook, Telegram, TikTok and on YouTube, and stay in the know with what's happening in the world around you – in real time.
| Edited by: Arjit Garg
Read full article