Tesla Model X Tows Qantas Airways' Boeing 787 Dreamliner, Creates Guinness World Record [Video]
A Tesla Model X SUV towed a 287,000-pound Boeing 787-9 Dreamliner close to 1,000 feet (304 metre) on a taxiway at the Melbourne Airport in Australia.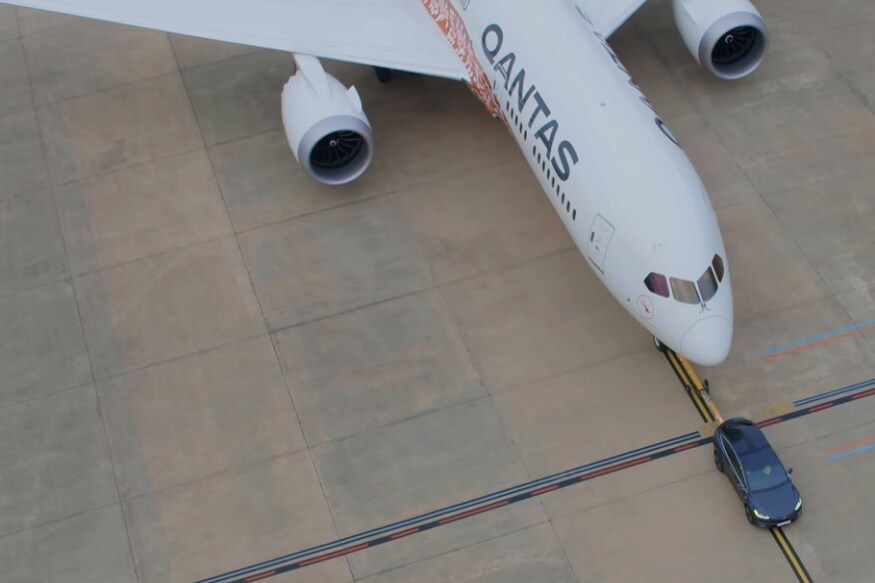 Tesla Model X pulling Qantas Airways' Boeing 787. (Image: YouTube Screengrab)
Back in 2016, Tesla Motors and Qantas Airways went head-to-head for a unique race between a car and an airplane. While such attempts have been made in the past many times, it was for the first time an electric car was racing against a commercial airliner. And yet again, Tesla and Qantas have joined hands for another first-timer, creating a Guinness World Record in the process
A video release by Australian Qantas Airways shows a Tesla Model X electric SUV towing a 287,000-pound Boeing 787-9 Dreamliner close to 1,000 feet (304 metre) on a taxiway at the Melbourne Airport in Australia. The plane is part of the Qantas Airways' passenger jet.
The Tesla Model X also created a new Guinness World Record for being the "heaviest tow by an electric production passenger vehicle." The Tesla Model X is designed to tow 5,500 pounds, according to Tesla. The Boeing 787 had a bare minimum weight with a small amount of fuel in the tank, two pilots and no passengers or cargo.
Both the Tesla Inc. and Qantas are passing through some turbulent times right now. While Tesla is facing issues of delay in Model 3 production and leaving of top management, the Qantas is being criticized by the International Council on Clean Transportation for its record on pollution.
Also Read: Install Tesla Inspired 12.1-Inch Infotainment System in 2018 Mahindra XUV500 for Rs 1 Lakh!
The group, in a study, found that Qantas pollutes more than its regional competitors on trans-Pacific flights. Qantas is now retiring its fuel-guzzling Boeing 747s and replacing them with 787s, which are more fuel efficient. Qantas is also using other sustainable energy options to promote a better environment.
They are experimenting with energy efficient fuels and using electric aircraft tugs to pull planes. The video is association with Tesla is done to bring attention to its sustainability efforts. Tesla is already known for its clean energy initiatives.
Also Watch: TVS NTorq Review!
The last time Qantas and Tesla collaborated together, they raced a Qantas Boeing 737-800 aircraft against a Tesla Model S P90D. Tesla reached a speed of 155 miles per hour and the plane neared 160 mph or 140 knots, before taking off and eventually winning the race.
| Edited by: Arjit Garg
Read full article