The TechArt GTstreet R Takes Porsche 911 Turbo to a Whole New Level
The GTstreet R goes 0-100 km/h in 2.7 seconds and 0-200 km/h in 9.2 seconds.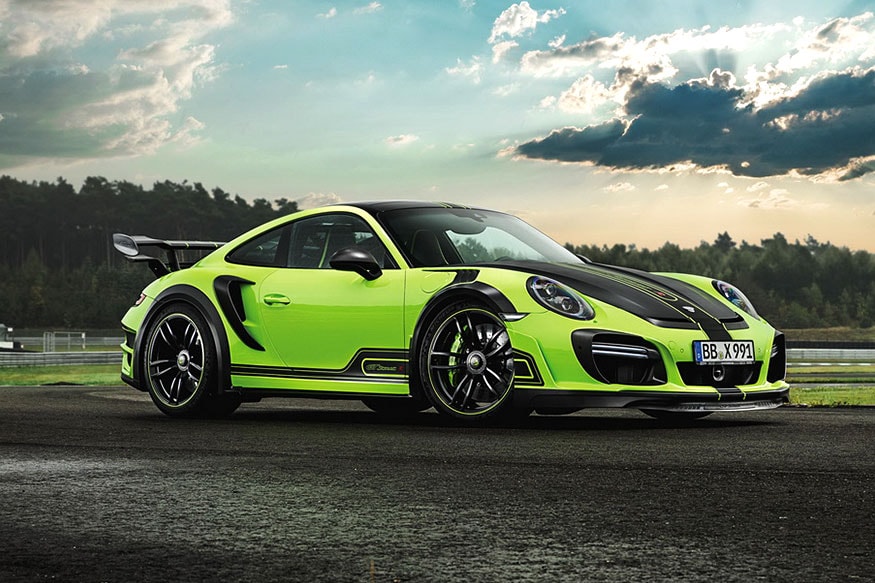 TechArt GTstreet R. (Photo: AFP Relaxnews)
German Porsche tuning house TechArt is bound to get hearts racing with its latest 911-based creation that squeezes hypercar performance into an everyday sportscar's body.
For some, the Porsche 911 is already automotive perfection, but there are always those that want more: more power, more performance and of course more exclusivity. Thankfully for those clients companies like TechArt and its latest creation, the GTstreet R, exist.
Based on the current generation Porsche 911 Turbo or Turbo S, this car is equal parts show and go. Festooned in carbon fibre additions for better downforce – up to 321kg when the car hits 300km/h claims TechArt – without diluting the car's drag coefficient. The new body panels also feed more cold air to the engine, its turbos and brakes for better performance and efficiency. Generous lashings of carbon fibre also help strengthen the body and cut weight, meaning that owners will be able to make the most of the equally generous power upgrade. A Stock 911 Turbo has 540hp, a 0-100km/h time of 3 seconds and a top speed of 319km/h. The GTstreet R will initially have 640hp (0-100km/h in 2.7 seconds and 0-200km/h in 9.2 seconds) but from early 2017 an even more advanced power upgrade kit will be available that can deliver 720hp - that's Lamborghini Aventador territory.
TechArt GTstreet R interiors. (Photo: AFP Relaxnews)
Keeping all of those horses in check is four-wheel drive and four-wheel steering plus a rear wing that raises and tilts automatically as the car accelerates. However, TechArt claims to have achieved all of these engineering marvels without compromising the 911's unique selling point – it's still an everyday supercar.
There may be racing harnesses instead of seatbelts and a roll cage rather than the tiny rear seats when stepping inside, but the cabin is still packed with creature comforts. Owners have the option of two different trim levels -- Clubsport and Exclusive. Go for the latter and the cabin is awash in leather and contrasting hand stitching while the former offers Alcantara dashboard and seat trim plus headliner.
As for driving, the car should be equally at home on the track or on the road but clients can specify exactly the suspension and chassis setup they desire. Options include a lift kit that will raise the car's low-slung nose sufficiently to avoid scrapes and scratches on speed bumps or entering and exiting carparks.
Also Watch
Read full article