This Bugatti Chiron Replica from China worth Rs 3.4 Lakh has a Top Speed of Only 65kmph
Chinese manufacturer Shandong Qilu Fengde has produced P8 LSEV based on Bugatti Chiron with a top speed of only 65 kmph.
Shandong Qilu Fengde P8. (Image: CarNewsChina)
China is notorious for building replicas of the famous cars from across the globe and sell them in the domestic market for pretty cheap prices. Many companies have tried to sue the Chinese manufacturers for stealing their design, most notably Land Rover for copying the Range Rover Evoque design and selling it in China.
However, the latest example is not exactly a cheap rip-off of an expensive car, but takes the inspiration business to a whole new level. A manufacturer called Shandong Qilu Fengde, based in China's Shandong Province had the audacity to copy the 1500 hp Bugatti Chiron worth $9 million, a car that is touted as the world's fastest production car.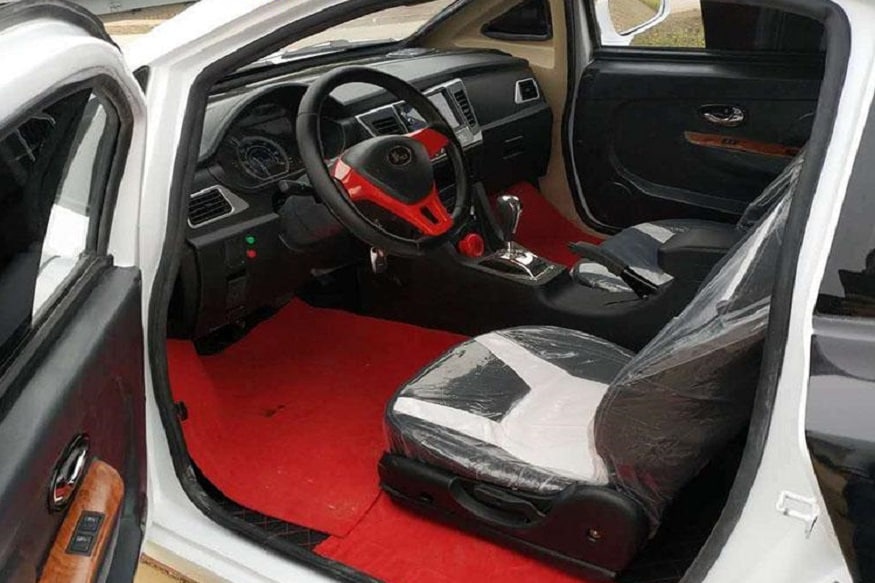 Shandong Qilu Fengde P8 cabin. (Image: CarNewsChina)
However, this Chinese manufacturer only took inspiration from the Chiron's design and not the powertrain. Because the P8, as it is called, is a low-speed electric vehicle with a top speed of only 65 kmph. Compare it to the Chiron's 430+ kmph top speed. Moreover, the P8 is priced for only 31.999 Yuan (roughly Rs 3.4 Lakh).
One need not have a driving license to drive the P8 and is available with classic dual tone paint, just like on the Bugatti. The Shandong Qilu Fengde P8 is powered by an electric motor with 3.35 horsepower and is mated to a 72V lead-acid battery. It has an all-electric range of 150 kilometers and the charging takes 10 hours on 220V.
Also Watch: Volvo XC40 Review!
Inside the P8 LSEV is a digital instrument panel, a 7-inch touch screen infotainment system, a sporty steering wheel, red carpeting, a shiny lever, and a big red obligatory kill-switch. Unlike the Chiron, the P8 has four seats, with the rear seats not more than a simple bench.
That's not all, if you are not into Bugattis, Shandong Qilu Fengde has a solution for that – copies of Lambos and Audis.
| Edited by: Arjit Garg
Read full article