Top Supercars at Geneva Motor Show 2018: Bugatti Chiron, Ferrari 488 Pista, Rimac Concept Two & More
Some new supercars (and hypercars for those over 1,000 horsepower) with astounding performances broke cover at the Geneva Motor Show 2018.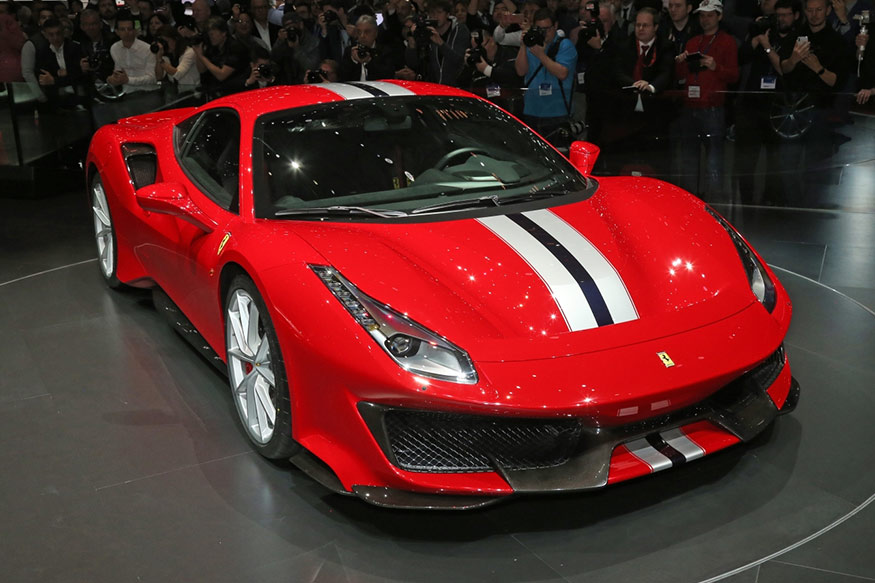 Ferrari 488 Pista. (Photo: AFP Relaxnews)
Alongside star cars from the likes of Koenigsegg and Pagani, who brought previously proven models to the Swiss show, some new supercars (and hypercars for those over 1,000 horsepower) with astounding performances broke cover at the Geneva Motor Show. Visitors can admire them at the event until March 18.
Bugatti Chiron Sport
Bugatti unveiled its new Chiron Sport -- the latest version of its famous supercar -- at the Geneva Motor Show. Bugatti has boosted performance by trimming 18kg off the car, thanks to the increased use of carbon fiber, as well as modifying the chassis and suspension. The Chiron Sport has a spectacular 1,500HP W16 engine under the hood and sells for €2.65 million (excluding taxes). The first models are due to ship by the end of the year.
Corbellati Missile
Italian manufacturer and auto industry newcomer Corbellati claims an impressive speed record for a "production model" with its debut offering, the "Missile." Indeed, its 1,800HP V8 biturbo engine promises a top speed of no less than 500km/h! With a design reminiscent of the stylish Italian sports cars of the 1960s, the Missile still has an air of mystery, as the manufacturer is yet to reveal production or pricing information.
Ferrari 488 Pista
Ferrari got Geneva buzzing once again with the 488 Pista, the most powerful and lightweight 488. This veritable mean machine is approved for road use and costs just under €300,000. Its 720HP V8 biturbo engine tops 340km/h and promises 0-100km/h acceleration in 2.85 seconds. The sporty interior is worthy of a racecar.
Lamborghini Huracan Performante Spyder
After presenting the Huracan Performante last year in Geneva, the Spyder version is Lamborghini's latest addition to the Huracan range. Its weight has been trimmed down considerably, notably thanks to new carbon fiber parts. Its 640HP V10 engine -- also used in the classic Huracan Performante -- delivers 0-100km/h acceleration in 3.1 seconds and a top speed of 325km/h. This model is priced at €220,000 (excluding taxes) for Europe.
Rimac Concept_Two
Croatian carmaker Rimac made headlines with the new Concept Two and its incredible performances. This model is billed as the electric car with the most jaw-dropping acceleration, promising from 0 to 100km/h in 1.85 seconds, thanks mainly to its 1,408 kW (equivalent to 1,914HP) electric motor. It has a top speed of 412 Km/h. One hundred Rimac Concept Two cars will be produced, costing a million euros each.
The 88th Geneva International Motor Show runs through March 18, 2018.
Also Watch
Get the best of News18 delivered to your inbox - subscribe to News18 Daybreak. Follow News18.com on Twitter, Instagram, Facebook, Telegram, TikTok and on YouTube, and stay in the know with what's happening in the world around you – in real time.
| Edited by: Manav Sinha
Read full article