Each day commute to work and back or a ride around town with the family, one way or the other motorcycles in this segment serve as a trusty companion. So, what makes the all new TVS Victor a good option to bring home?
The Looks
Design on this motorcycle is definitely worth a mention. It's easily visible that TVS have put in a lot of thought in styling it. First look gives you a standard commuter appeal, however take a closer look and there's crisper detailing on the panels and the tank, which also adds comfort to the riding stance.
When speaking of style, the tail lamp on the motorcycle makes it stand out amongst its competitors.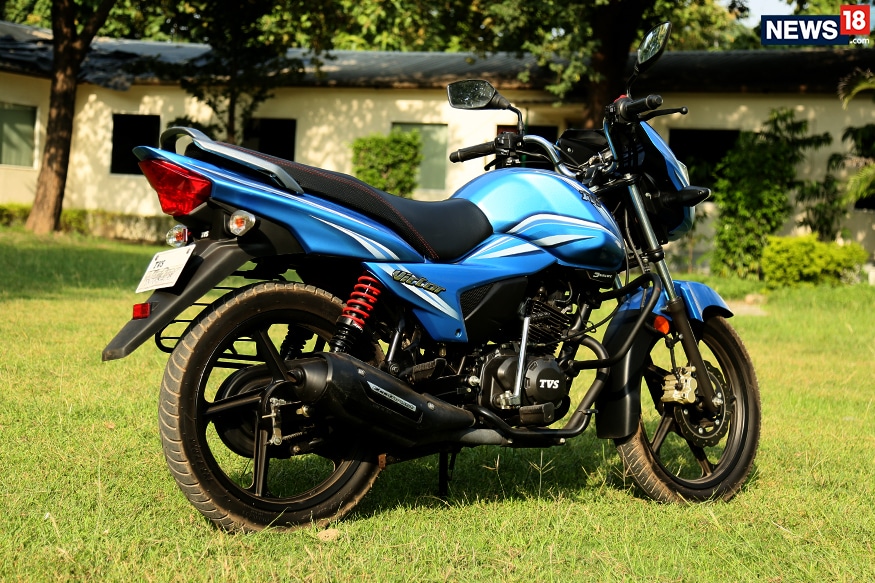 TVS Victor from the back. (Photo: Siddharth Safaya/News18.com)
What's cool?
New TVS Victor has a comfortable ride for the rider and pillion alike, owing to its very spacious seat and very soft Series Spring suspension, which give the bike and the people on board ease over potholes.
Considering Indian roads, a kid is bound to run across or a cyclewalah will make a dash for it, but braking is not a problem. The bike comes equipped with tubeless tyres for better grip, and the higher variant has an option of a roto-petal disc brake, which is capable of bringing it to an emergency halt with confidence.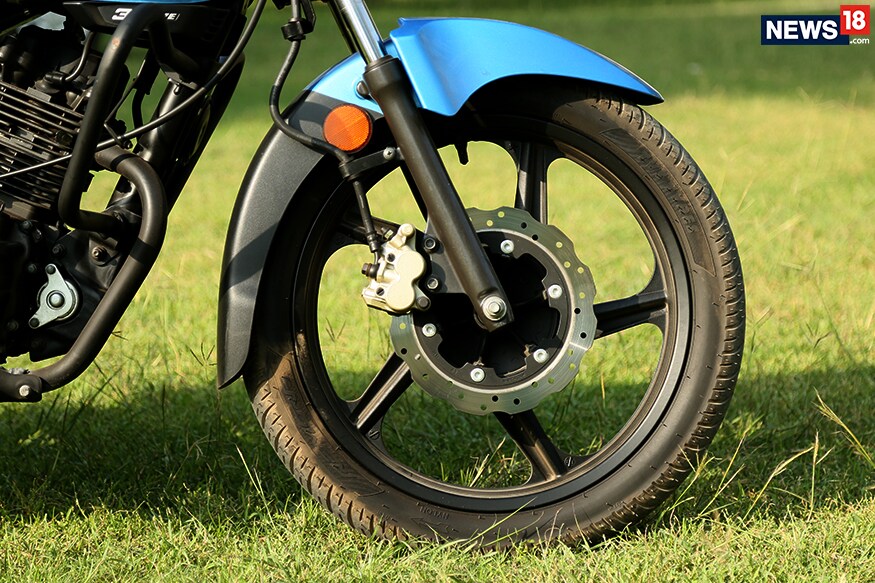 TVS Victor gets an optional disc brake. (Photo: Siddharth Safaya/News18.com)
With a powerful 3 valve EcoThrust engine, power delivery on the Victor is smooth along with a 4-speed constant mesh transmission that provides subtle gearshifts. Fuel economy is good too. Fill up once and there's 76/kmpl at your disposal. The Victor also has Power and Economy modes. A tiny lamp turns from green to red when the engine senses more fuel consumption – a gentle reminder to calm things down.
Engine churns out a maximum power of 9.6 bhp at 7500rpm. Also, peak torque of 9.4 Nm at 6000 rpm makes for hassle-free city riding, especially at low speeds.
The bike responds well in mid-range, and will do a 100 km/h on full chat.
What's not so cool?
Compared to the previous version of Victor's fuel capacity of 11 litres, the new one has a tank capacity of only 8 litres. Also noticeable is the positioning of the rear-view mirrors which is slightly off sync with the riding stance.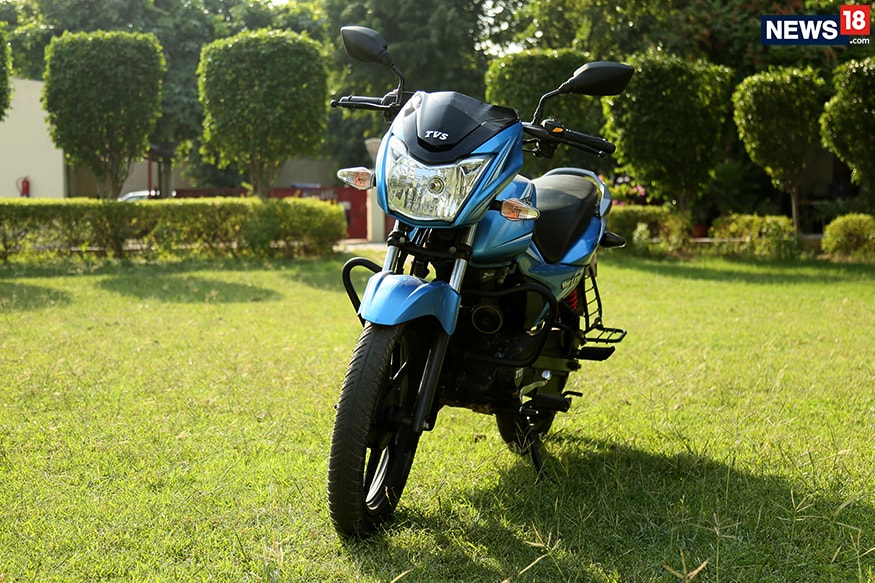 TVS Victor from the front. (Photo: Siddharth Safaya/News18.com)
There's a big red button on the right, which looks remarkably similar to an engine kill switch, but serves the purpose of turning on the hazard lights. Well, this is barely a downside, and it doesn't take long to get used to.
Competitors
At price ranging from Rs 49,490 – 51,490 (ex-showroom Delhi), the new Victor has it going neck and neck with the likes of Honda Livo and Yamaha Saluto RX as competition. The Livo too gives an impressive mileage figure at 74 km/l and also has bigger tubeless tyres that provide for taller ground clearance, however, there's also a bigger price tag on it which is over Rs 55,000 (ex-showroom Delhi).
TVS Victor's instrument cluster. (Photo: Siddharth Safaya/News18.com)
Saluto RX
, the company claims, gives you a range of 84 km on a full tank. But, the bike does not come equipped with tubeless tyres and optional disc brakes (quite an essential feature for two-wheelers). With lesser features also comes a smaller price tag. The Saluto is priced at Rs 46,000 (ex-showroom Delhi).
Verdict
So, does the Victor live up to what it promises? Yes, yes it does. The features it comes packed with easily render it worthy of comparison to motorcycles above its segment.
Overall, we think the bike is nippy, very comfortable and good to look at. If you're looking for comfort, lightness, fuel economy and a stylish looking machine, or if you're bringing home your first ever motorcycle, the new TVS Victor is by and large a good choice to go for.
Also Read:
TVS Apache RTR 200 4V Review: A Racer At Heart That's Dressed in Shorts