A 15 year old electric car company has overtaken a 115 year old luxury car manufacturer on Twitter. Simply put, Tesla has just surpassed Mercedes-Benz to become the world's most followed car brand on Twitter. The Elon Musk led company is known for manufacturing all-electric cars and has overturned German car brand to become the most followed car brand in the world.
While Mercedes-Benz was earlier the most followed car brand 3,029,779 followers on Twitter, Tesla, on Sunday, breached the number and now has 3,030,485 followers on Twitter. Though both of the automaker's Twitter pages show 3.03 M followers (you have to hover over the number to see the actual non-estimated followers).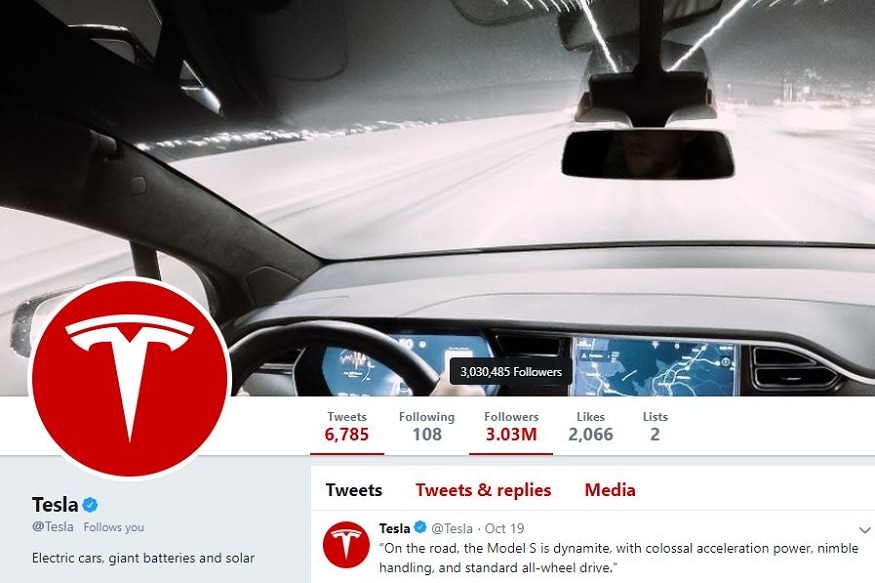 Tesla Twitter. (Image: Tesla Twitter Screengrab)
While the difference is not too much, Tesla is still the number one car brand on Twitter. As for India, Hyundai leads the social media war with almost 900,000 followers. The dynamic Elon Musk is one of the main reasons that people follow Tesla, as his personal account has over 23 million followers.
Not just social media, Tesla is taking heads on the German car manufacturers in terms of sales and recently crossed the sales numbers of BMW in the U.S.