USSV Rhino GX Executive is a Tank with Private Jet Inspired Cabin
California based U.S Speciality Vehicles has launched a Ford F-150 Super Duty Truck based Rhino GX Executive with jet-plane inspired cabin.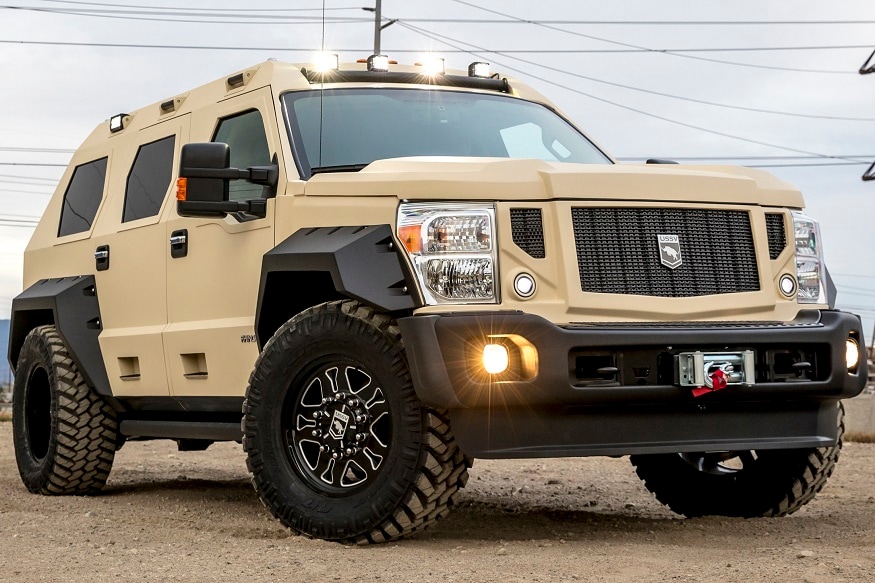 USSV Rhino GX Executive. (Image: USSV)
It doesn't matter if the prices of fuel are soaring or environment is suffering from gas guzzling heavy duty SUVs. There's still a large audience out craving for heavy-duty intimidating looking SUVs, both in India and outside. And to cater such audience, a lot of small-scale manufacturers, apart from the regular mass manufacturers put in a lot effort.
One such company based out of California is called U.S. Specialty Vehicles, or USSV, and they take Jeep Wranglers and Ford F-Series Super Duty trucks, and convert them into monster SUVs. Such is the design of USSV trucks that you can easily forget U.S forces' Hummers.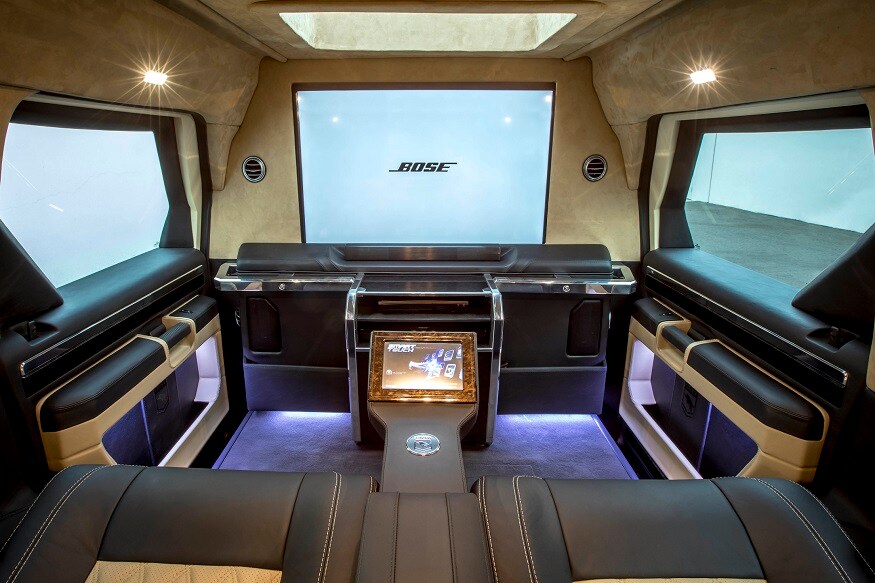 USSV Rhino GX Executive cabin. (Image: USSV)
There's a big Super Duty-based SUV called Rhino GX, which is mammoth by any given standard. USSV has launched an ultra-luxury version of the GX and named it Rhino GX Executive. Basically USSV has launched a tank with a cabin borrowed from a private jet.
As per the images, the Rhino GX Executive's rear seating area is where all the fun is! The rear cabin of the Executive comes with just two power-reclining bucket seats with built-in ottomans. The entertainment unit is a 40-inch TV mounted on a partition between the passenger area and the front seats and can be operated by a touchscreen on center armrest.
To converse with the driver, there's an intercom and the cabin can also be fitted with a sunroof, which looks more like a skylight, and a satellite TV receiver.
Also read: 2018 Maruti Suzuki Swift first drive review!
Sitting on huge 38-inch tyres, the Rhino is available in three colors inside and out - Black, tan, and khaki green for the exterior and an all-black leather cabin. Rest of the USSV Rhino GX Executive is same as the GX and is powered by either a 6.7-litre Power Stroke turbodiesel V8 or a 6.8-litre naturally aspirated V10. All of them are fitted with four-wheel drive and a six-speed automatic.
To order a USSV 25 percent deposit of the full amount is to be made by American customers, and a 50 percent deposit for international buyers.
Also Watch:
Get the best of News18 delivered to your inbox - subscribe to News18 Daybreak. Follow News18.com on Twitter, Instagram, Facebook, Telegram, TikTok and on YouTube, and stay in the know with what's happening in the world around you – in real time.
| Edited by: Arjit Garg
Read full article