Vladimir Putin Drives Around Turkish President in His New Aurus Sedan Limo in Russia
Russian President drove Egyptian President Abdel Fattah el-Sisi around the Sochi Autodrom race track in the Aurus Senat limo.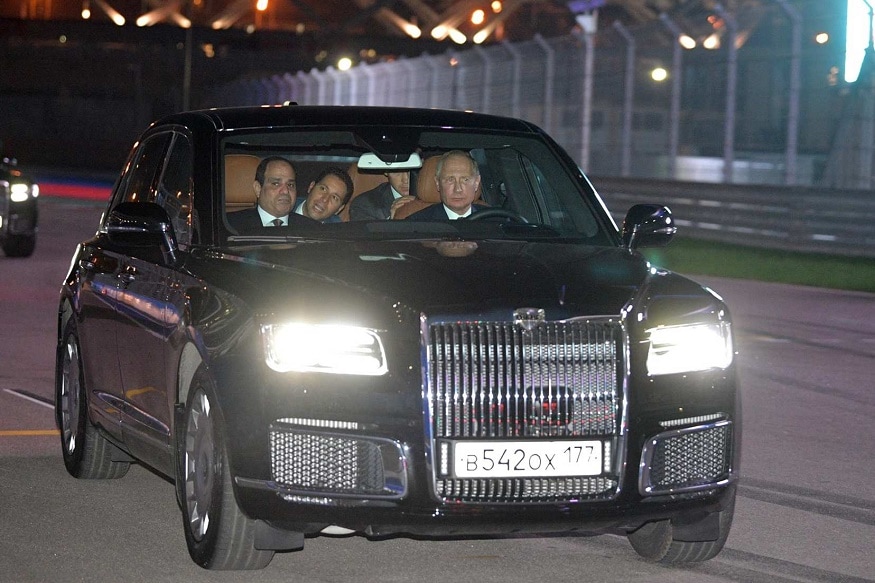 Vladimir Putin driving Aurus Senat. (Image: Reuters)
Russian President Vladimir Putin was recently seen driving his newly inducted Aurus Senat presidential limousine in Sochi, during the official talks with Egyptian President Abdel Fattah el-Sisi. Putin also drove around his fellow counterpart from Egypt in the Sochi Autodrom race track where the head of Russia gave Sisi a look at what his new ride is all about.
Putin usually sits in the back seat of the government-issue Aurus limousine, but with Egyptian President in the country, Putin climbed behind the wheel of Russia's posh sedan, while El-Sisi took the front passenger seat. In addition to the test drive in the Aurus Senat, Putin also inspected the Aurus Arsenal minivan, accompanied by Sergey Gaysin, Director General of the NAMI State Scientific Center.
Russia earlier unveiled the new luxury sedan at a Moscow motor show and also showed off the Russian-built limousine that President Vladimir Putin took for a televised drive during his swearing-in ceremony in May. The Aurus Senat four-seater sedan was presented to reporters as the latest addition to the nascent Cortege range of Russian-made vehicles championed by Putin.
An interior view shows the Aurus Senat during the media day at the 2018 Moscow International Auto Salon in Moscow, Russia. (Image: REUTERS)
The series will include a minivan, offroad vehicle and motorcycle. The limousine, also built under the Aurus brand, had its first public outing in May when Putin used it instead of his usual Mercedes at his inauguration for a new presidential term, sending a patriotic message of Russian self-sufficiency.
Russia has been trying to reduce its dependence on imported goods and technology, a drive that has gathered speed since Russia was hit by Western sanctions. The Aurus series is produced by a Russian research institute known by the acronym NAMI in partnership with Russian carmaker Sollers.
Industry Minister Denis Manturov, who took part in Wednesday's unveiling, said contracts for commercial orders of Aurus cars would be signed from next month, the RIA news agency reported. He said about 120 Aurus vehicles would be produced next year, adding that the off-road vehicle was expected to enter serial production by the beginning of 2020, RIA reported.
Manturov said an electric Aurus motorbike would enter serial production no sooner than 2020. The limousine is intended to become the heir to the Russian-made ZIL sedans that for decades transported Soviet leaders.
Get the best of News18 delivered to your inbox - subscribe to News18 Daybreak. Follow News18.com on Twitter, Instagram, Facebook, Telegram, TikTok and on YouTube, and stay in the know with what's happening in the world around you – in real time.
| Edited by: Arjit Garg
Read full article