Europe has never really embraced the pickup truck in quite the same way as Americans have for decades, but there are signs that some Europeans are starting to come round to the idea of a pickup as more than a commercial work vehicle. It's a trend that will only grow if more manufacturers offer attractive special editions of their pickups, which is what Volkswagen is doing with its popular Amarok that's soon to be available as the Amarok Dark Label.
The Amarok Dark Label is available to order in the UK from Wednesday and it promises to be one of the most luxurious versions ever made of VW's award-winning pickup. The Dark Label is based on the already very generous range-topping Amarok Highline specification, but it builds on that model with a raft of premium features as part of its standard equipment.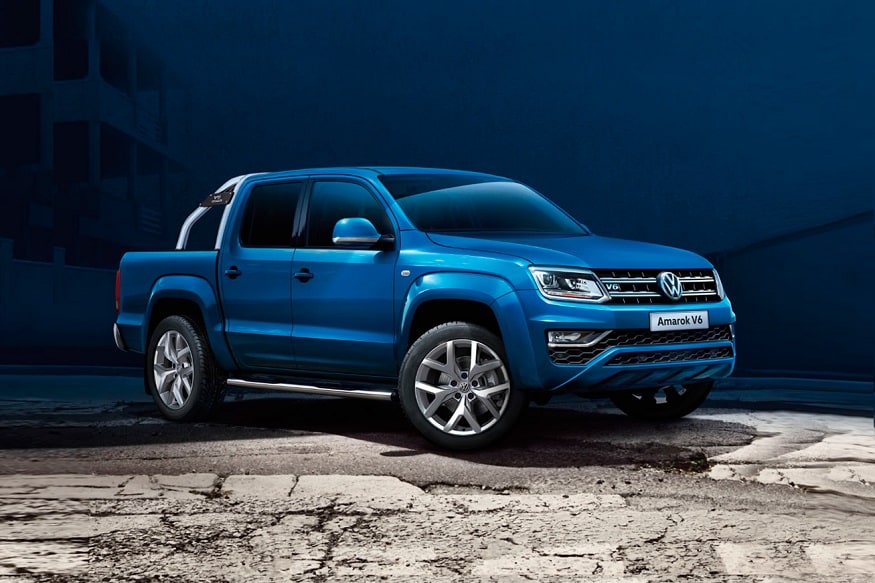 2018 Volkswagen Amarok Highline. (Image: AFP Relaxnews)
As far as exterior styling is concerned, the Dark Label boasts a fetching set of 18-inch Rawson alloy wheels, matte black mirror housings, black door handles and a black rear bumper. The standard paint is the Carbon Steel grey metallic that's exclusive to the special edition, and the side bars and a rear styling bar are finished in a matching matte black.There's also some underbody styling and unique Dark Label decals that complete the exterior look, and if Carbon Steel grey metallic isn't quite to your liking, the Dark Label is also available to order in two further optional colours of Deep Black pearl or matt Indium Grey.
On the inside, the dark theme continues with seat trim covers finished in Alcantara, black headlining and vent bezels trimmed in chrome silk gloss, and the foot wells are adorned with a set of unique Dark Label floor mats. And as an ultra-high specification model, the Amarok Dark Label also features some of Volkswagen's most advanced current infotainment technology.
Powering the Amarok Dark Label is a powerful and versatile 3.0-liter V-6 engine, which develops 204 PS and 500 Nm of torque, which is sent to the road through an eight-speed automatic gearbox and Volkswagen's permanent 4Motion four-wheel drive.
Production is limited to what VW describes as "around 200" models, with the first deliveries to customers expected in May, and the order book will close in April at the latest. Prices start at £33,650 (about US$46,500).
Also Watch: 2018 Maruti Suzuki Swift All You Need to Know - Price, Mileage, Features