Volvo is Putting People Not Products on its Podium in Detroit
Volvo Cars introduced the world to the Hains, a family from Gothenburg in Sweden.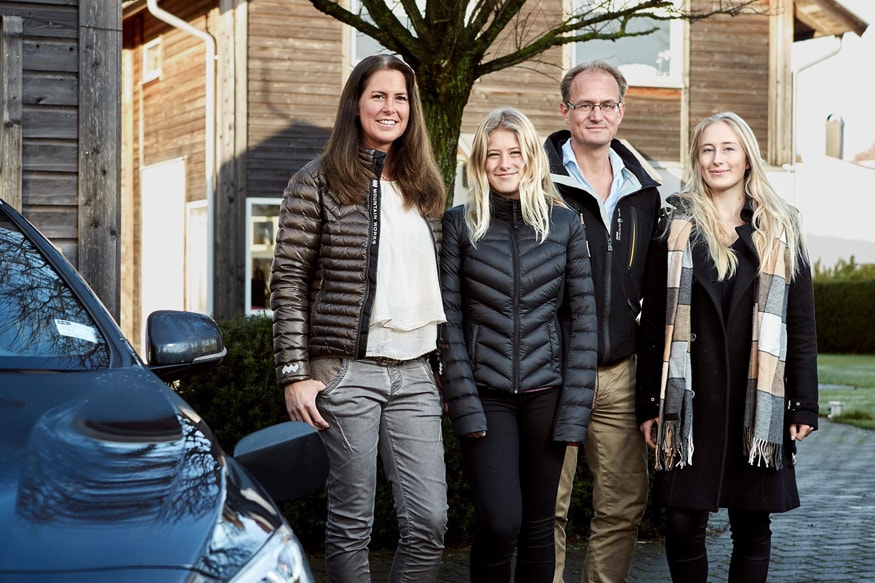 The Hain family in Sweden are the first people chosen to take part in a real-life autonomous drive research program using real cars, in real traffic (Image: AFP Relaxnews)
While other automakers are marketing their new cars, Volvo is using this year's North American International Auto Show (NAIAS) to unveil a typical family of four from Sweden.
At NAIAS Volvo is continuing the trend started by Honda and Toyota at last week's 2017 CES, namely one of talking about technological innovation in terms of the people who are going to be using it.
That's why rather than a new sedan or SUV, the Swedish brand introduced the world to the Hains, a family from Gothenburg in Sweden and the first family selected to take part in the company's truly real-world autonomous vehicle research program, Drive Me.
"We do things differently at Volvo Cars - we always have," said Håkan Samuelsson, President & CEO of Volvo Car Group. "Our main focus has always been on people and making their lives easier. Technology should improve the consumer experience, making mobility safer, sustainable and more convenient."
Volvo has emerged as an early leader in the race towards the industry's ultimate goal of autonomous cars and safer roads. However, with the pace at which technological innovations are coming, there is a fear that all companies involved, from automakers to parts suppliers and even tech companies like Google could forget why they're in the race to begin with.
Also read: After 50 Years, Volvo Overtaken in Sweden in Terms of Sales
As Bob Carter, Toyota's senior VP for automotive operations, said during his CES address: "With all the talk about advances in automobile technology, it's easy to lose sight of why we make cars in the first place. They're for people."
That's why Volvo is taking a holistic approach to its autonomous driving development. It is trying to understand how self-driving cars can benefit the entire community and needs to understand as much as possible around the area of handover -- that moment where the car takes control or where the driver needs to step in to correct a car's technological shortcomings.
Also read: Volvo Cars And Autoliv Announce Autonomous Tech Joint Venture Zenuity
"The aim of the Drive Me research project is to focus on how to enhance people's lives and have a positive impact on society," said Henrik Green, Senior Vice President, Research and Development at Volvo Car Group.
"We want to learn more around how people feel when they engage and disengage autonomous drive, what the handover should be like, and what sort of things they would do in the car when it's driving them to their destination."
Get the best of News18 delivered to your inbox - subscribe to News18 Daybreak. Follow News18.com on Twitter, Instagram, Facebook, Telegram, TikTok and on YouTube, and stay in the know with what's happening in the world around you – in real time.
| Edited by: Abhilasha Singh
Read full article