Watch How Seat-Belts Can Save Your Life [Video]
A camera mounted inside the bus recorded the footage of the accident with the car showing how seat belts helped save passengers from severe injuries.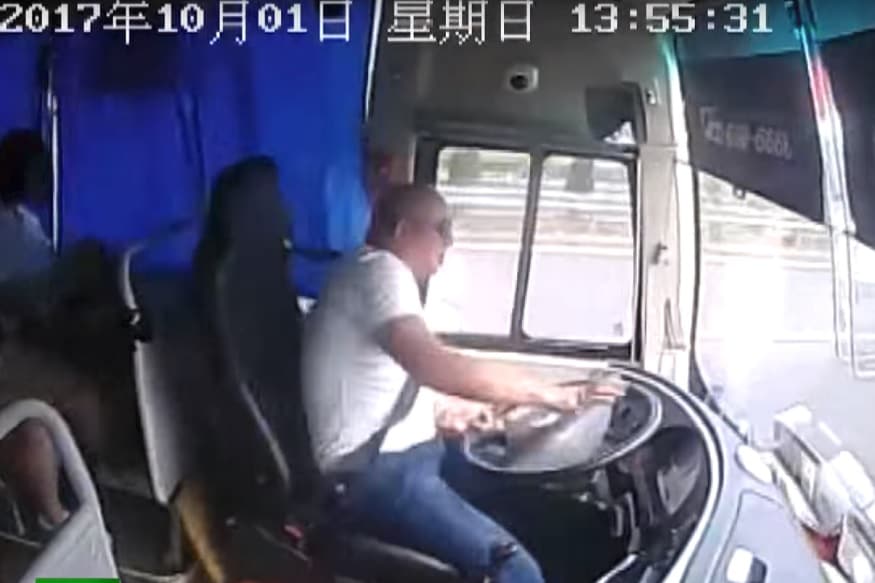 A screenshot showing the bus driver just before the accident. (Image: YouTube ScreenShot)
A recent video clip from a bus accident in China has reiterated the fact about the importance of seat-belts while travelling in any kind of four-wheeler. While in India, wearing seat-belts even for the driver is seen as an unnecessary hurdle, elsewhere in the world, people wear seat-belts while sitting at the back-seat of the car, as well as travelling in the bus.
There's even no seat-belts in the buses in India, forget about wearing them. This recent video clip captured by a camera mounted inside the bus shows an accident between a speeding car which lost its balance to hit a straight-moving bus.
The incident happened in Zhuzhou, China and the bus toppled over to one side soon after the incident. The video footage was recorded in three different angles, the first one showing the driver cabin, second showing the passenger cabin and the third recorded the outside footage.
As evident, soon as the car hit the bus and the bus toppled, people wearing seat-belts remained in their seats, without much harm. However, there were a couple of people without seat belt, who were thrown away from their seats and sustained injuries.
The video is a perfect example showing how important the seat belts are while saving your life. Not only while driving the car, seat belts are important are more than important for passengers.
Also Watch:
| Edited by: Arjit Garg
Read full article