Watch Red Bull F1 Teammates Daniel Ricciardo and Max Verstappen Race Lada 4x4 In Azerbaijan [Video]
Verstappen was at the wheel and Ricciardo acted as the navigator, putting the Soviet made Lada 4x4 SUV through its paces in Azerbaijan.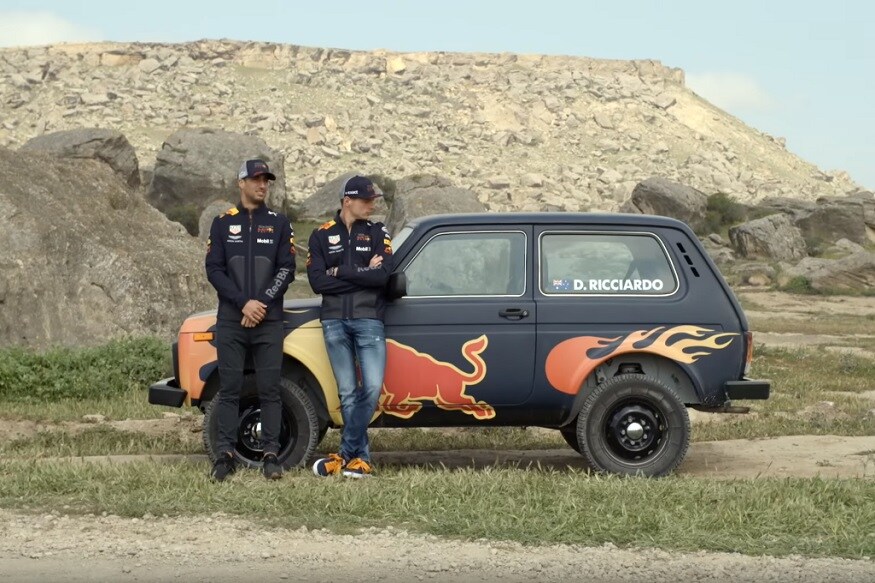 Ricciardo and Verstappen with Lada 4x4. (Image: Aston Martin Red Bull Racing)
The Azerbaijan round of Formula 1 held during the weekend may have won by Lewis Hamilton, after a long spell of the winless 2018 F1 season, but it was the Team Red Bull mates - Daniel Ricciardo and Max Verstappen who had the most fun at the former Soviet Republic nation. The F1 duo raced around the mud volcanoes of the Azerbaijan ahead of the build-up to the GP.
However, it was not their usual Aston Martin Red Bull F1 racecar that they had the fun in! Rather, Ricciardo and Verstappen drove around a Lada 4x4 car, taking on local drivers in. Verstappen was at the wheel and Ricciardo acted as the navigator, putting the Soviet made SUV through its paces.
In the end, the Red Bull Racing pair came out on top at the Gobustan Reservation. The Gobustan Reservation is a UNESCO World Heritage Site and is famous for its rocky paths, narrow gullies and mud volcanoes. The duo raced around the Gobustan in the former Lada Niva, now called the 4x4.
Max Verstappen said - "It was a lot of fun. A lot of rocks! But it was a good day. I find it quite fascinating that so close to the sea you have this kind of landscape, it's really beautiful. We got some fun drifting going, did a bit of filming with the cars and I have to say I enjoyed it. The local guys knew the terrain pretty well but, unfortunately for them, we were just a bit faster."
Also Watch: Suzuki GSX-S750 First Ride Review!
Daniel Ricciardo added - "Fortunately, the Lada handled like an absolute gem. Any time Max got into a slide I felt he could bring it back, so I had confidence, but there were definitely some 'oh boy!' moments. I'm actually glad I was with Max and not the local guys! They were kind of loose. I was happy to be with Max."
Don't Forget to Subscribe to the 'Tech And Auto Show' YouTube Channel
For the Australian, Baku is a return to his sole race win last season, the grand prix coming a fortnight after his win in China. Of his race chances, he said: "It feels good - good momentum and good memories of last year here. It doesn't really change my approach to a weekend but sure, it's nice to have a good feeling about coming into a race."
Get the best of News18 delivered to your inbox - subscribe to News18 Daybreak. Follow News18.com on Twitter, Instagram, Facebook, Telegram, TikTok and on YouTube, and stay in the know with what's happening in the world around you – in real time.
| Edited by: Arjit Garg
Read full article