Weekend Getaway from Delhi to Chandigarh in Volvo V90 Cross Country - Travelogue
While the term Cross Country is associated with off-roading, the Volvo V90 Cross Country is much more than that. Here's our road-trip from Delhi to Chandigarh.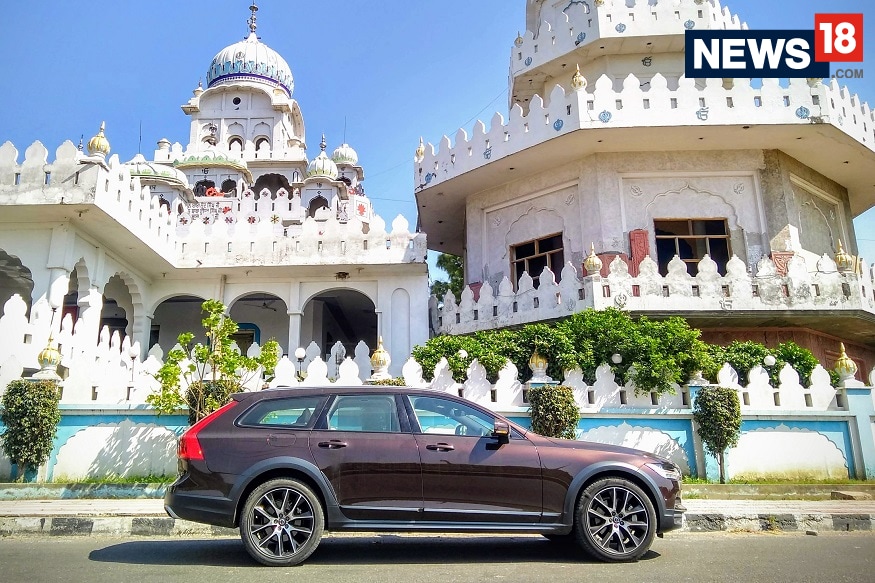 Volvo V90 Cross Country Travelogue. (Image: Arjit Garg/ News18.com)
According to the dictionary, the term Cross Country means
'crossing fields or countryside, as opposed to on roads or tracks'
. While the term was widely publicized for the Cross Country Running, a grueling form of athletics, in the automotive world, the term is widely associated with Volvo Cars. The Scandinavian brand has been using this term to denote a particular body type, which is neither a sedan nor an SUV, but more of a modern Estate Wagon.
Sadly, in India, Cross Country is not a very popular term, and neither are the Estate Wagon cars. But that doesn't necessarily means Volvo vehicles are not a success in the domestic market. Volvo knows that anyone buying their car comes from an urban strata and that is what their target is. What Cross Country essentially does is fulfill the needs of both an urban weekday dweller and an adventure seeker weekend lover.
So we decided to take the Volvo V90 Cross Country, one of the most unique products in the country today on a road trip from Delhi to Chandigarh – two cities with most millionaires in India – a perfect market segment for Volvo. Our aim was to test the V90 on the highway and understand if the Cross Country badge hampers with the luxury or is it just an add-on?
Here's our experience of driving a Volvo V90 Cross Country from Delhi to Chandigarh!
Volvo V90 Cross Country has an estate wagon inspired body design and is priced at Rs 65 Lakh. (Image: Arjit Garg/ News18.com)
The Journey
Chandigarh – the City Beautiful – as it is fondly called is strategically located at 250 Km from the capital region of Delhi-NCR and acts as a capital for two resource rich states of India – Haryana and Punjab. Needless to say, Chandigarh is home to innumerous High Net Individuals, a market most suited for Volvo. Our journey started from the heart of the Delhi in Connaught Place, taking us through the outskirts of the capital on the NH1, passing through cities like Sonepat, Panipat, Karnal and Ambala.
The NH1 starts from Delhi and goes all the way up to Amritsar in Punjab. The highway is immaculately built and has 6 lanes for most of the highway. It takes around 4-5 hours to reach Chandigarh, with an average speed of 70 kmph, and a stop for food. The highway consists of tolls every 75 km and gives you ample opportunity to test the comfort, performance and autonomous capabilities of the V90 CC (which I am happy to test on the Indian roads).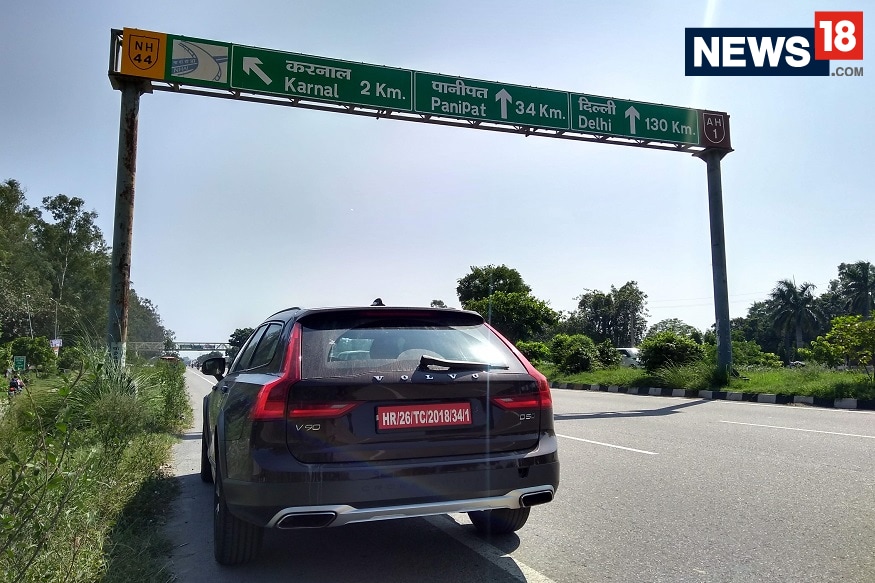 Volvo V90 Cross Country at NH1 on the way from Chandigarh to Delhi. (Image: Arjit Garg/ News18.com)
The Car
Now we have mentioned it earlier and we will mention it again. Cross Country doesn't necessary means off the beaten path. A Cross Country is a vehicle that can be utilized to understand the best of both the worlds, which we did on our journey to Chandigarh. Speaking of the specs first, the Volvo V90 Cross Country is powered by the Volvo's D5 engine that produces 235 hp of power and 480 Nm of torque. The gearbox is a 8-speed automatic unit that precise to its core.
By the virtue of it, a diesel engine suffers turbo lag. But then, the V90 comes with the Power Pulse technology that features an air tank with air stored in it, giving the engine an initial push before the hot air from turbo kicks in. This reduces the lag to a bare minimum and it feels like you are driving a petrol car. The steering is precise and works like a gem around the corners, considering it's a very long car.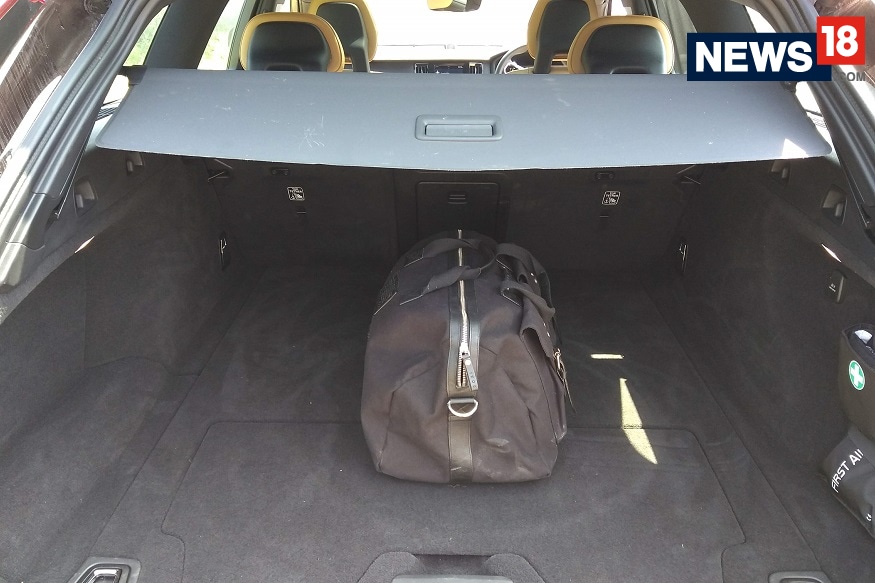 Volvo V90 Cross Country comes with one of the biggest boot in the segment. (Image: Arjit Garg/ News18.com)
Thanks to its estate type body design, it managed to attract a lot of eyes throughout our journey. But that's what excited us in our road-trip. What excited us was the cabin of the V90 Cross Country with a massive sunroof that makes it look airy. The minimalist design language with a large touch-screen on the centre console makes the cabin look balanced, luxurious and loaded with features.
The cherry on the cake were the front massage seats that can be used throughout the journey to keep you relaxed and motivated. With a variety of options to choose from, the massage seats help you feel comfortable and easy. Also, the 19 speaker Bowers & Wilkins music system which can be customized according to your own requirements gives you the best music listening experience you can have in the car.
Volvo V90 Cross Country gets front massage seats. (Image: Arjit Garg/ News18.com)
Testing the Semi-Autonomous Technology
Now more than everything, the semi-autonomous technology is what makes a Volvo the car it is today. We all know that Volvo cars are safe, and a large part of that safety is played by this semi-autonomous package that consists of features like Intellisafe Radar based system with radar-based adaptive cruise control and lane keep assist. It is only among the few cars in India (other being Volvo too) that offer a Semi-Autonomous tech in such a price point.
While semi-autonomous tech is dependent on infrastructure and other factors, it doesn't harm to test it occasionally and understand where the future stands. All you need to do is put the car in an adaptive cruise control mode that reads the road signs, and detects the object in front to maintain a safe distance. The lane keep assist, on the other hand, reads the road lines and keeps the car inside a lane.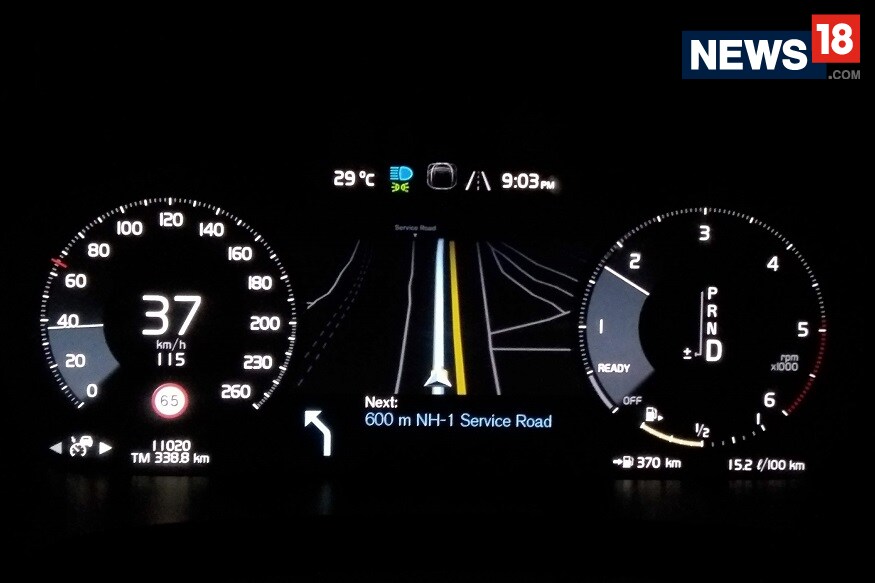 Volvo V90 Cross Country gets semi-autonomous technology. (Image: Arjit Garg/ News18.com)
Although, you have to keep your hand on the steering, as the lane keep assist is only to assist the drive to bring back the vehicle inside the lane. All combined, you can understand how an autonomous vehicle works and how Volvo is using this technology to make their car safer with every passing day.
But the thing about autonomous tech is that is can be tested only on roads with proper markings and this is one of the main reasons we chose NH1 as our preferred highway. And so we would advise our readers not to fiddle around with such technology for fun. Volvo is using this technology to enhance their safety quotient.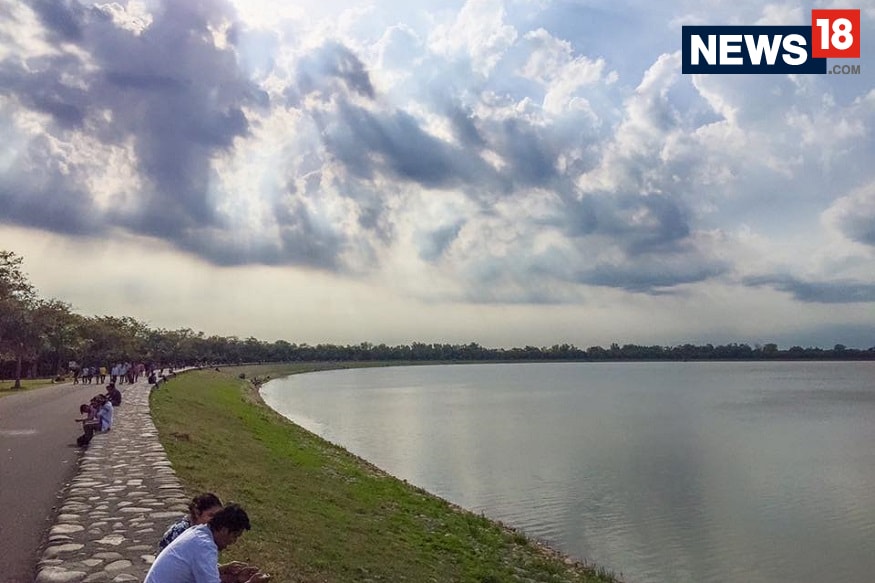 Sukhna Lake in Chandigarh. (Image: Arjit Garg/ News18.com)
Things to do
There are a plenty of places to visit in Kasauli and Chandigarh, here's what all you can do and see during your weekend getaway to Chandigarh-


Eat food at any of the road-side Dhabas in Murthal (we will recommend newly opened Garam Dharam). Try to avoid highly over-rated Amrik Sukhdev.


Visit the British-Era Christ Church in Kasauli constructed back in 1853.


Visit the Sukhna Lake in Chandigarh in the evening to view the majestic sunset and enjoy boating over one of the most calm and cleanest lakes in the North India.


Chandigarh is called 'The City Beautiful' because it is one of the cleanest cities in India. If not anything, we can actually learn from Chandigarh and try to keep our cities clean.


Go to the Sector-17 market in the evening to explore the culture of Chandigarh and do some shopping.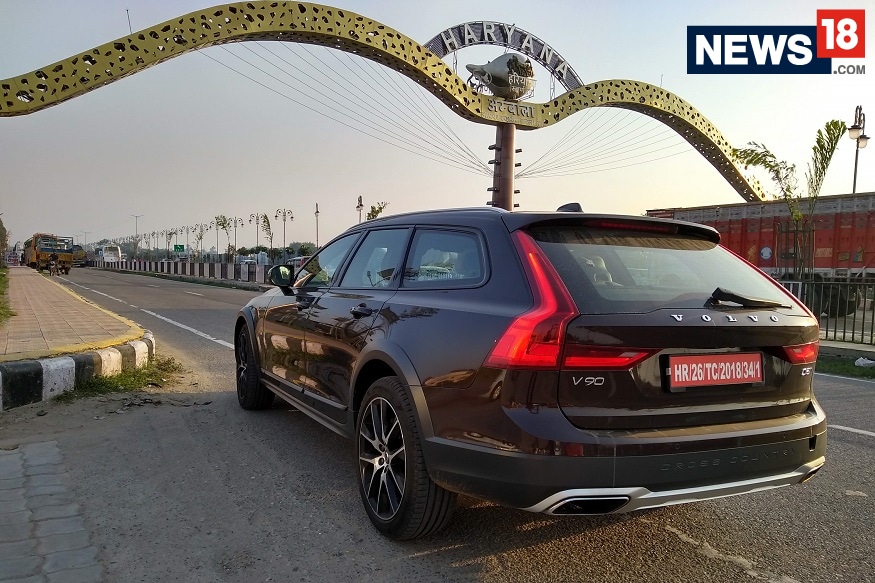 Volvo V90 Cross Country is one of the best luxury cars to buy in India without paying much. (Image: Arjit Garg/ News18.com
Summarizing The Journey
Not only did the Volvo V90 Cross Country made us felt comfortable and entertained, it also made us feel safe throughout our journey to Chandigarh. It also has an added advantage semi-autonomous technology that helps understand what lies ahead in the future for us. The AWD system comes in handy when you are looking for some adventure. And the car surely looks good too! All-in-all, being a Cross Country doesn't mean this car is only for off-roading, but it is more of a soft-roader. In fact, the Volvo V90 Cross Country is a vehicle made for urban buyers, who want to indulge in occasional off-road and want to use the autonomous technology without paying much for it!
| Edited by: Arjit Garg
Read full article
Countdown To
Elections Results
To Assembly Elections 2018 Results