When Lamborghini Built a Motorcycle Called Design 90
Lamborghini outsourced the bike project to French boutique bike maker Boxer (now Boxer Design) for building the new bike's design and assembly.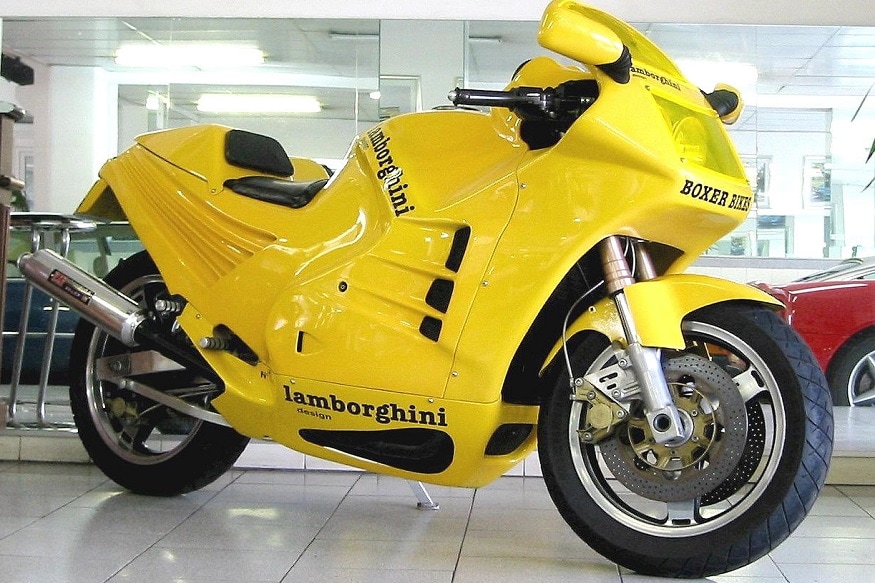 Lamborghini Design 90. (Image: CarThrottle)
We all know Lamborghini as the creator of some of the most ferocious and outlandish looking supercars like Aventador and Gallardo. But back in early 80s, the Volkswagen owned Italian supercar manufacturer was going through some real tough times. So much was the pressure on the bankruptcy-fueled company that they had let go the founder of the company – Feruccio Lamborghini.
The company was then acquired by the Mimran Brothers, who were desperately trying to resurge the brand. The new owners were trying to increase revenues and bring back the good old days. From building the massive V-12 mills for big-time speedboat racing to building their first SUVs (LM002), Lamborghini built it all.
Lamborghini Design 90 was inspired from Countach. (Image: CarThrottle)
But it was the Patrick Mimran, one of the Mimran brother's outlandish idea to build a Lambo-branded bike that left many baffled. More so, Patrick decided to outsource the bike project to French boutique bike maker Boxer (now Boxer Design) for building the new bike's design and assembly. Both the parties agreed to name the bike as the - Design 90 – starting the project in 1986.
The outcome was a 1000 cc inline-4 Kawasaki mill powered motorcycle producing 130 horsepower in a package that weighed around 400 pounds. The bike was built on a hand-made alloy frame with lightweight wheels, and was fitted with top-shelf brake, suspension, exhaust, and electrical components.
Also Read: How Does the Head-Up Display Works?
To reduce the weight further, the whole thing was wrapped in fiberglass bodywork, giving it a unique look. While both the companies decided to build around 25 Design 90s, only six were ever produced! The cost of the bike was one of the biggest reasons for its failure, apart from the fact that hardly anyone knew about its existence.
The bike was priced at an eye-watering $13,000 in 1986, which was more equivalent to twice the amount of any superbike at the time. Today, five of those six original bikes exist. According to various reports, Design 90 number 2 recently went on the auction in the UK, with only 4500 miles on the clock.
The bike failed to fetch its base price of $58,800 and remains unsold as of present time.
Also Watch:
Get the best of News18 delivered to your inbox - subscribe to News18 Daybreak. Follow News18.com on Twitter, Instagram, Facebook, Telegram, TikTok and on YouTube, and stay in the know with what's happening in the world around you – in real time.
| Edited by: Arjit Garg
Read full article