World's Most Expensive Number Plate for Sale at Rs 132 Crore, Worth 4500 Maruti Suzuki Alto
Just to give you a reference, you can buy 4500 Maruti Suzuki Altos, or 10 Bugatti Veyrons for the same cost.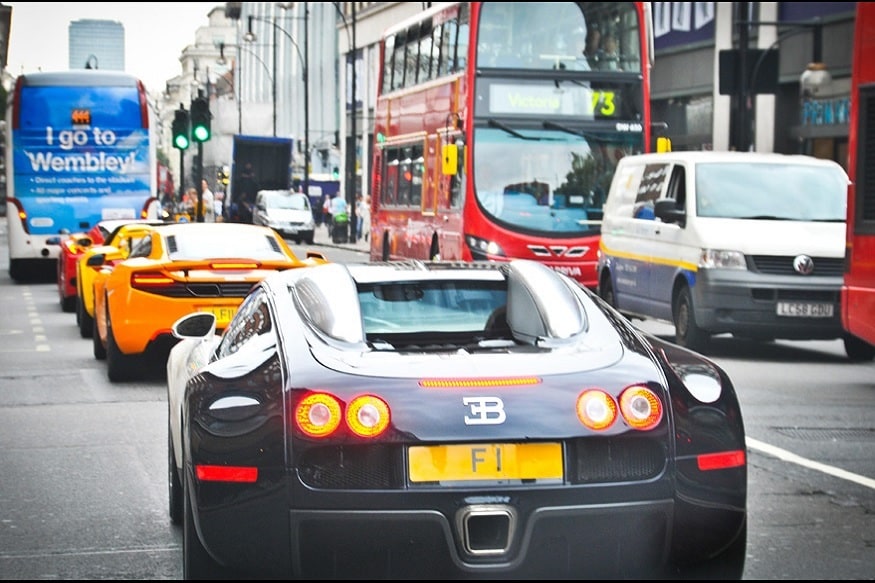 F1 number plate on Bugatti Veyron. (Image: Kahn Design)
Indians are no strangers to buying fancy number plates for their vehicles. So much is the craze for such number plates that people end up paying more money to acquire these special number plates than the value of the car itself. These numbers are often listed for auction by Regional Transportation Offices. Case in point, numbers like 8055 (representing BOSS), AK47, 786, a series or a single numeric like 0-9 are of high value.
But when you put a number to these high value number plates, how much do you expect to pay for them? Probably Rs 1 Lakh, or Rs 5 Lakh? Or let's be very generous at Rs 20 Lakh! What if we say that the world's most expensive number plate will set you back by Rs 132 Crore (14,412,093.99 Pound)!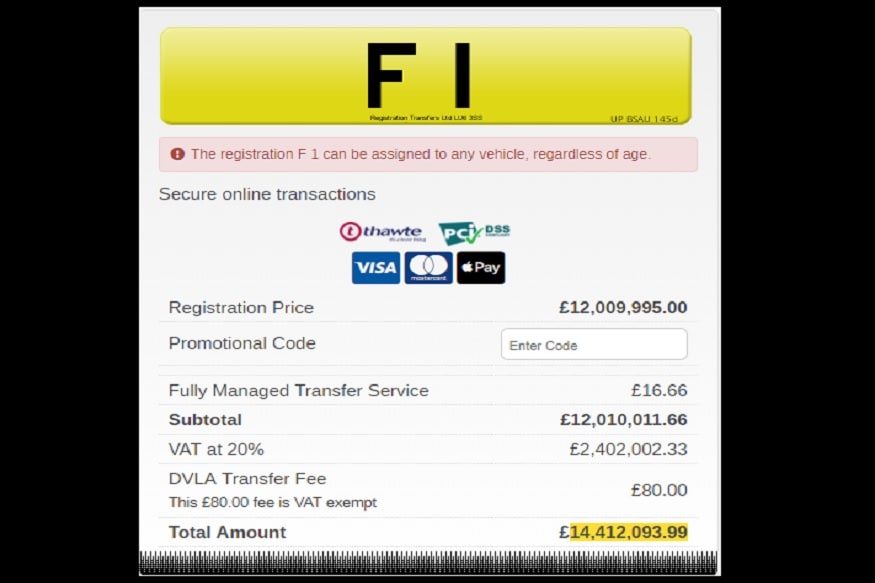 F1 number plate listing. (Image: Regtransfrers)
No this is not a typing error! The world's most expensive number plate is indeed listed for Rs 132 Crore by Afzhal Kahn, owner of Kahn Design, a world renowned tuning firm that specializes in tuning and customizing high-end luxury cars and add more life to it. Just to give you a reference, you can buy 4500 Maruti Suzuki Altos, or 10 Bugatti Veyrons for the same cost.
The 'F1' number plate not only represents the ultra-fast form of motorsports – Formula 1 – but is also famous because of its bi-digit number. The vanity plate is currently used by Kahn on his personal Bugatti Veyron and has a yellow body with black digits in the centre.
Also Read: Freak Accident Lands Car in Swimming Pool With Husband, Daughter Inside!
Kahn bought this plate for approximately $619,000 (Rs 4 Crore) in 2008 and is reselling it for a massive profit of 3200 per cent. Before Kahn, the plates were under the ownership of the Essex City Council since 1904, for 104 years.
Unlike India, citizens of the United Kingdom can personalize the content of the number plate. As mentioned above, in India, one has to depend on the RTO to release special series, or wait for a special number under the ongoing series to auction for the plate.
Also Watch:
Get the best of News18 delivered to your inbox - subscribe to News18 Daybreak. Follow News18.com on Twitter, Instagram, Facebook, Telegram, TikTok and on YouTube, and stay in the know with what's happening in the world around you – in real time.
| Edited by: Arjit Garg
Read full article