Malaysia Open: Lin Dan Beats Chen Long To Win 1st Major Title in 2 Years, Poses With Lee Chong Wei on Podium
Malaysia Open 2019: Lin Dan beat his compatriot Chen Long 9-21, 21-17, 21-11 to win his second title and then the two posed with Lee Chong Wei at the podium during the presentation ceremony.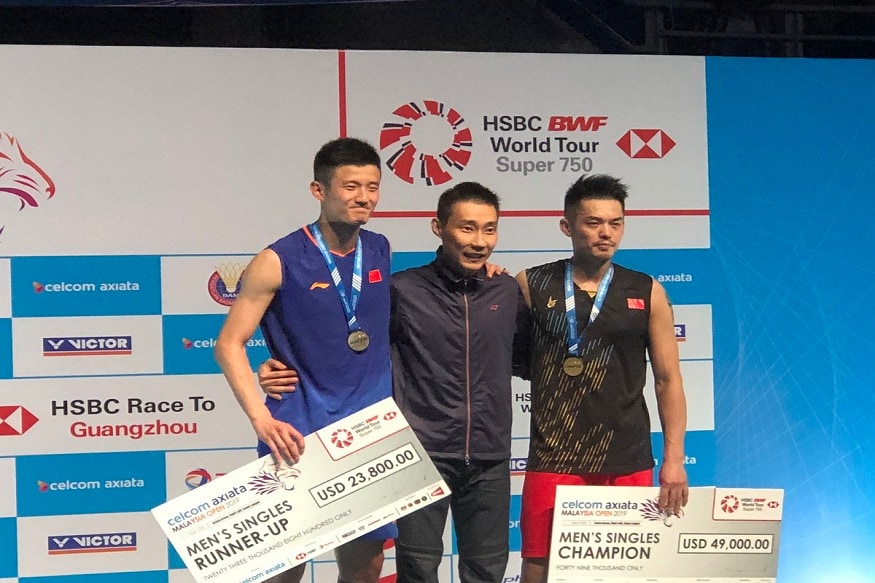 (L-R) Chen Long, Lee Chong Wei and Lin Dan posed on the podium at the men's singles presentation ceremony. (Photo Credit: BWF)
Lin Dan came from behind to beat fellow Chinese and reigning Olympic champion Chen Long to win the Malaysia Open 2019 on Sunday - his first major title in two years.
Lin Dan seems to be in love with Kuala Lumpur and this tournament as his last major title also came at the Malaysia Open in 2017, when he beat Lee Chong Wei.
Lin Dan lost his first game in the men's singles final against Chen Long tamely but came back strong to win 9-21, 21-17, 21-11 to win the title in an hour and 15 minutes.
With the title victory, Lin Dan became the first unseeded player to win the tournament in 15 years. The last unseeded player to win the Malaysia Open was Lee Chong Wei in 2004 and that was the first of his 12 title wins at the tournament.
And there could not be a more momentous occasion as Lee Chong Wei was among the presenters and posed with both the finalists on the podium for an iconic picture.
Earlier in the year, Lee Chong Wei had posed between Chen Long and Son Wan Ho during the Malaysia Masters final and he was back right up there, this time with Lin Dan by his side.
The two icons of badminton chatted and posed as the men's singles presentation ceremony was concluded.
ABOUT THE FINAL
Chen Long started the match brilliantly and as the favourite with his attack and defence going all correct. Chen Long was taking charge of the net, working around Lin Dan brilliantly as he stormed to the first game victory 21-9.
However, Lin Dan was never to be counted down and out and he showed that the second game onwards.
Backed fully by a vociferous crowd in Kuala Lumpur, Lin Dan tweaked his game and started taking more initiative. Lin Dan played a battle of patience with Chen Long and it seemed to be working.
With his plans working and confidence growing, Lin Dan turned on his magic - hitting the lines, beautiful net shots and some brilliant defence - it was all the crowd wanted.
Fan to take more than just a memory home 🏸 #HSBCBWFbadminton #HSBCRaceToGuangzhou pic.twitter.com/jixvcFTIeR

— BWF (@bwfmedia) April 7, 2019
Such was the crowd's backing for Lin Dan that at one point when Chen Long had challenged a line call in favour of Lin Dan, the entire crowd screamed "in, in", as if telling the hawk eye to rule in favour of Lin Dan.
Chen Long had lost the confidence and patience by then. As Lin Dan took the second game and the decider began, Chen Long struggled to find the lines and made many uncharacteristic errors.
Lin Dan showed his class in the final game and absolutely tamed Chen Long. The match had a fitting end as Lin Dan banged a follow-up smash right at Chen Long's body to cap the emotional victory.
The champion waved at the crowd as the Chinese flags unfurled and Lin Dan fell to his knees with a few tears in his eyes.
The long wait is over for Lin Dan as he triumphs in nail-biting Malaysia Open final 🏸 #HSBCBWFbadminton #HSBCRaceToGuangzhou pic.twitter.com/4riiUe9GMo

— BWF (@bwfmedia) April 7, 2019
CHINA RULES THE ROOST
Not only was the Lin Dan vs Chen Long an all-Chinese affair but earlier in the day, the mixed doubles final and the women's doubles final were also an all-Chinese affair.
In the mixed doubles final, top seed Zheng Siwei and Huang Yaqiong beat second seed Wang Yilyu and Huang Dongping 21-17, 21-13 in 38 minutes to win the title.
Highlights | Indonesia ✅, All England ✅, Malaysia ✅ Hat-trick for Zheng/Huang in 2019 🏸 #HSBCBWFbadminton #HSBCRaceToGuangzhou pic.twitter.com/Dq9JZ12w6O

— BWF (@bwfmedia) April 7, 2019
Chen Qingchen and Jia Yifan shone in the women's doubles final as they beat Du Yue and Li Yunhui 21-14, 21-15 in 37 minutes to win the Malaysia Open.
In the last match of the day, world champions Li Junhui and Liu Yuchen beat defending champions Takeshi Kamura and Kiego Sonoda of Japan 21-12, 21-17 in an exciting 42-minute match.
With that, China won the Malaysia Open in four of the five disciplines - the only different champion was Tai Tzu Ying of Taiwan.
TAI TZU YING CREATES HISTORY
World No.1 Tai Tzu Ying of Taiwan won her third consecutive Malaysia Open title with a 21-16, 21-19 victory over Japan's Akane Yamaguchi in 40 minutes.
Yamaguchi was the first women's singles player from Japan to contest the final at Malaysia Open but despite giving her best, she failed to topple the world No.1.
Yamaguchi put up a very good fight against the crafty and extremely talented Tai Tzu but the world No.1 was just a notch better in terms of her skill, executed that to perfection in key moments and took the match.
Defending champion Tai Tzu Ying confirms her status as world No.1 in the Malaysian Open final 🏸 #HSBCBWFbadminton pic.twitter.com/uTB5aXC4hO

— BWF (@bwfmedia) April 7, 2019
Tai Tzu is an entertainer. Her strokes, deft touches, skillplay and adventurous play is pleasing for badminton fans all over the world and it was a similar sight on Sunday.
Yamaguchi deployed the strategy of taking a lot of initiative, challenging Tai Tzu with her speed and keeping up the pace of the rallies but Tai Tzu's skill topped all of that.
Yamaguchi did manage to trouble Tai Tzu for a bit, even took a lead but the Taiwanese was up to the challenge and took the match.
With a roar and then a bright smile, Tai Tzu waved at the fans and later the cameras as she stood on top of the podium with another gold medal hung around her neck.
Get the best of News18 delivered to your inbox - subscribe to News18 Daybreak. Follow News18.com on Twitter, Instagram, Facebook, Telegram, TikTok and on YouTube, and stay in the know with what's happening in the world around you – in real time.
Read full article