GET Stock

Quotes



An excerpt from Sriram Karri's book 'Autobiography of a Mad Nation', which has references to APJ Abdul Kalam
Author Sriram Karri, known for his acclaimed book 'The Spiritual Supermarket', is soon to come up with another novel: 'Autobiography of a Mad Nation'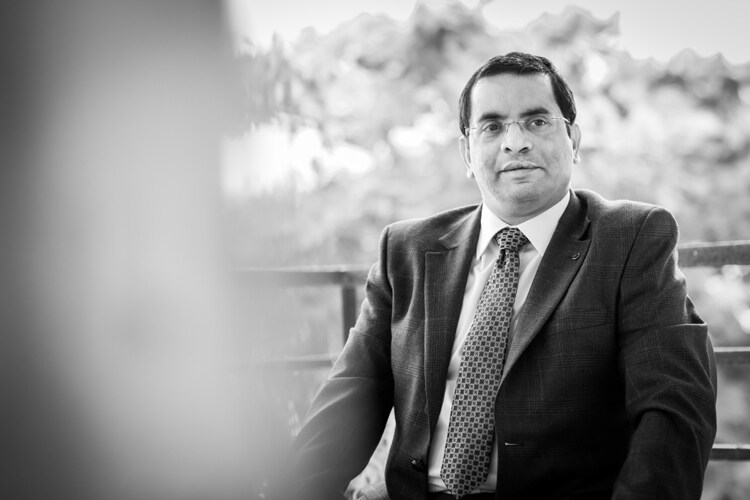 Author Sriram Karri, known for his acclaimed book 'The Spiritual Supermarket', is back with with another gripping read: "Autobiography of a Mad Nation".
The novel (longlisted for the MAN Asian Booker prize) takes you through decades of India, starting from the Emergency, and anti-Sikh riots post Indira Gandhi's assassination, to that Ram Janmabhoomi Rath Yatra, anti-Mandal Commission protests, economic liberalisation, Babri Masjid demolition and Godhra riots, in a thrilling tale about prisoner sentenced to death.

His novel also has references to the late, former President of India, APJ Abdul Kalam.
The following is an excerpt from his novel:
The President stopped reading and slowly looked up at Dr M Vidyasagar who sat respectfully across the table.
They were in the President's personal office, a small cosy room where he received guests for friendlier and unofficial meetings.
"Incredible, isn't it?" he remarked.
Dr M Vidyasagar nodded, wondering why he had been summoned.
"Sagar, have you heard about Vikrant Vaidya?" the President asked.
"Sir, of course I have. Who has not? It was all over the news."
"What did you think about the case?"
"A lunatic affair, sir."
"Lunatic? Which of the two of them is a lunatic? The young man who committed this mindless murder, or the teenage boy who got killed?"
"Both of them were abnormal, sir, though in different ways. Iqbal, the murdered teenager, was certified as mentally retarded. Vikrant, the killer, was supposedly highly intelligent and neurotic, the kind who reads and thinks a lot and begins to assume that their intellect begets them extra rights. A special right to kill, perhaps."
The President smiled. "Like Dostoevsky's Raskolnikov, whom he invokes, eh?"
"The file you were reading . . .?"
"It was a page from his diary," the President nodded. "He sent it to me, along with a long personal note instead of a pardon petition. Rather interesting, I thought. Read this note for me, will you, Sagar?"
The President passed Vikrant's note across the desk.
Vidyasagar took it and read aloud; initially with a trace of surprise, then contempt, even anger, and finally, with a sense of bewilderment.
***
April 25, 2007
Mr President,
They call you the People's President, and even I, generally a bitter critic of yours, am forced to acknowledge that you have brought an enigmatic and effable quality to the office of the President of India. You might have learnt from media reports and some of the correspondences to you that soon, very soon, I will be hanged to death; a sentence awarded to me by our country and confirmed by the Supreme Court only yesterday.
My lawyer, a typically small-minded pygmy—forgive this candid appraisal—predictably wants me to seek mercy. Of course, I will neither seek nor accept mercy. I had written to you once before, demanding you reject the stupid Farooqi woman's petition. Yes, that very woman who gave birth to the pain that was Iqbal for nineteen years, before my axe ended his petty, miserable life. He was an embarrassment to our colony, causing misery to everyone whose life he touched. He should have been brought up better.
Since there is no point in two unmarried men like you and me discussing the finer points of motherhood, let's move on to the reason I am writing to you.
This is my emphatic assertion and a consistent continuation from my previous letter to you: No, mercy won't do, sir. No, it won't. No mercy for me, thank you. You see, one of the many things I find wrong with our world is mercy. It is in such poor taste, very unpoetic if you like.
Incidentally, I don't like your poetry at all. You are too unpoetic for poetry. In any case, poetry is dead. It died centuries ago. Our age has replaced poetry with communications, emails, text messaging, and all that. Everyone communicates these days; therefore very few write, orate, emote, express, or do anything like that anymore.
Besides, to critically analyze your poetry, it is no good because you say too many things without being charming or stylish. You see, poetry is all about style, about saying a lot without really saying it. I can tell you a lot more about poetry, but let me not spoil your mood with my views.
Let us revert from this digression to the central issue at hand: my life, which our nation has decided to halt. But in case you want me to comment on its politics before I continue, let me state clearly with moral emphasis: I am all for death sentence, per se.
Not for me a sissy so-called humanitarian view that killing by the State is murder. No, sir. A man who does not respect another's life must find his own rights suspended and surrendered to the State. And with that surrender goes his right to seek protection for his life. Finish!
I have never condoned wrong thinking on any matter by myself or by anyone else; nor will I ever err by claiming that circumstance gives anyone a special right to a wrong premise. It is amazing how often this actually happens.
You would have noticed this, especially if you watch TV, though I doubt you do, because even I don't watch TV. Not much, anyway. But from the few odd times you might have watched news on TV, you will be able to know what I am talking about. When a murder or a rape takes place—I am obviously talking of those reported on TV, the rest don't matter anyway—the relatives of the victim become strong supporters of death sentence.
Some even demand horrendous punishment not available in the Indian law, like death by public stoning. In contrast, the family of the crime's perpetrator become champions of the humanitarian perspective, going on and on about the immorality of killing by the State.
The irony sometimes grows bizarre. Remember that case when a brother killed his sister—honour-killing, media blokes called it—because she was in love with a man of another religion? Consider how confused the father must have been. He had no precedent to follow.
He would not have known whether to grieve for his daughter or defend his guilty son; whether to seek a harsh punishment for his daughter's killer or mercy for his son.
In any case, my view is that death sentence is the moral right of the State, even its responsibility, if it truly wishes to protect innocent citizens' right to live. What I, therefore, now seek is not pardon—one thing I have never sought, and therefore won't do now, is to live on a wrong premise—but justice.
Justice! How much nobler this word, sir. How noble for those who understand this justice thing, more than mercy or forgiveness can ever be, in its fullest implication.
Oh! People's President, truth is I did not kill the boy, never even thought of killing him or anyone else. If you will, therefore, instead of pardoning me, use your powers to prove my innocence; else let me die, it won't matter.
As the gadfly of Athens would say, if your mad country, like Socrates' Greece, sins against wisdom, it won't matter.
Even if the wisdom here is an aspiring one, maybe a bitterly aspiring one, it is fine; I can empathise. For wannabe-wise is all I will remain before a dark cloth covers my neck and I go from this world like Wilde's Reading Gaol ballad hero, wearing a purple cap on a last trip, looking wistfully at the sky. Now, that is poetry but let us ignore poetry for now.
It would be a small inconsequential error of society if they hang me, wrongly, but society, given its right to sentence a guilty man to death, must be passionately guarded against even the tiniest of errors in the exercise of hanging a man to death.
I learned from newspapers I occasionally see that you are on your way out. Is that right, Mister President that politicians can't stand you? You must be a good man, then?
Here we are, both about to be kicked out, in different ways. Powers that be don't want us. We are unwanted, you see, perhaps guilty of the same sin—intelligence, backed with moral conviction, integrity, and courage to act.
What an explosive combination!
Hey, Mister President, I almost forgot. The word explosive must have a special meaning for you. I keep forgetting that you are some kind of a nuclear scientist, are you not? Wow! Did you actually let off a few nukes into the air, or soil, or water, or wherever it is you do explode them?
Truly, wowed!
Did you actually press that button? Now, what is it also called—Panic Button, Sovereignty Button, National-Pride Trigger, or Red Button? Strange, how political stances impact vocabulary. In any case, I am very impressed. If I was not lodged in this high-security prison, awaiting untimely death, and were you actually not a President about to demit office, I would have liked to meet you. We could have talked about nuclear weapons, deterrence, war and peace . . . No, I will stop this rambling now and get back to my business with you.
Me, as I already said, did not kill that boy.
Come on now, you might be thinking, is that not what they all say? But then, I am not 'they all'. Yet, I don't expect you to believe me.
Why, you ask, Mister President, should you believe all this?
You must, sir, because I am enclosing that film now to you, right here, to see and judge. With three months to go before you leave office, can you, People's President, honour my rights and try to get me justice?
It is, of course, fine, if you don't care. I know you presidents have protocols to take care of, ceremonies of exit, preparation for handing over of power and all such constitutional highbrow stuff. But if you can find the time and do something for an innocent youth, it would be nice and fair and all.
You see, I am innocent, and I believe it should be an important point to consider.
What would you have to say, though?
I will, needless to say, eagerly await your reply.
Vikrant Vaidya,
The condemned, as of now . . .wrongly, of course!
P.S. Have you read The Catcher in the Rye? If not, you should. What's the point in life if you can become the President of a country but have not read Salinger?
***
"Sounds like a very unlikely tale, sir," said Vidyasagar, once he was done reading the letter. "Moreover, it is too late for a retrial or to go back to the question of primary criminal evidence."
"But what if the film . . .?"
"Sir, I am sure there is no such film."
"He did send one along."
"What? No! I mean, it would likely be a fake, sir. Young boys these days can be exceedingly good with graphics. Photoshop goons, they can morph images."
"A lab report is enclosed. The film is undeniably authentic."
"CDFA labs, sir?"
"Yes, Sagar, there is no doubt. The film is authentic and legally admissible."
The President passed on a few snapshots taken from the film to the stern-looking man in front of him.
One snap had captured the moment described in the letter—a tongue-fluttering veejay, face nose-length away from the camera, and behind him, nearly twenty meters away, the axe of a masked man almost touching the neck of Iqbal.
Vidyasagar shrugged helplessly.
"I don't know, sir."
"I want you to find out, Sagar, and I want you to do it in a very short time."
The President looked resolute.
"You will be on your own, a personal assignment, nothing official, but don't spare any effort. Use any resource you need, unofficially, any resource except time, but please find this much for me—what really happened?"
"Sir, have you considered releasing the tape to the media and getting a retrial ordered? Maybe the courts can order a suo motu retrial?"
"No, Sagar. I read the summary of the proceedings of this case. And in the light of this evidence, something strikes me as very wrong. There is more to it, and I wish to know it. Next few weeks, unfortunately, is all I have to give you."
Vidyasagar nodded. "Sir, I will do my best. Are you considering getting yourself re-elected?"
The President shook his head.
"Time for me to go, Sagar. I have had enough of politics. But before I leave office, please help me clear my conscience in this matter. If I am indeed a People's President, let this young citizen's plea be honoured during my time."
"I will try my best, sir."
Vidyasagar stood up to shake hands with his old friend of decades, and noticed that the President clasped his hand a moment longer than usual.
"Coming from the best Intelligence officer our country can boast about, it is reassuring, Sagar. Very reassuring."
They walked along the corridor, joined by the President's Protocol Officer, his ADC, and a troupe of security men.
"You may get in touch with my adjutant for reaching me or asking for anything. Just a few weeks and all… on your own."
Vidyasagar had a sparkle in his eye.
"Neither can I refuse you, nor can I resist the lure of my old profession. I'll do it."
Also Watch

News18 Reel Movie Awards: Ratna Pathak Shah Bags Best Actor (Female) Award
Read full article