GET Stock

Quotes


Book excerpt: 'The Edge of Power' by Tuhin A Sinha
Nirbhaya case is up on full swing again as many finds the release of her rapist unacceptable.
The Edge series by Tuhin A Sinha are two hard-hitting books that deal with rapes in India. The first book of the series, 'The Edge of Desire' which is the story of a rape victim, coincidentally released around the same time when 16 December rape case happened. Its sequel, 'The Edge of Power' carries a special reference to the Nirbhaya case and pays respect to Jyoti Singh its own fictional way. Chapter 16 from The Edge of Power is presented here as an excerpt.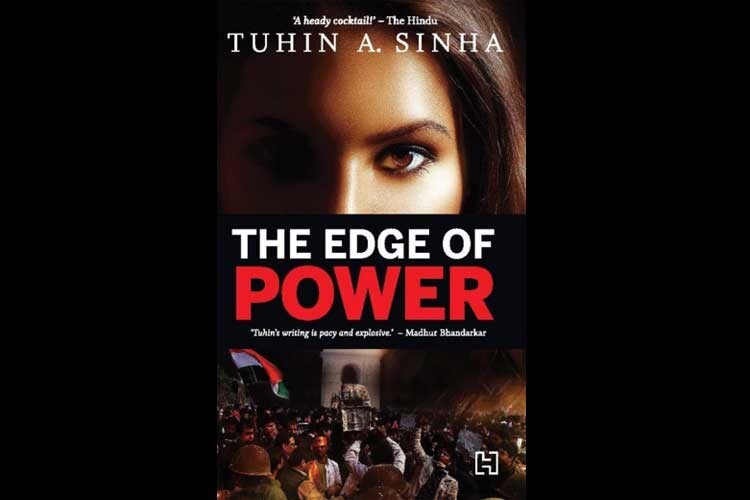 Excerpt:
" Dhar, Madhya Pradesh
It was 4:30 a.m. Shruti was lost in her reveries, still recovering from the memories she was forced to revisit, against her own volition. It was the call of the rooster that made her realize the time. Her heart was heavy; only partly by the remembrance of what had happened with her, but mostly by the helplessness she felt.
Nirbhaya's rape, much like Shruti's, had once again brought home the fact that the next victim could be just about anybody – it could be Catherine on her way back from the ashram; it could be any of the ashram inmates, or the little girls who came out chattering and happy at the end of class. Are women really in so much danger in our society? Much like gold coins or jewellery left in the open? But then gold coins and jewellery did not lose their worth... but a woman? She was tossed aside like an old shoe. The thought saddened Shruti no end. Her chain of thought led her to remember Daivik's and Catherine's persuasive argument – exhorting her to get back to politics, the day before.
Politics had been destined for her; as had her failure in it. She never had to work her way up to get into politics; nor did any of her efforts prevent her from the repeated failures that were thrust upon her.
In comparison, the social work that she was involved in now was purely her choice and she felt a greater satisfaction being successful at it and improving the lives of so many women directly.
No, she would not re-enter politics. Never. She felt sure about it. She did not want to revisit a jinxed chapter of her life simply because others wanted her to.
In her restlessness, Shruti stepped out of her room and meandered aimlessly about the ashram till she reached the common room. She stood outside for two minutes before deciding to go in. Shruti was anxious to know Nirbhaya's fate. Hence, she abandoned a three-year-old rule she had imposed on herself and switched on the TV.
The news was what she had been dreading: Nirbhaya was no more.
Shruti felt silent tears course down her cheeks. Chhavi who entered the room just then was moved to see Shruti in such a devastated state.
A little over 24 hours later, in a nondescript crematorium in south-west Delhi, amidst the winter fog and low visibility, Nirbhaya's father lit her funeral pyre. All around, there were teary eyes, heavy hearts and faces frozen in grief. Given that the Government had tried its best to ensure that the last rites of the girl were performed quickly and in isolation, not more than a hundred-odd people were present at the venue. Most of them were people from Nirbhaya's locality, though there were a few politicians as well. Daivik and Catherine were present at the site too – as a mark of respect.
Even as a small pooja was performed and Nirbhaya's pyre was about to be lit by her father, a cab arrived outside. Two women, dressed in woollen cardigans over their saris and draped in thick shawls that covered their faces almost completely, walked in and joined the crowd of mourners.
The pyre was lit. In the light of the fire, Daivik who was standing across from the two ladies looked at them closely. Was that Shruti? But when he looked for the women after the funeral, they had vanished.
It was only 9 in the morning and still quite foggy. Shruti's return flight to Indore was in the afternoon. With nowhere to go, Shruti and Chhavi sat in the cab parked on a desolate street. The driver of the cab fed her some more information about Nirbhaya's fate that terrible night. As Shruti absorbed these morbid details, she experienced a revulsion she had never felt before. Trying hard to calm herself, Shruti asked the driver to take her towards Ashoka Road.
For some unknown reason, Shruti wanted to take a look at the places familiar to her: the roads of Lutyens' Delhi where she had once stayed. She wanted to see if the garden of the bungalow she once occupied was maintained as well as it had been when she lived there.
What Shruti was unaware of was that a news channel had already broken a story speculating about her presence in the national capital and at Nirbhaya's funeral. No sooner had her car reached India Gate, that she witnessed an unusual sight: some fifty people stopped her car. They were not sure if Shruti was inside, till one of them took a closer look and shouted: 'It's Shrutiji.'
'Shrutiji you can't leave us like this...We won't let you go.'
Shruti came out of her car to reason with the crowd. 'Look, I understand your feelings of hurt. Thankfully, India still has an effective justice system...besides, the Government is doing its bit...what else can I do in this situation?'
One protestor shot back: 'You should know better what else can be done in this situation...after all you have the experience of being raped, don't you?'
Shruti was shaken when she heard this, yet instead of anger she felt an empathy with the crowd. After all, everybody had a right to feel angry at this point. Wasn't she better off and more powerful than the protesting man on the street? Then what was wrong in the people expecting more from her?
Shruti thought a moment before speaking to the crowd: 'Will you do what I ask you to?' she said, her expression hard to decipher.
'Shrutiji, you lead us...we are behind you,' the crowd roared instantly.
'Can you arrange for fifty large-sized iron rods?'
'Fifty?'
'One for each of you...'
Exactly an hour later, Shruti, followed by these fifty protestors, each with a rod in his hand, barged into the narrow lanes of the basti where Nirbhaya's rapists lived.
Once they reached the centre of the basti, there was a massive commotion. On the one hand, the inhabitants had no clue what was happening; on the other the protestors looked all set to unleash violence.
At this point, Shruti took charge.
'Have you got their addresses?' she asked the protestors.
'Yes, Shrutiji!' replied the man leading the group.
'Then get all the five houses vacated, destroy all the belongings, and demolish the houses.'
The basti inhabitants were aghast when they heard this. As were Shruti's own supporters at this unprecedented display of belligerence.
Shruti repeated her instructions once again.
'You can't do this! There's something called law and order, Shruti Ranjan...we won't allow you to break it again like you did many years ago...' warned a basti elder.
Two of the protestors shut him up as the others moved towards the houses of the rapists. Right then, the mother of one of the accused came running towards Shruti: 'We will not allow you to destroy our homes...don't forget that my son has still not be proven guilty...besides, forget what my son did, what have we done to deserve this fate?' she demanded to know.
'You gave birth to a son who thought he could look you in the eye after raping a woman,' Shruti shot back.
Interestingly, while the police were nowhere to be seen, one news channel was already present at the venue, and was telecasting live.
For the next half hour, the protestors had the five houses forcibly vacated. Shruti surprised herself and the people around her by remaining unmoved by the violence she had instigated. In fact, when the affected families came pleading to her for sympathy, she said, 'Now your boys will know how it feels when something precious to them is destroyed in a moment. Remember, the trauma of a raped girl and her family is far worse...If this is what happens to every rapist's family, then they will think a thousand times before harming another.'
Before any damage could be inflicted, though, a police team finally arrived and took Shruti and her supporters into custody.
The TV journalist reporting the story concluded his story with:
'The last few years have seen Shruti in many different avatars: from the reluctant deputy minister who went on a long leave when she disagreed with Malviya, to a stop-gap CM who proved her mettle by winning the state elections, to a Minister of State who engineered a fake encounter that killed five terrorists, and finally to a PM candidate who allowed Ravi Nehra to manipulate and mar her career. But this avatar – which we saw just now – is unprecedented! This is the avatar of a furious Goddess Kali who will wreak havoc upon society if it doesn't mend its ways and stops sinning. Shruti Ranjan is back – and with a bang!'
After many years, Shruti had to spend another night in jail. Thankfully she had her assistant, Chhavi for company.
'Ma'am, I still can't believe what you did today!' said Chhavi, partly in shock and partly in admiration, as they sat together in their cell.
'Even I find it surprising. But at that moment, when the protestors surrounded me and demanded I do more, I found it cathartic...I mean, how do you fight a flawed and insensitive system? At times, you've just got to break out of the system and do what you feel provides instant justice. I know what I did was wrong but somehow I don't regret it. Sadly, most Indians are too intellectually challenged to understand any other language but this. I guess I had to employ a language the masses understood.'
Listening to Shruti speak, Chhavi was left wondering if there was a side to Shruti still unknown to her...or if Nirbhaya had invented a new Shruti!"
Publisher: Hachette India
Price: Rs 275
Also Watch
Read full article