GET Stock

Quotes


Book excerpt: 'The Sibius Knot'
'The Sibius Knot' is a story about the devastation of adolescence and young adulthood.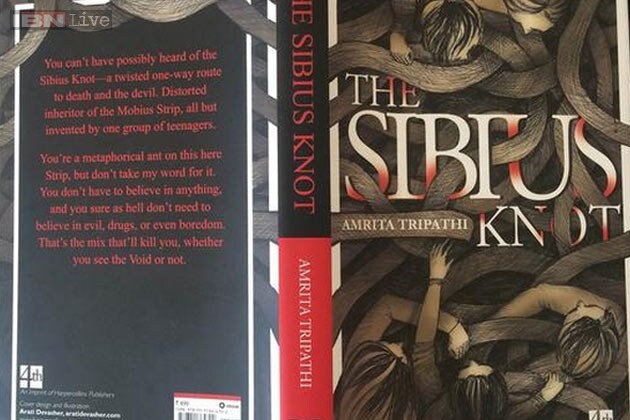 'The Sibius Knot' is a story about the devastation of adolescence and young adulthood.
'The Sibius Knot' by former CNN-IBN senior news anchor/ Books & Health EditorAmrita Tripathi is a story about the devastation of adolescence and young adulthood. It tracks a group of friends who have to face up to Delhi's underbelly, the everyday banality of trauma, violence and loss, and feel they're in a battle not just against their own environment, but the Devil himself. This is an excerpt from Sid's chapter, after he learns a friend has died.
EXCERPT
"The point is, I'm trying to warn everyone I know, it's not like with the rest of humanity. With us, it's frikkin' personal. Mario's gone, Seema's gone, I'm damn sure I'm the only one who knows what's going on. And I don't for a moment believe that the politician killed her, no matter what Seema's friend Preetha's been raving on about. I know who did it.

Death. The Devil. I don't know how to deal, how the hell do I get over this?
How to save myself? Forget mourning, I can't even deal with all the people we know in common, you know? I don't mean to make this about me, but I'm constantly pulled back into her world. She'd get really invested in things, in people. And now she's gone, and left me with this invisible shadow looming large, suffocating me in my sleep.
We hadn't spoken for weeks, true, but I still can't believe she's gone.

I need to get out of here. I need to shake this out of my system. I hit the road, but instead of finding a new place, like I usually do, somehow I find myself staying in Delhi-our city. The city we all grew up in. It's changed of course, but at the core . . . Ha! At the core are some really shitty people, shitty memories. You only get warm and fuzzy about this place if you leave it.
Right now it's May and the heat is so bad it leaves everything in a haze. Not to mention my own internal haze. I'm so not in the mood to get out and about. That endless 'Delhi' flitting about from party to party, it's the same crew, how do these people bear it, day after day!
The same dweeby little dude you couldn't stand ten years ago is now the dweeby little dude in the casual Friday wear and he still makes you barf, but he's coughing up the fifteen-thousand-buck bill, more than happy to fund this mini-reunion of assholes, so you just laugh and bottoms-up it.
I look around.?Paunchy, middle-aged, settled.
Paunchy, divorced, remarried, settled.
Three kids, two kids, wife and mistress. Wife and two cars, in-laws in GK II.
Everyone's become a caricature of the great Indian success story. Though their wives, now let me just say, if I were into women my own age in the remotest degree, I could mine that shit. Not interested, though, not in the least.
This city makes me uneasy, it shakes me up, it keeps me on edge. There's never any good news. The same crap in the news year in year out, a gang-rape in Gurgaon, a five-year- old molested and murdered on the outskirts of Delhi, fast forward rewind, you hear the same gruesome stories day after day, just the details get gorier. A 'Tandoor' murder, the Nithari cannibalism, everywhere you look, the defenceless are being mowed down.
Yeah, this city's got it all right. That barbaric vibe, it's got it down pat. And you want to talk about just my one circle, none of this six degrees nonsense? A friend is pulled over and has a gun brandished at him, right on the Noida highway, for overtaking a car. Another friend is smacked around by a group of guys she doesn't know, an acquaintance has her drink spiked at a friend's house by guys she does know. An acquaintance's aunt commits suicide after years of incest with her brother, another friend kills himself when his girlfriend doesn't share his life plan. After years of sponging off others, a senior from college takes to driving a cab and has by now OD'd in one seedy hole of this city. Another friend's brother was drugged out of his skull, still an undergraduate, when he shoved his finger in a light socket. The stories, the stories, they don't stop.
So you have to make them. I roll, take a hit, and then another. I take a round of Khan Market, her 'most favourite place in the city', god alone knows why. It's so dirty, so yuppie somehow. Stained dreams, broken lives, stuck in a time warp. I just stop for a bit, a drink and a smoke, staring out into what little space there is.
Wondering where I let her down. That stalking incident- how did she not tell me?"
Also Watch
Read full article